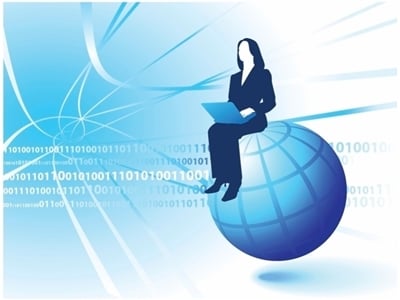 When we look across the landscape of software technologies that are being invested in by the suppliers of manufacturing operations and business/IT solutions, we are seeing a clear trend in the increased focus on applications of both Big Data Analytics and Small/Right Data Analytics.
And we also hear of new analytics applications and techniques ranging from specialized/embedded to broad market/cloud-based technologies. With all of these bets being placed, it appears to be a forgone conclusion that data analytics is a key technology that is creating new frontier for uncovering new insights that can speed decision-making and improve manufacturing business performance.
However, the application of advanced analytics technologies is not without its challenges, therefore accelerated and commonplace adoption is a future vision for most companies. In this post, we'll take a look at the current state of adoption along with some of the challenges associated with using analytics to improve manufacturing business performance.
Maturity of Analytics Software Use for Manufacturers
In the ongoing LNS Research survey on Manufacturing Operations Management (MOM), over 500 respondents were asked which areas of MOM software were LEAST mature in their organizations. Analytics was the second top response, just behind Safety & Risk Management software. This indicates that there is a long way to go before manufacturers are getting the most out of the potential that analytics technologies could offer.
Other software application areas that are fairly mature in comparison include Overall Equipment Effectiveness (OEE), basic data collection & reporting, and software for the fundamental management of products, production, processes, materials, quality, etc.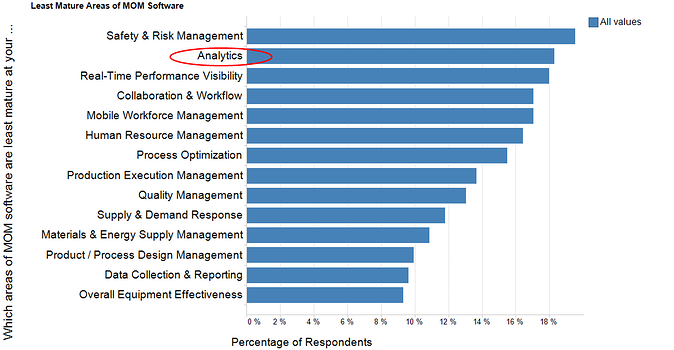 More and more, we are seeing that companies are looking for combinations of business and operational analytics–especially for better managing performance metrics to drive financial improvements. Therefore, having analytics that can put operational information in business context is becoming an important requirement.
Our recent metrics research, done jointly with MESA International, indicates that the typical scope of operational metrics is expanding well beyond the assets and production areas of a plant. For 23% of the respondents, business unit-level operational metrics are being measured and compared. And 35% are doing this at a corporate/enterprise scope of activities.
This same research also uncovered the fact that 65% of manufacturing operations managers are getting much more actively engaged in both business and manufacturing metrics on a daily or even more frequent basis. And there are more plant operators and supervisors that are not only seeing process control trends and statistical reports, but also operational analytics and metrics in real-time–so they can visualize the financial impact of their operational actions.
With all of this stated, if the application of analytics holds so much business improvement promise, then why isn't the maturity of adoption there? We have some thoughts on the trends and challenges based on our discussions with manufacturing professionals across a broad range of industries and disciplines.
Key Analytics Technology Trends & Challenges
When looking across the landscape of different analytics technologies being applied across manufacturing businesses, there have been a number of different classifications of core systems and software application solutions employed. These include:
Physical Process Design Analysis (e.g. plant/process design & simulation)
Product Design Analysis (e.g. PLM)
Work Process/Business Process Analysis (e.g. BPM)
Product Attributes Analysis & Traceability (e.g. MES, Track/Trace)
Quality Management (e.g. SPC, Reliability)
Performance Metrics Analysis & Generation (e.g. Data Historians, EMI, BI)
General Purpose Analysis (e.g. Microsoft Excel)
Since many of the above systems and applications are already in place and widely used, the databases and software basis for future analytics technologies is already in place for many organizations. However there are some key new trends and challenges that we see in relation to analytics:
Analytic engines are moving to the cloud as well as to 'edge computing' or embedded devices—so analytics are becoming more pervasive.
Powerful new Platforms as a Service (PaaS) analytics processing engines like open source Hadoop, SAP's HANA architecture, and IBM's Watson are being applied to a wide range of business and line of business applications. We see these easily scalable, cloud-based analytics engines being applied more and more in the future in places where specialized analytics were utilized in the past. This is due to faster and less expensive computing techniques, along with a growing awareness on how to more effectively harness large sets of unstructured data—Big Data.
Technology providers are actively working on making advanced analytics ever easier to use by both sophisticated and casual users. If these new generation analytics technologies are to be more readily adopted, data scientists should not have to be a requirement for manufacturing organizations to be successful.
In general, we see three main classifications for analytics toolsets based on the sophistication/type of user--tools for pre-preparing analytics for end-users by IT or engineering professionals, tools that support self-service, ad-hoc analytics, and more sophisticated tools for data analysts/designers/scientists.
Combinations of traditional & emerging IoT architectures will need to be supported with new generation analytics. Therefore a combination of existing databases and applications and both Small & Big Data needs to be analyzed utilizing common tools.
Conclusions
The landscape for leveraging existing and new analytics technologies is changing rapidly. If you are not already utilizing analytics technologies to better understand and improve your manufacturing business performance, we suggest that you get going with a starter solution that can address a subset of your most critical manufacturing metrics in support of continuous improvements.
We also suggest that companies stay abreast of this rapidly changing landscape, and consider the deployment of a small, combined IT/engineering and operations team from your organization to evaluate some of the newer IoT and cloud based, unstructured big data analytics tools, and how they may be readily applied to scale and improve your manufacturing business.
For additional insights on the changing landscape of analytics technologies for manufacturing operations and business performance, download this free LNS Research Spotlight.