In this monthly Roundup, LNS Research explores recent announcements and events, such as automotive supplier digitalizing; new IIoT tech framework; Dell's betting on IoT; a new ICS cybersecurity solution on the market; and a nutty safety story.
Major German Automotive Supplier's Digital Transformation with Siemens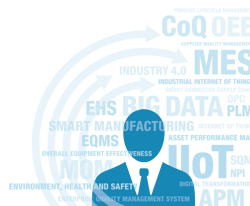 According to a press release on TenLinks.com, REHAU Automotive is making the move to digitalize production and processes and to create closed-loop manufacturing. It intends to achieve Digital Transformation by replacing legacy systems in engineering, manufacturing and quality management in favor of Siemens software products. The story goes on to say that the 15-plant Bavaria-based company is one of the first automotive suppliers to implement an enterprise-wise manufacturing execution system (MES) and enterprise quality management system (EQMS) that's integrated with the product lifecycle management (PLM) system. Read the full story at Siemens.
Technical Report on IIoT Analytics Framework Just Released
The Industrial Internet Consortium® (IIC™) has published the IIC Industrial IoT Analytics Framework Technical Report (IIAF). It is the first IoT-industry technical document with a complete set of instructions for Industrial Internet of Things (IIoT) system architects and business leaders to deploy industrial analytics systems in their organizations. This analytics blueprint will help companies ensure that its data doesn't sit unused, and instead analyze and transform it into useful insights. It's a blueprint to map analytics to the IIoT applications, to ensure that business leaders can realize the potential of analytics for more-informed decision making. Learn about the IIC or get the Industrial IoT Analytics Framework Technical Report.
Dell Spends $1B on IoT and Announces IoT Solutions Division
According to the Wall Street Journal, Dell has committed $1 billion over three years for research and development to create hardware and software to help manage devices connected to the web. Simultaneously, the company announced that it has created a new Internet of Things (IoT) solutions strategy and division, which will be led by VMware's CTO Ray O'Farrell. The IoT division will focus on several key development initiatives including software to query data streams from IoT gateways, an IoT platform, and edge security and analytics capabilities. Read Dell's press release now.
New Release of ICS Cybersecurity Solution by Nozomi Networks Industrial control system (ICS) security is a particularly hot topic in light of Digital Transformation efforts across industrial companies. Nozomi Networks just released SCADAguardian 17.5 along with a central management console for ICS cybersecurity risk detection. In recent months, the firm has reported a new partnership with FireEye for monitoring and detection, an expanded partner program, and record growth in customers. The company markets its solution as one that enables IT/OT integration and the ability to support managed security service providers (MSSPs) with multitenant architecture. Read the press release on the Nozomi site, or at AutomationWorld.com.
Congratulations in Order for Blue Diamond: Safety Excellence
Not all news stories about industrial safety end on a sour note. Blue Diamond, the world's leading almond marketer and processor and a grower-owned cooperative that represents over 3,000 of California's almond growers, reports that its Salida manufacturing plant near Modesto, California received the Million Work Hours Award from the National Safety Council for achieving two million safe working hours. The plant also received the company's Blue Diamond Safety Excellence Award. While Blue Diamond has a deep culture and long history of safety and quality, the company remarks that, "Less than half a percent of manufacturing facilities this size have achieved this milestone." Nice work by every one of the Salida plant's 558 employees!