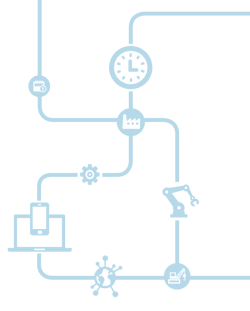 In this weekly Roundup, LNS Research explores recent announcements and events, such as Siemens' new PLM offering; collaboration and testing for a new connectivity device and platform; Faurecia's Industry 4.0 plant in Indiana; and a Panasonic/Schneider Electric partnership and integration for energy management.
Making Impossible Shapes: Siemens Announces New PLM
Siemens is gearing up to release a new PLM offering with features to handle additive manufacturing, aka – 3D printing. The solution includes integrated design, simulation, digital manufacturing, data, and process management software. Makers will use it to automate generative design to create and produce shapes and parts that are difficult for a human designer to envision and impossible to make with transitional manufacturing techniques. Read the Siemens news release.
It's Time to Talk to the Clouds: Connectivity for Legacy Assets and Much More
TE Connectivity, SAP, ifm, and the OPC Foundation have teamed up to create an IIC testbed on sensor-to-the-Cloud connectivity. The Industrial Internet Consortium (IIC), an international not-for-profit consortium to guide the framework for the Industrial Internet, says that the objective is to make sensor data available in near real time, enabling advanced analytics. The result will create connectivity for existing equipment that doesn't have appropriate connectivity already built in, and to enable easy integration at the operational technology (OT) and information technology (IT) levels. The partners expect to introduce a retrofit hardware solution (a "Y-Gateway) to extract sensor data and deliver it to an IT platform and produce a common device model based on available open standard to enable remote configuration of sensors. The IIC announced the testbed in a news release.
Industry 4.0 is Here and Now
Faurecia, a Nanterre, France-based automotive supplier, has gone all-in on Industry 4.0 and built a $64 million factory in Columbus, Indiana to prove it. The plant makes anti-pollution systems for truck engine maker Cummins Inc. Just a few of the elements of this real-life Smart Manufacturing plant are self-learning autonomous intelligent vehicles (AIVs), data collection, digital tracking of parts, and real-time monitoring of production efficiency and quality. According to Mark Stidham, president of Faurecia's North America unit, "There's risk for doing what we're doing for sure. There had to be a willingness to take that risk and overcome the obstacles that we're going to have to overcome." Read about Faurecia's Smart Manufacturing plant.
Smart and Connected Means More Than Just Production Equipment
Panasonic and Schneider Electric have paired up for integration to provide better control over HVAC and energy use. The companies have developed a new interface and wireless solution for direct serial communication between Schneider Electric's building management system and room controllers with Panasonic's variable refrigerant flow (VRF)-based HVAC systems via a wireless communication standard. The integration means operations personnel and managers can view all core building systems including HVAC equipment, lighting, security, power and electrical distribution anytime and anywhere via a single interface. We think better control over energy costs is just the tip of the iceberg. Just imagine what all that data is going to mean for quality, EHS, APM, and operations, not to mention the extended supply chain. Read the joint news release at MarketWire.

Categories: Product Lifecycle Management (PLM), Cloud, Smart Connected Assets, Industrial Internet of Things (IIoT), Industry 4.0 / Smart Manufacturing