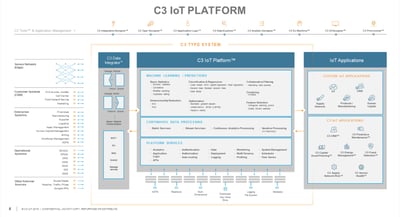 The #MondayMusings blog series provides executive level insights and analysis for the Industrial Internet of Things (IIoT) and Digital Transformation from the previous week's briefings, events, and publications @LNSResearch.
Click here to speak with Matthew
Over the past few weeks we have had several briefings with IIoT vendors driving change in the industry. One is C3 IoT, which has a name that is fun to say, has been in the market since 2009, and was founded by the proven and well-funded Valley entrepreneur, Tom Siebel.
On August 11, 2016, Uma Sandilya, Product Line GM at C3 IoT, briefed the LNS Research team. C3 IoT launched in the utilities space even before the IoT was a thing, but not before momentum had already started for the deployment of smart grid technology and specifically smart meters. Although C3 IoT provides a platform that is industry agnostic, given its early start in the utilities industry, the company has a leg up on some newer entrants to the market with industrial cred.
Beyond just industrial cred, an early focus on utilities has benefited the company in additional ways. Because utilities were early adopters of smart connected devices, C3 IoT has a platform that claims more connected devices than any other I have heard. To date, C3 IoT has signed some of the largest utilities in the world with currently 70 million total connected devices.
The IIoT Platform is Broad Based
In this first briefing, C3 IoT showed a strong understanding of the necessary components of an IIoT platform and with an acknowledgment that in today's environment delivering a complete solution involves participating in an active ecosystem of partners and co-opetition. The current C3 IoT Platform includes capabilities for Data Integration, Big Data and Machine Learning Analytics, and Application Development – surprisingly well aligned to the definition LNS has been advocating since 2014.
One of the areas of challenge/experimentation for many IIoT Platform providers is the licensing model. Companies continue to use number of devices, number of users, data used, functionality, or some combination to drive often complicated licensing models.
C3 IoT has wiped all that complexity away, going with a straight cost plus model on top of the Amazon AWS Cloud platform, which they use. C3 IoT operates under the assumption that continuing to drive increased value to customers through added functionality and apps will drive increased usage and value, which will be captured by a cost plus model. Given user adoption to date, it seems to be an excellent working assumption.
Understanding Machine Learning
One area with the most promise for delivering value but also the most skepticism among end users is Machine Learning (ML) or Artificial Intelligence (AI). Many companies have difficulty understanding the difference between traditional analytics vs. ML and how it will impact the business. C3 IoT presented a great use case.
One of their large utility customers in the U.S. had an issue with theft. Using traditional analytics, the utility had a success rate of 30% for identifying theft. This meant 70% of the time technicians were deployed to the site, they found no issue. The lack of accurate insight was very costly and inefficient. Using C3 IoT's embedded ML capabilities, the utility was able to increase the success rate to over 90%. The wow factor isn't just the remarkable improvement, but the "how".
With traditional analytics, analysts just looked at baseline trends in energy usage and consumption. With Machine Learning, analysts can combine usage data with other data sources, including enterprise systems (e.g., outage management systems, billing systems, and customer data) and external sources (e.g., weather), and more specifically learn the patterns associated with theft. Machine Learning can train the model to identify what many different energy theft schemes "look" like, including: "disconnected and unreachable," "repeated outages," and "generation after dark."
Moving Forward
This was LNS Research's first briefing with C3 IoT. The company is showing promise and really grabbed our attention. We are looking forward to learning more about the company, and we recommend industrial enterprises start doing the same.
Categories: Cloud, Big Data, Industrial Internet of Things (IIoT), Industrial Transformation / Digital Transformation, Artificial Intelligence / Machine Learning (AI/ML), #MondayMusings