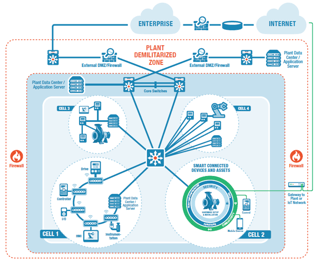 The #MondayMusings Industrial Transformation blog series provides insight and analysis for executives from the previous week's briefings, events, and publications @LNSResearch.
Click here to speak with Matthew Littlefield
We are in the midst of the spring user conference season. Two of the most notable user conferences over the past few weeks include PTC's LiveWorx and Epicor Software's Insights. Mehul Shah attended the full LiveWorx conference while I had the pleasure of splitting time between both; first speaking in the manufacturing executive track at Epicor Insights and second attending PTC.
PTC LiveWorx 2017: ThingWorx 8 – Taking Aim at the IIoT Platform Market
Hosted in Boston on May 22-25, the core theme of LiveWorx 2017 was physical to digital convergence. This year's event was a feast for the senses, showcasing a company focused on accelerating its transformation from a CAD/PLM company to the leading IIoT Platform company.
The event was kicked off by CEO Jim Heppelmann. Jim clearly sees the IoT as allowing PTC to deliver on the complete vision of PLM, i.e. "digital to physical to digital" with persona based mash-up applications across the value chain. This vision was highlighted by a Bosch Rexroth case study, using a broad set of PTC offerings (ThingWorx and Kepware) integrated with third party Cloud (Azure) and sensors (ABB) to deliver use cases across design, manufacturing, sales, and service.
After the glow from the smoke and laser show had faded, there were a number of critical announcements the market should be aware of. The majority these announcements were centered on the forthcoming ThingWorx 8 release and when viewed in holistically signal a substantial shift in strategy from PTC.
Key ThingWorx 8 Announcements and Positioning (coming summer 2017)
Purpose built for Industrial IoT with quick and easy deployments

ThingWorx developer portal launched - 15,000 registered developers, 600+ apps, and extension in the marketplace developed by partners

New out-of-the-box ThingWorx apps available

Controls Advisor – designed for control engineers

Asset Advisors – real-time visibility into KPI on assets and services

Production Advisor – status and health of critical assets to identify problems before impacting production

ThingWorx 8 comes with Kepware industrial connectivity included

Native Cloud Integrations: Microsoft Azure, GE Predix, Amazon AWS, OSISoft (coming later this summer)

Native Anomaly Detection includes simple and easy to use analytics to troubleshoot anomalies on the plant floor. Autonomous anomaly detection on ThingWorx composer

ThingWorx Studio purpose built authoring environment for creating AR applications. There were example shows with Microsoft HoloLens

Freemium Pricing Model

Anyone can download the apps for free for 30 days. Apps come with platform but limited capabilities and no access to building on the platform

90-day free trial for thing Worx studio

Smart Connected Operations – Including manufacturing apps is priced on the numbers of server instances and users.

Smart Connected Assets – Pricing is per connected device, 0 -300 has one pricing level and above different ranges.
LNS Research Take
When PTC first entered the IoT platform space, the offering was centered on the company's vision for Smart Connected Products. At that time, the company was a first mover among its major PLM competitors in the IoT space but was also a late mover in the industrial software space (MES, APM, etc.). Since that time, the company has realized what the market needs. A focused and open IIoT Platform for enabling Smart Connected Assets and Operations, which has culminated in the release of ThingWorx 8.
In 2014 there were more than a few analyst reports highlighting 100's of IoT Platforms. In LNS Research's forthcoming IIoT Platform Solution Selection Guide this has been consolidated to under 15. In the long run, this will likely consolidate to 10 or fewer, with market shares of all being significant within vertical market sub-segments making the bulk.
Since 2014 LNS Research has been promoting the ideas of the need for an IIoT Platform, the evolution of MES to modular lightweight IIoT apps, and the emergence of APM 4.0 to leverage AR and mash-up apps. PTC is now one of the providers most closely aligned to this vision, and LNS believes the future is bright if PTC can remain lightweight, flexible, and most importantly open platform option.
Given its lack of current installed base in manufacturing systems such as ERP and MES, PTC is well positioned to take on the role of disruptor; delivering an innovative approach of flexible, lightweight, mash-up applications to manage assets and operations. The company has quickly moved to be the leader among early IIoT adopters, with many LNS clients now running pilot programs on ThingWorx for manufacturing operations. It should also be noted, that despite the company's lack of ERP and MES offerings; there is a large Kepware installed base (thousands of factories) and PTC's CAD/PLM customers (also 1,000s of companies) that PTC is targeting with ThingWorx. Among this installed base, a number of marque customers have already gone live with the broader ThingWorx platform in factories, but many are also still in the pilot phase.
For long-term success, in the short-term, PTC needs to focus on moving these early customers out of the pilot phase, demonstrating the enterprise wins to the market, and positioning itself as the most open and capable IIoT Platform available. The next 1 to 2 years has the potential to be the most fateful in PTC's long history; either successfully making the pivot to be a leading IIoT Platform Player, or not.
Epicor Insights 2017: Continued Focus on Industry, Cloud, and User Experience
Epicor Insights 2017 hosted over 4,000 attendees in Nashville Tennessee, May 22 – 25. The conference is an impressive gathering of business and technology leaders from small and medium-sized manufacturing, distribution, and services companies. Much of the conference represented a continuation of the vendor's long-standing strategy: focus on industry, Cloud, and the user experience. There were, however, some new trends and updates announced from the company worthy of note among customers, prospects, and the industry at large.
• Industry 4.0 and IIoT Highlighted on Mainstage (Live) Epicor CEO Joe Cowan started his opening remarks with reference to the evolution of manufacturing in the context of Industry 4.0. Himanshu Palsule, CTO, later in the keynote led a live IIoT demonstration, including the commissioning of a new inexpensive ($20) industrial sensor. Connected the sensor to the Azure IoT Hub, and then connected the Azure IoT Hub to Epicor ERP in the Cloud. Flowing real-time sensor data to ERP, including visualization of the asset with integrated CAD data. LNS Research is looking forward to seeing how Epicor will evolve this demo into a solution that is realistic and value driving for small and medium-sized manufacturing companies.
• New UX and Embedded Analytics for ERP showed well. Although not groundbreaking, the new UX and analytics demoed at the show are keeping pace with the leaders in the industry and ahead of some Manufacturing ERP providers still working on product refreshes.
• Continuing strategy of multiple product Cloud-first micro-vertical ERP strategy. There are pluses and minuses to the current ERP strategy being deployed by Epicor. One of the strengths is providing a set of functionalities that are deep, broad, and industry specific, which plays well the existing installed base and prospects with specific needs that don't want to change business processes to match software architecture. One of the challenges is bringing new innovations to market, with multiple stacks to manage over time, the development resources within the company can become strained.
• Mattec showcased a set of engaged users, growth of out-of-box analytics, and industry focus. In many ways, Epicor Mattec MES represents an extension of the company's ERP strategy, with a set of functionalities built out of the needs of injection molding manufacturers (now suitable for other discrete manufacturing industries). Moving forward, LNS would like to see more discussion on Cloud capabilities on the plant floor and how Epicor Mattec MES may align to and support the Industry 4.0 and IIoT vision highlighted on the mainstage of the conference.
LNS Take
Epicor continues to provide a competitive offering in the mid-market manufacturing space for ERP and MES, with deep industry capabilities and enough cloud and analytics muscle to keep clients and prospects satisfied. Over the past few months, there have been positive additions to the manufacturing product team made, including industry veteran Terri Hiskey, VP Product Marketing Manufacturing Portfolio. Over the coming months and years, LNS is looking forward to seeing how Epicor evolves its messaging and offerings to deliver a set of manufacturing capabilities to help mid-market manufacturers to take the next step in their Operational Excellence journey and join the Digital Transformation revolution.