LNS Research is increasingly receiving requests from the end-user community to help understand the Industrial Internet of Things (IIoT) Platform landscape that will help them in their Digital Transformation journey. Who can help them today and in the long term? In general we are seeing a general lack of understanding of what should constitute an IIoT platform to enable other systems and how it can support business initiatives.
Click here to speak with Jason
The quick answer is it will take an eco-system of vendors to support the components of the IIoT Platform – Big Data, Cloud, Application Development, and Connectivity. Partnerships are key in understanding what choices in vendor organizations make for long term value will be paramount.
Our newly developed IIoT Platform market sizing models suggest a $1.7B software market opportunity for vendors this year, with an expectation that this market will grow exponentially for some time forward. Because of the large market size, there are many vendors trying to take part, our solution selection guide series will sort through the landscape so that end users can make informed decisions on the IIoT platform direction that best fits their needs.
What is the IIoT Platform?
LNS Research defines the IIoT Platform as a future looking framework for categorizing the technology capabilities that are necessary to deliver Digital Transformation, including Smart Connected Operations, Smart Connected Assets, and the Smart Connected Enterprise.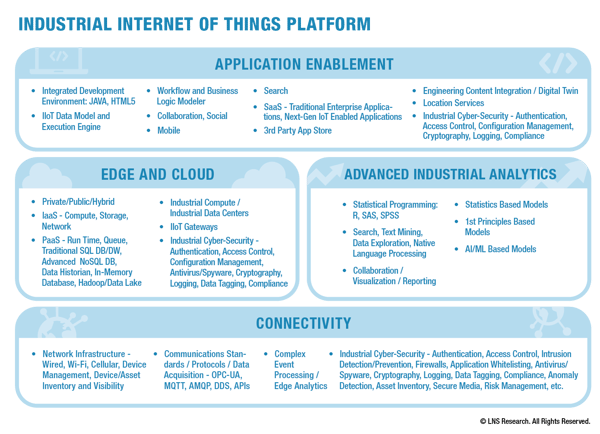 What is the Solution Selection Guide Series?
LNS Research Solution Selection Guide Series are in-depth and independent reports that define a specific solution area and help end users choose the short-list of vendors that are best positioned to meet their needs. Information included are what industries, functions, company size, geographies, and platform technology and delivery models. When completed, the IIoT Solution Selection Guide Series will be publicly available through the LNS website.
The Value for the End User
As mentioned in the introduction, this market is growing exponentially. Therefore, there is a lot of noise. How do you filter it, understand it, and make sure organizations are making the best technology decisions that fit their needs today and moving forward?
Broken down by:
Areas of Strength - Select areas in which your solutions stand out in the market based on experience and proven customer success.

Have Coverage - Indicate all areas covered by your solutions that are complete and equivalent to your competitors

Partner Coverage - (Please list Partners in Comments section) integrates hardware, software and services capabilities with existing and planned capabilities from our strategic partners for differentiated end-to-end solutions

Next Release- Will have coverage in very near future as this is to be added in next release

Emerging Strength - Select areas where you are investing resources and gaining in capabilities and market presence
How Do Vendors Participate?
For inclusion in the guide series, vendors will need to have a compelling combination of successful multi-site and multi-geography implementations across a range of industries, with broad and deep functionality, a modern technology platform, and robust roadmap with the needed resources for viably continuing to improve the offering forward into the future.
Closing Thoughts
LNS Research is very excited to be the first to define the IIoT Platform space and the required capabilities to support Digital Transformation initiatives across Discrete, Process and Batch manufacturing environments.
Our vendor community is looking forward to work with us to help support the IIoT Platform Solution Selection Guide Series, and look forward to it as the end product that becomes a stake in the ground for organization to learn about what it takes to create long term value when investing in IIoT.
If you are a vendor that would like to participate in the guide and does not yet work with LNS Research click below now!

Tags: Cloud, Big Data, Smart Connected Assets, Industrial Internet of Things (IIoT), Industrial Transformation / Digital Transformation