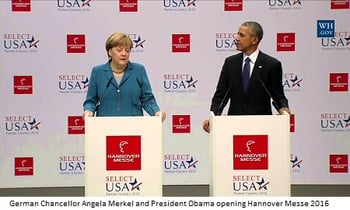 Hannover Messe 2016 took place this past week where LNS Research was able to attend and witness the excitement. While much of the focus was on Industrie 4.0, President Obama may have stolen the spotlight for some time with his visit. He even left with a gift, a callaway driver designed with Siemens software, in hand. Aside from the visit, LNS Research Principal Analyst, Andrew Hughes was able to take a closer look at the event and tell us what he saw.
The hype around the Internet of Things (IoT) wasn't present, but there wasn't that much proven progress in utilizing the IoT. As Andrew stated, there is still a lot of IoT potential to be explored. Therefore, we are excited to see the progress to come.
One of the more mentionable events to happen at Hannover Messe was the speech by Microsoft's CEO, Satya Nadella. In his announcement Nadella stated that Microsoft will now be focusing on the Industrial Internet of Things (IIoT) and Big Data. Nadella said, "We are now talking about the core." He hopes to achieve "systems of intelligence" by utilizing data received and optimizing manufacturing. The marriage of IT and manufacturing seems to be on the horizon, and to gain more detail about this click here.
GE Revolutionizes Equipment Operations with First Complete Asset Performance Management Solutions Suite
GE launched the first commercially available application running on the Predix platform, the Asset Performance Solutions Suite. LNS Research has discussed the Asset Performance Management (APM) landscape as both a wide berth of business and machine centric solutions.
With this announcement GE is moving to consolidate the range of disparate applications to monitor and maintain industrial equipment. The first step, using its pedigree with industrial machines, focuses on three areas, machine and equipment health, reliability management, and maintenance optimization. Moving forward, GE expects more capabilities to be added to the APM Cloud-based solution and we look forward to continued updates on the progress and more customer successes, like RasGas, the first users of the GE APM Solution Suite.
Dassault Systèmes Introduces Manufacturing Solution at Hannover Messe
Dassault Systèmes and Accenture announced the development and implementation of a new manufacturing solutions that provides a three-phase solution
There's no doubt that Accenture and Dassault Systèmes have been paying attention to Digital Transformation in industry. The new solution has capabilities that align with the Digital Transformation by connecting both engineering and the shop floor with digital technologies. The solution is specialized to cater to non-repetitive manufacturing organizations. The solution works in three phases:
It creates the as-planned assembly sequence required to build a product
Assists in creation, optimization, and sets out an operational plan for shop floor workers
Creates a scheduled system for workers to refer to on the shop floor during production
This agile manufacturing solution was just one of the many highlights from Hannover Messe 2016, more of which will be in our #MondayMusings. To read more on this manufacturing solution, click here.
Big Announcements for Cisco
Cisco has been in the limelight this year, as it has collaborated with FANUC and Rockwell Automation, acquired Jasper, and expanded its service of Cloud-based IoT platforms with the collaboration of Cumulocity, an IoT cloud-based software solutions company. Cisco took the opportunity at Hannover Messe to announce where it will be hosting this year's Internet of Things (IoT) World Forum, and more.
The company is set to host the 4th Annual IoT World Forum in Berlin this year. It only seems fitting as Germany is to thanks for Industrie 4.0 and many other IoT advances. Cisco also took the opportunity to announce its support for an industrial ethernet standard, Profinet, commonly utilized in factory and process automation. In addition to the announcements, it also confirmed its extended work with Rockwell Automation to improve IIoT security. It sounds like Cisco has big plans for 2016, and if you want to read more about the excitement click here.
Categories: Cloud, Big Data, Industrial Internet of Things (IIoT), Industrial Transformation / Digital Transformation, Asset Performance Management (APM)