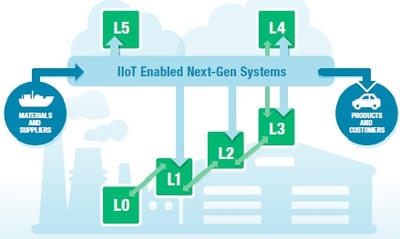 SAP has clearly been a company in transition over the past five years (let's call it the HANA era) and this was reflective in the change of positioning and some in leadership at the past several SAP Insiders for Product Lifecycle Management (PLM), MFG, Supply Chain Management (SCM), and the Internet of Things (IoT). Several years ago the theme was Idea to Performance and Operational Excellence. Starting last year and continuing to this year's March 2016 edition of the event in Las Vegas, the positioning was clearly centered on SAP's concept of the Extended Supply Chain.
Click here to speak with Matthew
LNS Research saw several gaps in the old model and applauds SAP's move to and new definition of the extended supply chain, which is one that goes well beyond the traditional definition of supply chain planning or MRP. In today's parlance it covers the complete value chain, from the customer experience on one end to product design and procurement on the other. In SAP's view, the Extended Supply Chain is "more connected, intelligent, responsive, and predictive than ever before."
Defining Digital Transformation for SAP Customers
The theme of this year's event was Digital Transformation and Hans Thalbauer, SVP Extended Supply Chain, dove into the details of just what is SAP's vision for Digital Transformation. In SAP's view, there are four key trends in Digital Transformation that customers have to be aware of and address to avoid being "uber-ed":
Customer Centricity

Individualized Products

Sharing Economy

Resource Scarcity
Although each of these four themes take on a different meaning depending on the industry and stage of the supply chain a customer sits in, it is clear that SAP is taking a very consumer centric approach to Digital Transformation and the impact on the extended supply chain. Of course, this is a strategy that will resonate with many customers. For over a decade it has been consumer focused technologies that have been leading in innovation and then moving to industry as they mature and SAP also counts many of the world's largest OEMs and brands as customers. So, for both these reasons the high level positioning should resonate with customers.
However, for those customers that don't sell directly to consumers - maybe they are suppliers several nodes removed from the end consumer, maybe they operate in the process industries, or maybe they are a defense contractor. The idea of Digital Transformation or being "uber-ed" doesn't translate as naturally.
Making Digital Transformation Specific for Industrial Companies
In the more detailed manufacturing and engineering tracks, specific industrial examples of Digital Transformation were given. In one of these sessions Thomas Ohnemus, VP Solution Marketing, described the three areas he is seeing industrial companies transform and gave examples of each:
Business Model – Kaeser Kompressoren selling compressed air rather than air compressors

Business Process – Harley Davidson moving to a lot size of one

Nature of Work – Collaboration and automating non-value added tasks in manufacturing
For each of these examples, the central theme of the story was the Extended Supply Chain running on a single data model, which I believe is the center-piece of the long term SAP strategy and ability of SAP to deliver value to customers
The Long Game for SAP: HANA, S/4HANA, & Single IT-OT Data Model
SAP has been pushing HANA in our market place for almost five years, so why is HANA adoption only hitting the accelerator now? In one word, S/4HANA.
HANA started out as an in memory database, it then evolved to become the platform for enabling many different apps, some were natively built for HANA by startups and some were ported over from the existing SAP portfolio, it then evolved to be an IoT platform. However, with the recent launch of S/4HANA, existing SAP ERP customers can run the full set of financial and extended supply chain apps on top of HANA and pull through all the rest.
Although closing the books on a quarter in minutes rather than days is compelling and undoubtedly transformative, it is not the end game for SAP. HANA has the potential of changing the game of IT-OT convergence and creating a true single data model.
SAP, for many companies, has been the system of record for decades. However, despite SAP's broad product portfolio, in many implementations SAP was only the financial system of record. In every case there were vast amounts of data that never ended up in the system and for many reasons the physical world of things did not match the financial world of accounting. If HANA, which has already been proven to dramatically simplify the world of applications running on top of structured data (traditional IT systems) can prove capable of also collecting and managing time-series and unstructured data (traditional OT systems) it would dramatically change the IT-OT debate and even the basic definition of what IT and OT systems are.
This however is a "big if." SAP is still years away from making it a reality, but if it's successful it is also years ahead of almost every other company in the space. Of course this doesn't even begin to account for the many additional challenges standing in its, and its customers, way:
The philosophical debate of if a system of record should be centralized or distributed in an IoT world

The cultural issues that are at the heart of success or failure in technology adoption for operations

The major gaps in understanding that exist between the different approaches to analytics and Big Data - namely a data science and statistics based approach vs. an engineering and simulation based approach to the world.
The door is still open for many other players, including legacy automation and Industrial Internet of Things (IIoT), start-ups to compete with SAP and define what a true single data model will be for IT, and OT. The company better get going. Today, many industrial companies still think of SAP as the ERP system used by finance and supply chain planning, which leaves the opening. But this is no longer how SAP thinks about itself and I don't think it will be long before many other companies start changing their minds, as well.
Join us on Tuesday, March 29, at 1:00 pm EDT as, Andrew Hughes presents the results from the fourth iteration of the Metrics that Matter research study conducted between LNS Research and MESA International, and places particular focus on how the deployment of IIoT, Cloud, and Analytics are transforming manufacturing today.
Categories: Supply Chain Management (SCM), Big Data, Industrial Internet of Things (IIoT), #MondayMusings