The #MondayMusings Industrial Transformation blog series provides insight and analysis for executives from the previous week's briefings, events, and publications @LNSResearch.
Wolters Kluwer | Enablon recently hosted the Sustainable Performance Forum (SPF) in Chicago for its customers, partners, and solution experts. The event was part of the environment, health, and safety (EHS), risk, and sustainability software vendor's global series of customer conferences.
Click here to speak with Peter Bussey.
This is the fourth year in a row I've attended SPF in Chicago. Although many aspects of the conference remain similar year-on-year, Enablon uses the event to communicate its current messaging, positioning themes, and product announcements. The messaging has evolved each year, and this year was no different, with a fresh, bold message about Industry 4.0 and digital innovation.
Digital Transformation Showcased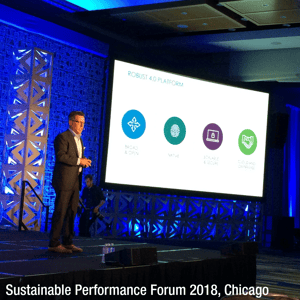 The Digital Transformation of industry and its impact on EHS, risk, and sustainability management was the central theme of the morning plenary session, starting with the opening keynote by CEO Chris Joseph. He spoke about the influence of Industry 4.0 on key areas like risk management, workforce empowerment, environmental protection, and improved business performance. Joseph also highlighted their solution's capability to support execution against that vision.
Taylor Allis, VP of Product later took the stage to show the results of Enablon's digital innovation investments. He laid out a framework of four key elements in EHS, Risk and Sustainability 4.0: Data, Intelligence, Automation, and Engagement. Allis was joined by Noelle Harvey, Director of Product Management. For Noelle's presentation, the stage was transformed into "The Enablon Factory" to demonstrate solutions in each of these four areas based on new product releases and partnerships. This was effective in making the smart connected solutions of Industry 4.0 real, while highlighting how new or improved Enablon products enable them.
Key product announcements included an update on mobile apps, a data integration hub, predictive risk analytics, an artificial intelligence (AI) assistant, a supplier collaboration portal, tools to facilitate user on-boarding, and sustainment. Of note, the capability to support integrated risk management was featured, encompassing not only operational/EHS risks, but also enterprise risk management with Governance, Risk, and Compliance (GRC) applications.
Further to the demonstration of the data integration hub, a partnership between Enablon and OSIsoft was announced. OSIsoft's PI system is deployed worldwide in industry. This real-time data infrastructure solution captures massive volumes of operational data from sensors, manufacturing equipment, and other devices. The partnership makes it possible to make such IIoT "Big Data" available in the Enablon EHS and risk management platform to support predictive analytics and proactive risk mitigation. This solution exemplifies the IT/ operational technology (OT) convergence trend.
Alignment with Industry and EHS 4.0
Regardless of the significance of product and partner announcements, it's how they are framed that matters most. Our research shows that 64% of industrial organizations have already undertaken Digital Transformation in the form of IIoT projects, or plan to within 12 months. The trend in industry towards Smart Connected Operations as the essential means to drive Operational Excellence is strong and accelerating, with an inherent impact on the EHS function. LNS Research explored this impact in our EHS 4.0 research published last year, which examines the opportunities and risks digitalization present to EHS business leaders, and a framework to leverage it.
We think Enablon's focus on digitalization and its impact on industry and its product strategy is a valid approach. By leading with a clear Industry 4.0 message, Enablon is laying out a strong vision for the future. It makes sense to integrate EHS and risk management into the dominant business technology trend of the foreseeable future and to develop and deliver solutions that leverage current and emerging technologies. The OSIsoft partnership illustrates this in action.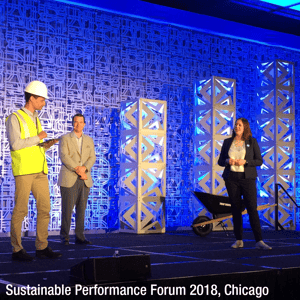 On the other side of the coin, in communicating this message to the market, there is a fine line for Enablon to walk. Most industrial organizations still have much potential to increase their maturity level of EHS software and technology adoption and standardization. Such organizations tend to be focused on putting basic process and data management capabilities in place (e.g., incident management, compliance obligations, risk assessment, action management, audits, etc.) rather than advanced technologies, which might seem overwhelming. Enablon would do well to continue to communicate they can help customers wherever they are in their digital journey, giving them a path forward no matter how aggressive they want to be.
Another risk to be managed is customer adoption of the innovations. In almost every case, Enablon stated that the new products announced are already in Beta and are available today. Although this is positive, it is usually challenging and time-consuming to get customers to the reference stage for a new product. Enablon has an advantage here with its global installed base of large enterprises to find co-innovation partners and early customers but Enablon will need to be diligent.
Impact on the EHS Software Arms Race
Enablon is going to market with a strong message around Digital Transformation and Industry 4.0. This is in sync with how its customers and prospects plan to transform and improve overall business performance. It's also well-aligned with the LNS Research EHS 4.0 framework, providing a path forward for EHS business leaders and professionals to take advantage of the opportunities with digitalization. Enablon is backing this strategy with R&D investments in digital that are yielding tangible results in the form of customer-ready solutions available today.
This approach is favorable for current and prospective customers regardless of where they are on the EHS technology maturity curve. Enablon is in a good position to support companies who are just getting started on the journey, or that have basic needs. At the same time, the company has already established a strong position in digital innovation which can extend the value of a foundational platform.
What does this mean at the market level? We think Enablon's approach raises the bar. Many vendors are competing in the EHS software space. Some have received investments or been acquired with the intent of accelerating growth. These well-resourced players with aggressive growth goals are jockeying for position in what I call the "EHS Software Arms Race." In this environment, multiple players have stepped up their game regarding development and go-to-market. Breaking out of this pack is difficult. Doing so in large part depends on differentiated solutions and messaging, which has been hard to achieve.
We now see the vendor landscape dividing into three groups when viewed with a digital lens. Some seem to pay little or no attention to the impact of digitalization on their customers, with no discernable investment. A second group is actively acknowledging the importance of digital and investing in tactical pilot projects and incorporating digital into their messaging. A third group is a select club starting to go all in with a digital innovation strategy, investments to back it up, and tangible solutions ready for customer adoption. Enablon falls into the latter category.
Takeaways
The ultimate winners of the EHS Software Arms Race will be those that realize the impact of Digital Transformation on their customers and their solution portfolios and provide leadership and opportunity to their customers. These companies will be differentiated not only in the solutions they offer but will be viewed as attractive long-term business partners that can help customers future-proof their investments. This differentiation along with the stability and resources Wolters Kluwer's ownership brings and the market momentum are all positive indicators for Enablon's long-term success.
Categories: Solution Vendor / Software Vendor, Industrial Transformation / Digital Transformation, IT/OT, #MondayMusings, Environment, Health and Safety (EHS)