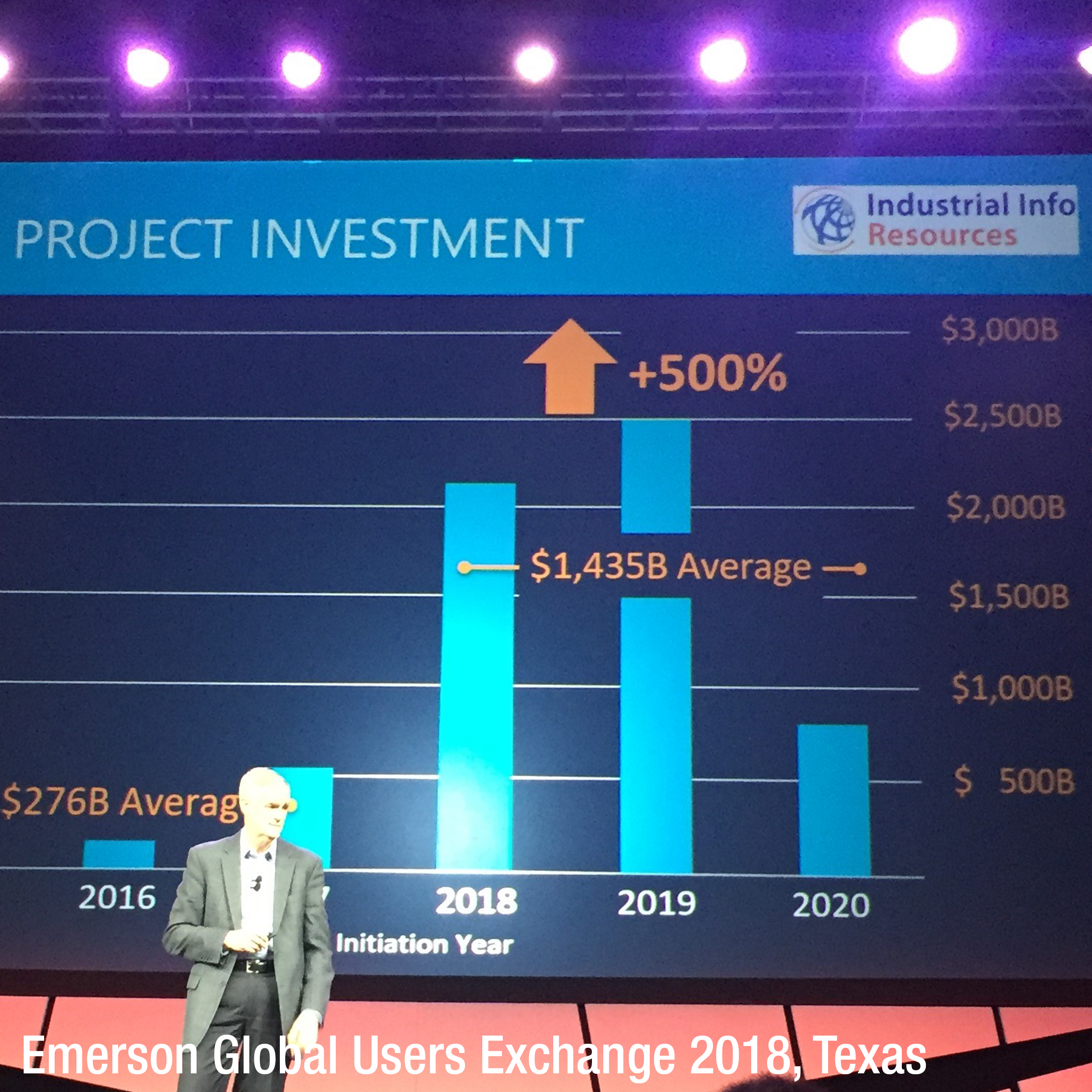 LNS recently attended Emerson Global Users Exchange, the user conference by Emerson was held in Texas from October 1-5. One of the consistent messages from the Emerson team is their drive to help clients reach top quartile performance. This year was no different, the message was clear - process industries need to achieve excellence in reliability, safety, production, energy and emissions; and Emerson' portfolio of software, hardware, and consulting services will help clients achieve that top quartile performance in process operations and capital project execution.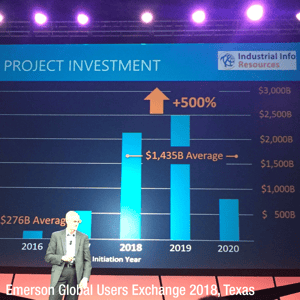 Emerson President, Mike Train kicked off the event highlighting the investment increase in capital projects by 500% in 2018 and 2019. The event made a series of significant announcements and product releases:
New Leadership
Emerson Automation Solutions has a new Executive President, Lal Karsanbhai. Lal is a long-time veteran of Emerson and was the group president of Emerson' Rosemount Measurement and Analytics. Mike Train, the recently appointed president of Emerson will also act as Chairman of Emerson Automation Solutions.
GE Intelligent Platform Acquisition
The news of Emerson acquiring GE Intelligent Platforms came on the second day of the event. While not much was revealed at the event, this strategic acquisition will help Emerson grow its portfolio in the controls and programmable logic controller (PLC) business. It'll also enable Emerson to drive higher engagement with hybrid markets such as metals and mining, life sciences, food and beverage, and packaging.
Digital Transformation Roadmap
One of the key messages at this year's Exchange was on Digital Transformation roadmap. Without a clear roadmap, Digital Transformation will be a failure for any organization. There was also an increased focus on IT and operational technology (OT) collaboration, emphasizing collaboration and not convergence, as Emerson believes the IT-OT groups need to effectively collaborate to drive transformation. Emerson' Operational Certainty Consulting Services is leading Digital Transformation Jumpstart workshops to help companies develop and execute a tailored Digital Transformation plan to reach top quartile performance. The consulting team consists of executives from several of Emerson' acquisitions in different business areas, including Management Resources Group (MRG). The consulting division will be independent and drive its own P&L from the consulting services revenue to provide impartial and objective advice to the customers.
New Product Updates
Emerson continues to evolve its Plantweb Digital Ecosystem by adding new capabilities across its data, connectivity, analytics, and service model. It's DeltaV™ version 14 used to operate distributed control system (DCS) will receive the first ISA SSA Level 1 security certification, emphasizing the need for enhanced security.
Digital Twin: Emerson currently has several pieces of the puzzle to help their customers with Digital Twin. The integration capabilities between Emerson' Mimic™ simulation software with Aspen Tech' HYSYS® simulation software will add new real-time process optimization and training capabilities to help build and maintain an operations Digital Twin while bringing down the cost of ownership.
Plantweb Optics asset performance platform: Emerson first announced its Plantweb Optics software solution last year. This year's updated version comes with an inbuilt integration with enterprise systems such as IBM Maximo and SAP to automate work request directly from Plantweb Optics, and includes a connection to Emerson' Plantweb Insight application to provide Edge analytics to different asset classes such as steam traps, pumps, and heat exchangers.
Location Awareness: Emerson also announced the new Location Awareness system powered by the WirelessHART infrastructure to transform facility safety digitally. The key differentiator is that the new system can be installed in just few days compared to weeks for existing systems, and at the same time cost less than half of traditional, existing alternatives.
Digitally-enabled turnarounds: Turnarounds are prominent in the process industry, and the major challenges are missing safety, schedule, and budget targets. Emerson announced a new framework of services and solutions that leverage wireless sensing, Location Awareness, predictive diagnostics, and data analytics combined with Emerson' turnaround expertise and digital mobile tools to help companies achieve scope and schedule assurance, improve labor effectiveness, and personnel safety.
LNS Takeaways
Emerson continues to build its portfolio, and we think they have one of the stronger portfolios of solutions among the automation vendors at the OT level. The challenge in front of Emerson, and the entire automation industry at large is the IT-OT convergence. While most automation companies are building their own consulting practices to influence the Digital Transformation initiative leaders, success will depend upon how well the industry can shape and educate the IT executives.
The lines are also blurring with automation companies providing Digital Transformation consulting services. While they might want to partner with the big consulting firms, there is a risk of competing against them and being biased around the company's own solutions. Emerson is far better known in the OT world than the IT, so partnership will be essential to help accelerate the journey for its clients.
An area where we see a missed opportunity is Emerson' participation in the Open Group Open Process Automation (OPA) Forum activities. LNS believes and has communicated to Emerson that:
Ultimately the direction of OPA will be the direction of industry, even if OPA itself fails to deliver a standardized solution
The shift in the technological underpinnings of control systems towards standardized hardware and standardized interfaces is ultimately inevitable
Emerson doesn't necessarily see OPA in the same light as LNS and questions whether it will ultimately reshape the industry. Subsequently, Emerson did not discuss OPA or their position on it at the Exchange. Time will tell whether Emerson' or LNS' view is closer to what happens next in the market.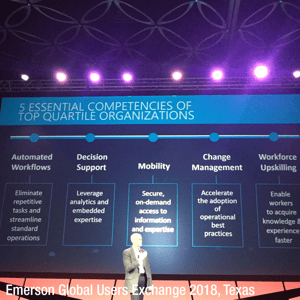 Reliability has been one of the differentiators for Emerson, and they have made some good acquisitions in this area. Emerson' budding relationship with Aspen Technology for process modeling is a step in the right direction. There is an opportunity to include Aspen Tech' asset performance management (APM) offerings, which could be potentially valuable to both the organization.
Emerson' approach to the Digital Twin and Industrial Internet of Things (IIoT) platforms is control and operations-centric. For industries that can architect a solution consisting aggregations of Digital Twins and IIoT platforms, Emerson offers a very compelling OT-centric solution set, and with Microsoft' partnership they have the potential to extend it on the IT side. However, to support companies which prefer a single vendor approach for either the Digital Twin or an IIoT platform, Emerson should continue to build its IT partnership to provide a robust solution on the IT and OT side. OT professionals in the process industry today, and potentially others as the GE Intelligent Platforms business is integrated, will find a powerful partner in Emerson to help them deliver the top quartile performance.