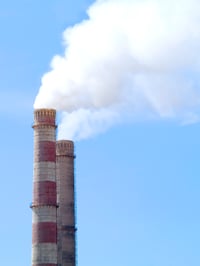 Today, particularly in asset intensive industries, research consistently shows that improving manufacturing efficiency is a top operational objective, besting customer, and risk/compliance goals by a decent margin.
Depending on a host of factors there are myriad ways an organization may strive for improved manufacturing efficiency, but one common shared thread involves increasing the incidence and removing the barriers to actionable intelligence – putting the right information in the right people's hands at the right time to make necessary decisions or take necessary actions.

How IIoT, Big Data, Cloud, and Mobile Are Converging to Tackle Inefficiencies
Whether this takes the form of improved communication between individuals, or between machines and humans, technology is playing a critical role in improving efficiency in Asset Performance Management and beyond today. The convergence of the "Big Four IT Trends" – the Industrial Internet of Things (IIoT), Cloud, Mobility, and Big Data Analytics – is slowly but surely transforming the way industrial companies operate, as market leaders are creating smart connected assets and operations that are eliminating costly unplanned downtime, opening new revenue streams, and minimizing the need for human decision making in operations—all having a profound effect on achieving top operational goals.
While the future of the fully smart connected enterprise may be a ways off, the initial advancements to set industry on that path have clearly been made. That's why it's so important that companies today are at least considering long-term investment strategies in APM. If they don't, the risk of them being left behind in the next five to ten years is very real.
To assist executives in this area LNS Research has published our Asset Performance Management Solution Selection Guide. The Guide examines the top 20 vendors in the APM space by selection criteria such as company sizes served, industry strengths, support and integration network, functionalities and delivery models offered, and more.
Each week we've been highlighting a different vendor from the guide. Taking the spotlight today is IFS.
IFS and its Applications v.9.0 APM Solution
IFS, a global APM solutions organization, was founded in 1983 and has headquarters in Linköping, Sweden. The company has long since expanded on and is today one of the larger independent ERP and EAM providers. Its main product, IFS Application v9.0 has allowed use over a wide range of industries, including:
Aerospace & Defense
Aviation
Pulp & Paper
Energy & Utilities
Fleet and Equipment Service Sectors
The IFS Application has been an early adopter of modularity and componentization, which has allowed the company to take a role in these industries that have high APM and asset intensive aspects. Its EAM solution also includes predictive analytic capabilities. By acquiring VisionWaves B.V., and operational intelligence solutions provider, in July 2015, IFS has expanded its solution capabilities with better capability in mapping, monitoring, and managing end-to-end business processes. The company does have some customers that are today relaying the information from Smart Connected Assets to improve reliability and reduce downtime, but has so far not fully developed the marketing messaging that some of its competitors have around IIoT.
Though the company has a global presence, it tends to vary by industry in most geographies or by company size, with primary strengths across Europe and the U.S., while gaining share in China and other Asian countries.
Learn More About IFS and 19 Other Key APM Vendors
To read more about the capabilities and industries that IFS serves to with its primary product, Applications v9.0, explore our Asset Performance Management Solution Selection Guide. You can also find 19 other APM providers and a break-down of the corresponding APM solution offerings.