We recently attended HxGN Live 2019, Hexagon's annual digital solutions conference, in Las Vegas Nevada. Three thousand attendees were there to dive into nine different keynotes and over 500 sessions, many with hands-on training. The firm is a global leader in sensor, software, and autonomous solutions headquartered in Stockholm, Sweden, with 2018 revenue reaching €3,760.7 million (approximately $4.234 billion USD). Its business includes industrial enterprise solutions with €1.941 million in revenue serving the electronics, manufacturing, energy and power, automotive, and aerospace and defense segments. They are known in the manufacturing world for 3D design and simulation technologies (predominantly for process assets), positioning and location identification mapping capabilities, metrology equipment, and an array of other sensors. The event included a bevy of new product launches across every major division of Hexagon.
A Vastly Different Message (than others in the market)
Anyone that conducts a quick review of LNS Research blog posts will quickly discover that virtually all technology events over the last 18 months started with a theme of Digital Transformation and immediately launched into discussion about Industrial Internet of Things (IIoT), artificial intelligence (AI), machine learning (ML), the Cloud, and all sorts of other "new" technologies that are changing the face of business. Most events quickly lost focus on the big message and quickly got into the feature / function weeds on their specific technologies, while Digital Transformation remained the event "north star."
Not at HxGN Live 2019 — Hexagon broke ranks in two very distinct ways.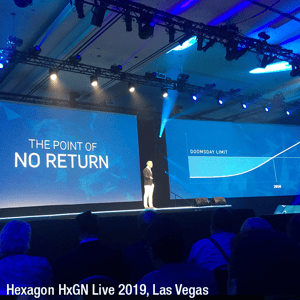 First was the opening keynote by CEO Ola Rollén. His topic was big: "Your data can save the world and why it matters to your business." He was fully on-topic with a heartfelt presentation on how we must all change our behavior, or the planet will reach the "point of no return" of the "doomsday limit" in 2050. He contended that data can save the world because we have solutions today to reduce our CO2 emissions to 1919 levels. Solutions that made business sense: improve engine efficiency, energy efficiency for buildings, improve agricultural processes and intelligence, etc. Rollén avowed that's Hexagon's mission: develop technology solutions that deliver a positive business outcome for industrials (higher revenues or lower costs) which directly contribute to improved sustainability. He asserts that higher productivity and quality outcomes will drive sustainability and growth for businesses and the planet. He made few if any mentions of Digital Transformation or the plethora of technologies that other companies typically focus on.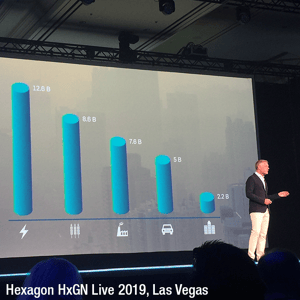 Second, was Hexagon's focus on business outcomes. Repeatedly, presenters said they wanted to get past buzz words and all the hype around Digital Transformation, IIoT, AI, ML, Cloud, etc. and focus on business outcomes like improving quality, reducing manufacturing costs, speeding up design time, cutting construction errors, and boosting revenues. The business outcome theme resonated across all plenary sessions.
Envisioning the Self-Driving Plant
The one technology trend that Hexagon speakers did point to was autonomous. Yes, there was discussion of autonomous vehicles, given their intelligence, geospatial, and location services capabilities. More interestingly was the expansive focus on autonomy. Hexagon envisions the near-term ability to "autonomize" any task or process in a workflow or across an entire operation or industry. Speakers specifically discussed autonomous capabilities to assign work packages given engineering revisions in construction or changing operations workflows based on equipment readings. In fact, Norbert Hanke, president of Hexagon's manufacturing intelligence division, said the "self-driving plant" was not too far off — less than ten years. Autonomous was Hexagon's buzz phrase used as other technology suppliers use the term AI, but its product announcements and roadmaps clearly indicate a focus on autonomizing as many business processes as it can over time.
Big News: Hexagon-AspenTech Partnership
The biggest announcement during the event was about the memorandum of understanding (MOU) around a new collaborative partnership between Hexagon PPM and Aspen Technology. Announced by Hexagon PPM president Mattias Stenberg and Antonio Pietri, president and chief executive officer of Aspen Technology, the companies intend the MOU to link AspenTech's conceptual, basic engineering and cost estimation solutions with the detailed engineering suite from Hexagon PPM. The solution providers positioned the future combined capability as:
Stenberg and Pietri asserted that the offering would help customers better manage the financial risks of complex projects and accelerate digital transformation.
LNS Research views this as a potentially significant partnership as Hexagon PPM and Aspen Technology are leaders in their respective portions of asset lifecycle technology. As with all partnership announcements, the potential depends on the commitment of both companies to actualize the news. Pietri did note the significance in three ways:
Customers are already integrating their products in the field.
Aspen Technology has only announced one other partnership in the last six years, so does not take them lightly.
Digital Transformation compels companies to break down silos.
It appears this partnership really could lead to significant joint capabilities in the future but, as always, only time will tell.
Categories: Solution Vendor / Software Vendor, Industrial Transformation / Digital Transformation, Artificial Intelligence / Machine Learning (AI/ML)