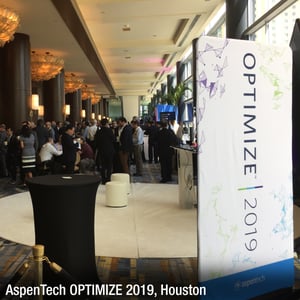 In May 2019 LNS Research attended AspenTech's annual user conference, OPTIMIZE 2019 in Houston, Texas. This year's event drew a broad range of attendees ― in all 1,000 from 300 operating companies and ten leading universities, across 50 countries. The software vendor was also joined front and center by a major partner, Emerson, which showcased the integration of its Mimic™ Operator Training System (OTS) with AspenTech's HYSYS simulation software, and its expanding set of asset optimization services for typical customers. With some 150 breakout sessions, it was impossible to cover all tracks, so I spent the majority of the time focused on asset performance management.
Go-To-Market Direction
AspenTech organizes itself around three main product groups and goes to market under the unifying theme of "Enabling the Smart Enterprise in a Changing World," powered by artificial intelligence (AI), the new wave of operational technology that unlocks higher levels of performance, agility, and growth. CEO Antonio Pietri, in his keynote, set a clear tone and direction about the company's aspirations to be the major digital transformation enabler for companies in process industries.
Process engineering
Manufacturing and supply chain management
Asset performance management
The theme has real meaning and sharp teeth in that AspenTech has been working hard to incorporate AI into its products such that it's integral to the product rather than an afterthought add-on. This approach has two benefits: it enhances product functionality and makes it easy for existing users, such as engineers and supply chain personnel, to leverage advanced analytics with minimal or no data scientist support. AspenTech with its deep domain understanding of processes, data, physics, and now with even more applied mathematics, e.g., machine learning (ML), aims to do the heavy lifting for customers, by productizing AI where it makes the most difference.
Asset Performance Management
This is perhaps nowhere better illustrated than in asset performance management. Let's examine their core products:
Aspen Mtell
Aspen Fidelis Reliability
Aspen ProMV
AspenMtell prescriptive maintenance software features a unique set of self-learning agents that monitor devices and equipment and the surrounding operating process, uncovering both known and unknown anomalies. This is valuable because experience has shown that operating age is not the primary cause of failures, but rather how the equipment is operated and impacted by the process. Mtell goes beyond prediction and simple prescriptive options to provide direct guidance, in coordination with enterprise asset management (EAM) systems, to inform the user exactly what to do to avoid degradation and failure. The fact that engineers can pretty much set up and maintain Mtell means faster time to value. Furthermore, the industrial organization can link Mtell to scheduling so that if a failure prediction spawns a planned maintenance or repair, schedulers can readjust to take into account the downtime impact of the equipment they're servicing.
Aspen Fidelis Reliability™ software is almost a misnamed product because it does so much more than just reliability modeling. Beyond determining what the actual usable capacity of a process is under different operating scenarios, equipment configurations, and operating states, Fidelis can be used to turn static plant drawings into accurate simulations for predicting future asset performance, quantifying deltas due to changes in design, capacities, operations and more. Fidelis can also model multiple plants and facilities across the value chain. Thus, Fidelis can support economic evaluation as well as ongoing operating configuration changes with direct financial effects.
Three of the most frequently asked questions we hear about advanced analytics and Digital Twins are:
Just how much data does one need?
What is the right balance of data versus physics and physical properties?
Which inputs are most important to getting the analytics right?
AspenProMV is focused on the third question by using multivariate analysis to quickly identify what's really driving the variability in the processes, and determine which are the most important inputs that impact the accuracy and robustness of the analytic. Beyond that AspenTech is working on answering the first two questions with their project X-Ray, so stay tuned.
More Good News
As LNS Research had observed, the market is aligning data, models and merging planning, scheduling, control and process models to provide a more holistic, accurate ability to plan, schedule, control and optimize almost simultaneously. Mtell with Aspen Plant Scheduler and generic dynamic optimization technology (GDOT), which aligns advanced process control (APC) with planning and scheduling. How all these will work together, especially from a Digital Twins perspective, is something we look forward to AspenTech, as a market leader, to address.
Challenges
So, with much progress already behind it and more in the pipeline to come, what obstacles does AspenTech face and what could it do better? LNS Research sees three areas for further growth. First, with so much breadth and depth of product offerings, it can be difficult to drive concise messaging and value propositions for each industry sector, and in particular how the synergy among the three product groups add up to what CEO Pietri calls, "The Smart Enterprise."
So far, most of the digitalization experiences in the marketplace are point application successes in different areas, for example in process and equipment reliability or advanced control. However, there is a story to tell industrial company executives about how digitalization can enable a new level of manufacturing excellence and what it means for the top and bottom lines, the industrial organization, and its license to operate. This story must reach beyond brochures and PowerPoint reference architectures to address what LNS Research calls the new operational technology (OT) ecosystem.
Second, while AspenTech products span most of the asset lifecycle and value chain, they don't do everything, and in some cases compete for capital attention against other digital products and solutions, some of which are not necessarily direct competitors. This requires carefully navigating the market, the right channels, and partners, and making the right acquisitions to fill gaps and extend strengths to maintain momentum and drive growth.
Third, perhaps the most critical limiting factor in technology adoption is the rate of change within customers' organizations and their ability to change the way they work with new tools and technologies. Making these new tools and technologies "sticky" is always challenging for software companies; selling the software is only the beginning. So, making tools easy to use, and "citizen data scientist" friendly is essential for customer success.
For the industrial organization, few software companies offer the comprehensive capabilities of AspenTech and can take you down the long journey of digital transformation, so this vendor's story is worth a listen. AspenTech is already a major player in process industries ... it's only going to grow from here.
Categories: Solution Vendor / Software Vendor, Predictive Maintenance (PM), Enterprise Asset Management (EAM), Asset Reliability, Artificial Intelligence / Machine Learning (AI/ML), #MondayMusings, Asset Performance Management (APM), Digital Twin