While the general best practices and management systems behind quality management have remained consistent for decades, the systems and solutions used to ensure the production and delivery of high quality products and processes across the value chain have changed drastically. Systems that once seemed ideal have become obsolete and unable to address the rising complexities of today's markets.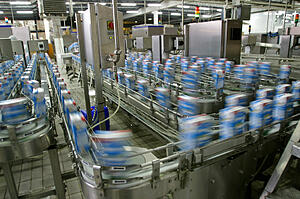 Companies initially developed spreadsheet management systems, which were used to manually monitor and analyze quality data. With developments in technology, there was a movement toward companies either implementing point quality solutions, many of them home grown or quality specific modules in ERP systems to manage quality. In both cases, the vast majority of companies failed to meet the business and technical requirements of global manufacturing companies.
As a result, many organizations now have a disjointed and broad set of systems that don't easily communicate with one another. Improvements with these systems are often localized, lacking the global visibility needed to truly manage quality. With the need in the market, a new software category has emerged, Enterprise Quality Management Software (EQMS).
How to Define Enterprise Quality Management Software
EQMS is an emerging enterprise software category that manages content and business processes for quality and compliance across the value chain. It can be viewed as a quality management platform with an integrated with IT architecture and data model that facilitates cross-functional communication and collaboration.
EQMS's General Technology Capabilities
The solutions market for EQMS varies by functionality, industry, technology delivery platforms, company sizes served, and numerous other characteristics. There are, however, a set of typical capabilities that most vendors offer and/or are heavily investing in. These include:
A modern web-services based technology platform
A BPM approach to deploying functionality. Applications are built on the platform with integration between applications
Pre-configured interoperability with other enterprise applications like ERP, PLM, MOM, and SCM
GUI is web-based, role-based, avoids forms, and focuses on workflow execution
Functionalities Provided by EQMS
EQMS can be used for many reasons, including the management of compliance, facilitating the investigation of adverse events and the proceeding corrective actions, managing risk, and, among many others, integrating complaint management into the quality management process. A more extensive list of these functionalities is provided below:
Non-Conformances / Corrective and Preventive Action (NC/CAPA)
Compliance Management
Supplier Quality Management
Risk Management
Statistical Process Control (SPC)
Failure Mode and Effects Analysis (FMEA)
Complaint Handling
Advanced Product Quality Planning (APQP)
Environment, Health, and Safety (EH&S)
Audit Management
Hazard Analysis & Critical Control Points (HACCP)
Change Management
Reporting
Document Control
Calibration Management
Employee Training
Production Part Approval Process (PPAP)
Closed Loop Business Processes Enabled by EQMS
Modern IT architecture offered by EQMS enables organizations to close the loop on quality management. EQMS's functionalities help to integrate quality management into end-to-end business processes across the value chain, from product ideation through distribution and service. A more specific description of EQMS's closed loop capabilities is provided below:
Internal Quality Processes (Engineering, Manufacturing, Supply Chain, Service)
Real-time visibility of quality metrics in engineering, manufacturing, and customer service
Formal NC/CAPA processes established across company
Cross-functional teams in place to manage quality across design, manufacturing, and suppliers
External Quality Processes (Suppliers)
Real-time visibility of quality metrics in supplier performance
Supplier scorecards established to measure and monitor performance
Supplier quality data collected automatically through web-based portal
Statistical analysis used to monitor and analyze real-time supplier quality data
Standardized escalation processes exist for supplier quality and non-compliance events
Suppliers are included in design for quality initiatives
Compliance and Risk
Compliance processes are easily understood and documented
Formal audit management processes established to understand current compliance status and identify area for improvement
Formal risk management framework established
Ability to identify risk factors across operations, quantify, visualize, prioritize and mitigate risk factors across operations
Goals of a Typical EQMS Implementation
With the amount of resources needed, implementing an EQMS can be a daunting undertaking. However, with the proper planning, it can be incredibly beneficial to an operation. The list of goals that typically accompany an EQMS implementation includes:
Standardize, processes, metrics, and expectations
Integrate quality system from suppliers through customers
Create one global web-based quality system
Listen to the voice of customer
Empower people with data
Drive performance improvement
Have a single source of truth
Enable data sharing and continuous improvement
Provide real-time business data to all stakeholders
Support the "one company" philosophy
Be flexible enough to support changing business needs
The Future of Quality Management Software
EQMS will continue to surface as the leading solution for managing quality. Through our experiences and the creation of the industry's first solution selection guide for EQMS, we've had the opportunity to fully analyze the market. The convergence of disparate, specialized solutions will undoubtedly continue, with out-of-the-box solutions getting stronger and stronger. We're also seeing a lot of opportunity and investments being made in Business Intelligence, Mobility, User Experience, GUIs, Cloud Computing, and the development of app-based programs. In the future, we will touch more on these advancements.
---
All entries in this Industrial Transformation blog represent the opinions of the authors based on their industry experience and their view of the information collected using the methods described in our Research Integrity. All product and company names are trademarks™ or registered® trademarks of their respective holders. Use of them does not imply any affiliation with or endorsement by them.