Technology user conferences are a great way for software companies to showcase the latest and greatest updates to their product portfolios, mergers & acquisitions, partnerships, customer success stories, and overall messaging on critical topics.
Last month, Hexagon and Siemens, two of the biggest industrial technology companies, had their user conferences (HxGN Live and Realize LIVE, respectively) in Las Vegas, Nevada, making the casino city busier than usual as it was gearing up for its first Formula One race later this year.
This blog post covers my thoughts and unbiased opinions on the top product updates, partnership announcements, and overall themes from both events.
It's all about Nexus at Hexagon MI
Hexagon continues to grow organically and through mergers and acquisitions, as shown by several product updates and announcements in Design & Engineering, Metrology & Inspection, and Manufacturing. However, under the Manufacturing & Intelligence (MI) division, our primary point of interest, most of the attention was given to Nexus, Hexagon's digital reality platform.
Announced at last year's HxGN Live and launched just last quarter, Nexus is Hexagon's response to the increasing trend of industrial technology companies lining up to be platform vendors. The platform is positioned as a one-stop shop for all Hexagon technology and applications and is supposedly open to third-party partners and system integrator networks.
Updates on the Hexagon Manufacturing Intelligence portfolio from Chief Product & Technology Officer at Hexagon, Parth Joshi
While we did see a solid list of upcoming releases to the platform, there were two key features that the Hexagon team made available today:
Nexus For Developers, which enables third-party developers and partners to build custom applications using open APIs, SDKs, documentation, and tutorials, and

Nexus 3D Whiteboard, a visual collaboration app built on Microsoft Teams that enables interactive collaboration to simplify the design review process
While it is clear that Hexagon aims to join the ranks of other companies to become a platform vendor, it leads to a couple of questions. First, are they too late to the game as other technology companies increasingly move away from platforms? Even if they're not, how much success will they have, given that several companies in the past have failed to build a thriving developer ecosystem on their platforms? Unless Nexus proves to be substantially more open, secure, efficient, and economically viable than the other platforms, it will be difficult for them to establish it as an industry-leading platform for users and developers.
In other news, ETQ, a recent acquisition, had a significant presence in the overall event. Previous acquisitions like this in the EQMS space have typically caused a slowdown of momentum in the acquired company, as its strategy often gets lost in the larger scheme of things. That, however, does not seem to be the case here. With a new leadership team in place, ETQ appears to be a significant part of the Hexagon Manufacturing Intelligence division and complements Nexus as a critical piece of its transformation solutions. Based on the executive message and conversations with the customers, I believe that ETQ's Quality Management product is well positioned to supplement Hexagon's existing Quality assurance and control portfolio and is on the path to collectively offering a comprehensive Quality 4.0 solution.
Join the Transformation with Siemens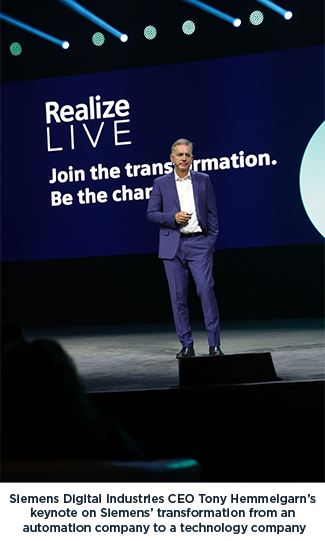 Across the city at Mandalay Bay, we heard that Siemens continues to make giant strides in its goal of transforming from being an automation company to a technology company. Since LNS Research has recently covered the launch of its transformation platform - Xcelerator, and its subsequent transition to a cloud-based subscription model, the Xcelerator-as-a-Service, extensively, I will not dwell on the details here.
There was a persistent focus on manufacturers' urgent need to address current challenges such as climate change, COVID-19, geopolitical conflict, and global competition and how Siemens can help companies address these problems. Overall, Siemens' Xcelerator SaaS offerings, including modular apps within a flexible open ecosystem and partnerships, are well positioned to be the comprehensive Digital Twin platform it wants to be and serve this urgent need for manufacturers.
Embracing an ecosystem of partnership
One of the main positive takeaways from my week in Vegas was that industrial technology vendors realize they cannot facilitate Industrial Transformation by themselves and are embracing the need for partnerships and co-opetition. In a world where consumer technology companies like Reddit and Twitter are shutting down free access to their APIs, seeing this ecosystem of symbiotic partnerships develop in the industry is encouraging.
Hexagon and Siemens announced key partnerships with NVIDIA, but more on that in the next section. Other than that, Hexagon highlighted their partnerships with Amazon Web Services (AWS), Microsoft Azure, Sony, and an assortment of system integration and implementation partners to help carry their vision. Supported by these partnerships, Hexagon (and ETQ) stressed the focus on being a technology vendor and a trusted partner for their customers.
Siemens, which has also positioned itself as a trusted partner for manufacturers, has developed healthy partnerships with industry stalwarts such as IBM and SAP to co-sell several of each other's products in combined solutions. In addition, their partnership with AWS has recently resulted in Siemens playing an integral part in AWS' Industrial Data Fabric architecture. Readers should be aware that Siemens recently switched from having a separate Mindsphere app store to offering its XaaS portfolio in the AWS marketplace, making it much easier for customers to subscribe to these services.
LNS Research has done quite a lot of research on this growing need for strategic Industrial Transformation (IX) partners in the industry. As Siemens' healthy list of partnerships develops over time, it will be interesting to see if customers engage with Siemens as a strategic Industrial Transformation partner or continue to see them as an essential IT or OT supplier. Either way, LNS Research believes that Siemens is well-positioned to engage with customers in both ways.
Siemens' Mendix applications, an integral part of the AWS Industrial Data Fabric architecture
Digital Twins & the Industrial Metaverse
Digital Twins have been a key topic of interest in Industrial Transformation for a while now. Over the years, it has become one of those concepts where there is a different definition based on whom you ask.
Not surprisingly, Digital Twins were a key theme in both Hexagon and Siemens last week, and interestingly, both companies included a significant partnership with NVIDIA, the graphic chip and AI company that recently shot to fame with a trillion-dollar market cap.
Hexagon announced that they were collaborating with NVIDIA to build Digital Twins that combine reality capture, spatial computing, simulation, visualization, and AI. The collaboration will connect Hexagon's HxDR reality capture platform and Nexus with NVIDIA's Omniverse platform to provide a 360-degree simulation of factory planning and design, process quality optimization, and operations.
On the other hand, Siemens also showcased their partnership with the NVIDIA Omniverse platform to build immersive, AI-enabled, physics-based Digital Twins. Even before the NVIDIA partnership, Siemens set its sights on becoming the most comprehensive Digital Twin provider in the industry, powered by their portfolio of Insights Hub (formerly Mindsphere), Teamcenter, Opcenter, and Mendix solutions.
Although Hexagon and Siemens certainly had marketing teams savvy enough to label them as "Industrial Metaverse" solutions, I'm afraid I have some reservations on this topic. While I believe in the potential of Digital Twins simulating and visualizing both the plant and the product, I do not see the need or value of an immersive experience such as a metaverse for today's manufacturing.
I believe that if the Industrial Metaverse were to have any substantial claim to transform manufacturing, in addition to modern technologies like AI, AR/VR, and fancy wearables, it needs to have a solid foundation in robust connectivity, physics-based models, near-real-time context, and bi-directional data transfer and accessibility between the physical and digital worlds.

Summary & Recommendations
Overall, it was a productive week in Las Vegas. Hexagon CEO Paolo Guglielmini kicked off HxGN Live '23 with a philosophical keynote on Optimism at Scale, effectively using customer stories to showcase innovation through personal responsibility, openness, and passion. On the other hand, Siemens Digital Industries CEO Tony Hemmelgarn led with a message of 'Join the Transformation,' since to help their customers transform their operations, Siemens is transforming itself from an automation company to a technology company.
Other than the topics described in this write-up, there was also some focus on other important topics such as enterprise asset management/APM (under the Hexagon Asset Lifecycle Intelligence division), Sustainability, Artificial Intelligence, and the Connected Frontline Workforce.
Both companies emphasized the need for manufacturers to accurately monitor and reduce energy emissions and become carbon neutral in the next few years, showcasing how their respective solutions can help the industry get there. Another topic both events focused on was Artificial Intelligence and how large language models, advanced analytics, and AI-based simulation will not remove but change the nature of industrial work.
Regarding the Connected Frontline Workforce, Hexagon stressed the importance of human-centric innovation to build solutions aimed at the frontline workforce. At the same time, Siemens showed how applications built on Mendix solve similar problems for their customers.
To wrap up, here are some closing recommendations for manufacturers who are customers of or are looking into Hexagon, Siemens, or other technology vendors:
Machine connectivity and interoperability are foundational and essential infrastructures. Hexagon, Siemens, and other large industrial technologies have an assortment of solutions through organic growth and acquisitions over the years. Make sure these solutions have the capabilities to integrate with each other and your existing architecture.

Leverage the Hyperscalers marketplace effectively. Most successful transformation case studies have included the Hyperscalers, mainly AWS or Azure. Effectively using their services and marketplaces of certified partner solutions is a winning strategy for transformation.

The Industrial Metaverse is more hype than reality today. Much activity around the metaverse exists in today's industrial technology landscape, but I don't see it playing a critical role in Industrial Transformation yet. Align technologies like AR/VR, 3D Simulation, and Digital Twins to your strategic objectives and incorporate them as part of your architecture over time; don't implement them just because they're trending or others are doing so.
---
All entries in this Industrial Transformation blog represent the opinions of the authors based on their industry experience and their view of the information collected using the methods described in our Research Integrity. All product and company names are trademarks™ or registered® trademarks of their respective holders. Use of them does not imply any affiliation with or endorsement by them.