We recently attended the annual Honeywell Users Group – Americas (HUG Americas or HUG) conference in Dallas, Texas. This year's event drew more than 1,400 attendees, including 675 customers and 200+ channel partners. With some 150+ sessions, ranging from end-user break out presentations, technology solution presentations, workshop and/or training sessions, and roundtable discussions across multiple tracks, the four-day conference was chock-full of content. We had only one day to attend, so we focused on:
Honeywell Connected Enterprise (HCE) versus Honeywell Connected Plant (HCP)
Honeywell Forge
Experion PKS Highly Integrated Virtual Environment (HIVE)
Go-To-Market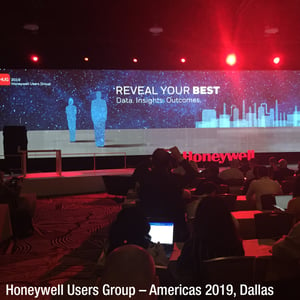 One of the key takeaways from this year's HUG is the company's dual emphasis on Honeywell Forge for Industrial and Honeywell Connected Enterprise. While neither solution is new, the market may not have a clear understanding of the differences and their significance. With roots in the digitalization of plant-centric operational technology i.e., connected plant, with HCE, Honeywell has raised its sights on extending components of HCP across the breadth of Honeywell business and solutions. Keep in mind that Honeywell's revenue, in its entirety across all divisions, is roughly $35+ billion with just $5+ billion in contribution from Honeywell Process Solutions and Honeywell UOP. There are five focus areas for HCE:
Honeywell Forge for Inspection Rounds
Honeywell Forge for Buildings
Honeywell Forge for Aerospace
Honeywell Forge for Industrial
Cybersecurity
HCE is purely a software innovation entity, led by Que Dallara with headquarters in Atlanta; that company's sole focus is Internet of Things (IoT) solutions, data analytics, cybersecurity, and new business development.
Moving Ahead
Honeywell announced Honeywell Forge for Industrial, formerly known as Honeywell Connected Plant, a collection of enterprise performance management software that provides actionable recommendations, highlighted with potential economic impact for intelligent business and operations. The portable and extensible software solution uses process and asset digital twins, and role-based and comprehensive analytics to enable top to bottom enterprise-wide visibility, to improve decision making and sustain overall performance of the process, assets, people and safety. Forge's components supersede those originating in Connected Plant (those previously used for Industrial Internet of Things (IIoT) solutions) and deliver new modules to the platform: Honeywell Sentience, Process Reliability Advisor, Profit Performance Monitor, Asset Performance Management and Operator Rounds. Honeywell Forge for Industrial is available now for implementation with any control system, historian, and enterprise asset management (EAM) solution.
We think the most significant announcement was Experion PKS Highly Integrated Virtual Environment (HIVE), Honeywell's new approach to engineering and maintaining industrial control systems. Experion PKS HIVE simplifies control system design, implementation, and lifecycle management by decoupling I/O module assignments and control strategies from specific controllers and leveraging IT capabilities in existing data centers. In addition to extending legacy Honeywell TDC systems to Experion, HIVE is really a major architectural step forward for Experion PKS. Experion PKS HIVE introduces new remote, fault-tolerant I/O with optional wireless connectivity built-in the I/O cabinet, all tethered back to the controllers via fiber. So, this means no more I/O in the control center and moving it out to the field. Innovation number two is that companies can connect remote I/O to any C300 controller, and any C300 controller can address any remote I/O. Innovation number three is the ability to address a collection of controllers virtually, as if they are all one big controller, with automatic distribution and load balancing of the control algorithms across the controllers. Sound familiar? It works a lot like the Cloud with scalable servers. Proof again that IT concepts like decoupling software from hardware, containerization, and virtualization have found new homes inside operational technology (OT). Honeywell also announced universal control software, with a graphical flow-based configuration that even supports older control language (CL) and application module (AM) programs, that can run on-premise or on remote servers from the plant site. That approach supports remote operations centers that serve multiple sites, an increasing trend in the process industry. The company has scheduled Experion PKS HIVE for December 2019 availability.
What's Next?
With Experion PKS HIVE Honeywell has done two things right. First, it leapfrogged the competition with virtualization capabilities that allow controllers and I/O to communicate with each other regardless of location. Second, Experion PKS HIVE along with a few other product additions allows legacy TDC users to migrate forward without wholesale rip and replace. This good news for existing TDC users while providing a very flexible, cost-effective architecture for those looking at greenfield facilities. Retaining legacy TDC users has long been a challenge for Honeywell, and it now appears that they have a viable path forward. However, it's still worth noting that despite Experion PKS HIVE, Honeywell, like most other automation vendors, has multiple legacy systems with different controllers intended for a variety of applications. When will they consolidate this into fewer controllers, if not only one, with varying computing power, memory sizes, and form factors? If we can truly decouple software from hardware, this shouldn't be far off. Moreover, neither will be controllers and cabinetry that look like banks of scalable servers in a data center.
While Honeywell Forge for Industrial has many competitors in the APM space, it offers what is currently the most complete suite of enterprise performance management for hydrocarbon processing that we have seen. In particular, user-friendly visualization, plus predictive and prescriptive analytics tied to economics, will have broad appeal to operating companies. Honeywell Forge for Industrial is a reboot of the "Sentience" platform, which the company originally launched in 2017… reboots are often much more successful than the original release, but given these starts and stops – potential buyers should judge Honeywell more on execution than vision. This begs two questions. First, can Honeywell Forge for Industrial, with its own dedicated sales force, successfully market to the process industry without competing for client time against its own Honeywell Process Solution (HPS) sales force (which traditionally focuses on pursuing the bigger dollar hardware order)? Second, can it overcome concerns that layering a Honeywell solution over a competitor's control system will just beg for compatibility and collaboration problems, either resulting in staying with the control vendor's solution or choosing a third-party non-automation vendor solution? HCE's go-to-market strategy should take these concerns into account.
Recommendations
For industrial companies looking for a modern DCS architecture that's fast to engineer and deliver at lower installed cost, Honeywell Experion PKS HIVE should be on the shortlist. Also, regardless of whichever DCS your company has, so should Honeywell Forge for Industrial. For Honeywell's part, it only needs to deliver on commitments and then extend the Experion PKS HIVE and Forge visions even further. Honeywell finally understands the OT ecosystem … yes, it demands solid, reliable hardware, but it's the software that counts more than anything else.
Categories: Solution Vendor / Software Vendor, Operational Architecture, Asset Performance Management (APM), Digital Twin