LNS Research recently attended HPE Discover 2019 event in Las Vegas, hosted by Hewlett Packard Enterprise (HPE). The company had $30.88 billion in revenue in 2018, and is focused on Edge, hybrid cloud, and intelligent data. The conference was a well-executed event with well over 9,000 attendees and 8% growth over last year. The highlights were demonstrations and presentations on cool use cases in exciting topic areas:
Development of Disney's new Star Wars: Galaxy's Edge
Optimization of Venturi Formula E race car
Purdue University's use of Edge technologies to improve agriculture for the world
It is easy to get customer engagement with such compelling (and fun!) tech stories. Who doesn't like to save the world, race cars, and fight for the Rebel Alliance?!?!!
Major Announcements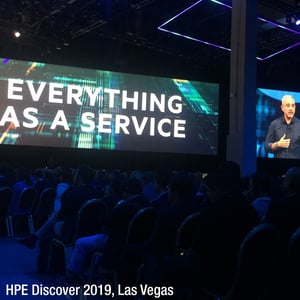 The event, and especially president and CEO Antonio Neri's keynote, were filled with major product announcements. The biggest overall message: HPE's commitment to "as a Service." The company announced that it will offer all its products and services in a consumption model by 2022. Announcements continued to flow, with major ones around a new line of mission-critical storage systems, HPE Primera, that the vendor positioned as needing only six cables, five clicks, and 30 minutes to bring online. In addition, HPE rolled out a series of enhancements to HPE GreenLake (its offering that provides public-like cloud services — consumption-based pricing, fully managed by HPE — for systems and software on premise). In particular, HPE is now offering HPE GreenLake for the mid-market.
Back to the Future
We didn't attend to evaluate HPE's strategies to serve the IT market generally. LNS Research focuses on the industrial world and operational technology (OT), so we zeroed in on HPE's offerings in that arena. I'm old enough to remember when HP and Digital Equipment (acquired by HP) were major players in manufacturing, delivering products, solutions, and services to manufacturers worldwide. HP offered solutions to the OT world leveraging manufacturing independent software vendors' (ISVs) solutions wrapped with HP services and technology. The company has, of course, gone through a significant transition including the formation and spinoff of HPE in 2015, and later HPE's spinoff of the bulk of its services business in 2017. HPE Discover 2019 was "back to the future" with a focus on manufacturing and OT as highlighted by its "Accelerating Productivity" demonstration which had center stage in the transformation showcase.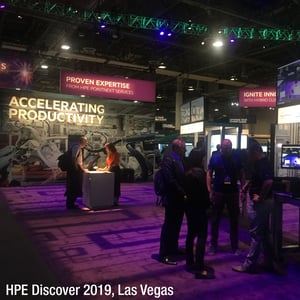 As part of its steady stream of product announcements, HPE clearly signaled its intent to deliver solutions for manufacturing again. The company announced integrations and turnkey edge-to-cloud solutions delivered with partners ABB, Microsoft, and PTC, to enable real-time intelligence and control in industrial environments. HPE Fast Start Conditioning Monitoring is the first of these manufacturing specific solutions to be made available. The offering envisions HPE helping industrials define use cases to connect and monitor manufacturing equipment. It also reflects the back to the future intention: it includes HPE Pointnext services to wrap around its Edge systems, the company's HPE Edgeline OT Link platform, and ISVs' product offerings. In this case, HPE Fast Start Conditioning Monitoring leverages PTC's ThingWorx IIoT platform. HPE Fast Start Conditioning Monitoring provides connectivity to a wide range of data sources and workflows for real-time insight into operational equipment. Customers can add artificial intelligence (AI) with HPE AI in later stages of implementation; the demo in the showcase was exactly such a scenario.
Other manufacturing-focused announcements included solutions for edge appliances for the Microsoft Azure stack leveraging ABB, Microsoft, and Rittal as ISV's, and wireless connectivity solutions for OT leveraging ABB Ability™ smart sensor technology.
It's quite clear, HPE wants to be a major provider of systems, infrastructure, solutions, and "business outcomes and experiences" for the OT world. This objective is evident in its focus on the Edge with HPE Edgeline computing systems, HPE Edgeline OT link, and its hybrid cloud strategy. In addition, LNS views the HPE GreenLake offering as having significant potential in the industrial sector where manufacturers continue to be reluctant to trust operations to anything that depends on Internet connectivity (i.e., the Cloud), but often do not have the IT resources required to handle the complexity of IT systems. HPE GreenLake offers an attractive alternative: fully managed systems, priced "as a Service," installed on-premise, with full connectivity to the cloud of choice.
All we can say is, HPE welcome back to the game!
Bottom Line on HPE for Manufacturers
LNS Research views HPE as making lots of strategic moves to win the manufacturing IT world and to accelerate the convergence of OT and IT. We believe industrial companies should actively consider it as part of the mix for Industrial Transformation.
Categories: Solution Vendor / Software Vendor, Smart Connected Assets, Artificial Intelligence / Machine Learning (AI/ML), IT/OT