LNS Research recently had the privilege of attending iBASEt's first in-person Excelerate conference since 2019. The event was hosted at Disney Swan Resort in Orlando Florida with 279 registered attendees including iBASEt employees and partners. While the event was small compared to the industry giants, it is a new record for iBASEt and larger than almost every other vendor conference focused on Manufacturing Execution Systems (MES).
Winning in the Aerospace & Defense industry
One of LNS Research's recommendations to technology suppliers is to get a strong foothold in a select group of industry verticals. iBASEt's execution follows this advice, and the event was a manifestation of how far the company has come.
Strong Industry Turnout
Attendees included delegations from Lockheed Martin, Northrop Grumman, Huntington Ingalls Industries, Pratt & Whitney, GE Aerospace / Edison Works, Rolls Royce, SAAB AB, General Dynamics, Cirrus Aircraft, Collins Aerospace, and more. It felt like an industry meeting in addition to an iBASEt event.
Whose process is it anyway?
Many MES implementation projects get stuck trying to replicate existing operating procedures. We observed some indications that this may change. Customers were saying that they are willing to change their processes to fit into iBASEt Solumina's patterns.
One of the big drivers seems to be that iBASEt product management has been able to create best practices that are equal to or better than the current procedures. This bodes well for the future as a standardized approach will reduce rollout time, customer support and training, and product development time.
The emergence of the Model-Based Enterprise (MBE)
While most MBE solutions have their genesis in the Computer-Aided Design (CAD) world, iBASEt takes a different approach where the users start with the MES system and add MBE to become a data-driven digital business. iBASEt asserts that with MBE, you can achieve Quality, Velocity, and Efficiency at the same time – Pick all three. New to the conference was the announcement of support of the Occurrence ID so that both the location and type of a part can be tracked.
Customer love, Open is as Open Does
D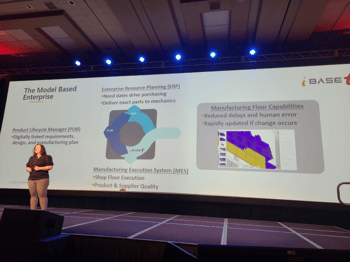 uring one of the customer success presentations, Lockheed Martin called out iBASEt Solumina as being an open solution and the value it had to them, they even went as far as calling out competitors in the Aerospace & Defense (A&D) MES space who are not open (not mentioning names, the guilty parties know who they are).
This transparency from an end-user is unfortunately rare but much appreciated.
SaaS deployment considerations in Aerospace & Defense
It is easy to say that customers should not care about the underlying technologies, but the reality is that many of iBASEt's systems are deployed on-premises in an air-gapped network. Most of iBASEt's customers must follow the International Traffic in Arms Regulations (ITAR). The result is that the end-user often installs and maintains the software. This is likely to be a difficult needle to thread, and we expect that it will be one of iBASEt's biggest challenges going forward.
Signs of an industry breakthrough
Coming from the secrecy culture of A&D, the customers were more than willing to share their experiences. Customers are happy, but at the same time, they are also clear that there are things that could be better.
In some of the deeper discussions with customers, they shared that they are expecting iBASEt to dominate the MES market for A&D. They are rooting for the company.

New customers embrace Solumina iSeries, but many old customers are still on the G-releases
New features
iBASEt is focused on building out use cases that are relevant for their customers and they are expanding the feature set in Manufacturing Execution Systems (MES), Supplier Quality, and Maintenance-Repair-and-Overhaul (MRO). All the new features are only available in iBASEt's new platform called iSeries. iSeries is a web server/client architecture and requires a more demanding infrastructure with web services and containerization, which has the potential to create deployment challenges for some customers.
A path forward
On the positive side is iBASEt's commitment to not leaving customers behind. They are making significant investments in a gradual conversion from older to newer technologies while still delivering a single system. This has great advantages over the common approach of starting new and building an architecture that only supports parts of the features.
Some customer frustration
I could sense a little frustration in the audience after a lot of new iSeries features were presented and one of the end-users asked if there could be a show of hands for who in the audience was on iSeries. There were not many, primarily the newest installations, most were not completed. Most iBASEt users are still on the G7 and G8 releases and therefore excluded from using the new features.
Conclusion
While we see large organizations getting ready to deploy, our observation is that the adoption of iSeries is behind the desired iBASEt schedule. The question is if it really matters as customers will likely upgrade to the new technology when they are ready, not when iBASEt wants them to do so.
Delivering on strategy
In previous discussions with iBASEt, they focused their strategy on moving to the Cloud and expanding in Small and Medium Businesses (SMBs).
SaaS and Cloud are related, but they are not the same thing. iBASEt is pushing hard on its SaaS offering with subscription and upgrade services, this approach is not without challenges. Some of these challenges are big, and we still have to wait and see if iBASEt can crack the nut and manage on-premises software. Solumina MRO seems to be a clearer cloud offering, but adoption has still not taken off.
We saw no clear sign of SMB success based on the use cases and the attendees. This could be because SMBs tend to not go to these events, or because there is limited success.
LNS Research recommendations for End-Users
If you are a manufacturer or MRO service provider in ITAR-regulated industries, then we recommend that you do the following: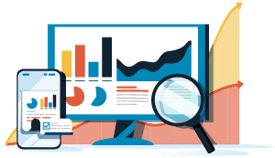 Evaluate MES, Supplier Quality, and MRO software providers with strong ties to your industry, this is not an industry that any software provider can serve.

Look at Cloud and SaaS software as real opportunities for simplification, but it is not for every use case.

Explore the benefits of Model-Based Enterprise with the integration of MES and CAD

Don't fall into the trap of believing that you can buy and install software once, you will need regular updates of technology and features.
If you are an existing iBASEt Solumina customer, then we recommend the following:
Continue utilizing the investments that iBASEt is doing in A&D, few software suppliers are dedicated to this industry.

Identify where there is value in expanding the iBASEt footprint. Standardization across the enterprise is likely to serve you well as it will create a community of users. Look for enterprise deals.

Evaluate new Solumina features and upgrade when it makes sense from a functional, technical, and security perspective. Be aware that upgrading will require additional investment in DevOps knowledge and infrastructure.
Recommended LNS Research reading
*Featured Images: Naveen Poonian, President & CEO of iBaset, and Kristie Coleman, Enterprise Architect at Lockheed Martin
---
All entries in this Industrial Transformation blog represent the opinions of the authors based on their industry experience and their view of the information collected using the methods described in our Research Integrity. All product and company names are trademarks™ or registered® trademarks of their respective holders. Use of them does not imply any affiliation with or endorsement by them.
---
All entries in this Industrial Transformation blog represent the opinions of the authors based on their industry experience and their view of the information collected using the methods described in our Research Integrity. All product and company names are trademarks™ or registered® trademarks of their respective holders. Use of them does not imply any affiliation with or endorsement by them.