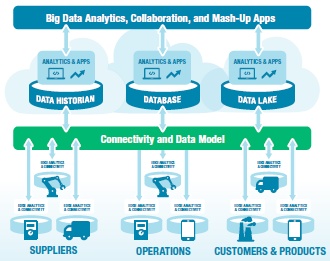 Welcome to LNS Research's first Monday Musings!
Do you find it difficult to stay up to speed with the pace of change in the enterprise applications market? Or do you want to learn more about Digital Transformation and Industrial Internet of Things (IIoT), but don't know who to trust? Maybe you find most technology research too focused on hype. If so, then you are in the right place.
Click here to speak with Matthew
Every Monday morning I will share with you our insights and analysis from the previous week's briefings, events, and publications. I will bring you behind the scenes to get a unique perspective on how the movers and shakers are pushing our industry forward.
Dassault Systèmes ENOVIA Analyst Day
On Wednesday February 24th 3 analysts from the LNS team joined Dassault Systèmes for a full day briefing and update on ENOVIA. The day was highlighted by the introduction of Stephane Declee as the new ENOVIA CEO and the farewell of outgoing CEO Andy Kalambi who will now be running the 3DEXPERIENCE platform. The 2016 update included a number of interesting insights and interactions:
Master Data Management is Dead. One of the most entertaining and insightful pieces of dialogue came when Stephane responded to a question from a Gartner analyst about the need for Master Data Management, as ENOVIA moves into increasing PLM Analytics capabilities. Stephane responded with "Master Data Management is dead." I couldn't agree more. We now live in a Big Data and IIoT world where data is dirty, disparate, and unstructured. The key to successfully deploying analytics is not in making all data clean and structured, but instead working effectively with it in its current state. Stephane understands this; many others in the engineering community do not.
ENOVIA is Attempting to Disrupt Process Industries. Dan Miklovic recently wrote a post about the benefits of applying product design methodologies to plant design in the process industries. In this post he clearly described the challenges process industries executives face with managing the disparate set of process engineering tools and data sources. Simon Huffeteau, Energy, Process, and Utilities consultant at Dassault Systèmes, gave an insightful presentation highlighting these same challenges and how ENOVIA could be the platform to bring together disparate systems across engineering and operations. Although the presentation clearly demonstrated Dassault Systèmes' understanding of the problem and early success, there are still unanswered questions. Namely, why a product centric PLM solution is better suited than either existing tools or purpose built next-gen solutions for managing engineering data specific to asset and process optimization.
Dassault Systèmes announces IIoT Platform partner strategy. The Internet of Experiences (IoE) Dassault Systèmes perspective on the IoT and Olivier Ribet gave a compelling presentation on how the IoE will transform manufacturing, products, and experiences. Although the IoE is well aligned to the Dassault Systèmes value proposition and strength in simulation, previously it was unclear how this vision would be delivered given existing IoT capabilities. These questions were answered on Wednesday. Dassault Systèmes has acknowledged the emergence of the IIoT Platform space (much in alignment with how LNS has defined) and stated they will partner with IIoT Platform providers and focus on the delivery of IoE applications.
Schneider Electric Briefing: New Remote Monitoring as a Service Offering
The Monitoring and Diagnostic Services Center (MDSC) is a service offering that customers can engage to remotely monitor industrial assets and provide alerts and diagnostic guidance. It utilizes data from a variety of historians and process data systems; and uses the Avantis PRiSM and Condition Manager Solution to analyze, visualize, and help customers act on asset performance data to transition from reactive to proactive maintenance. MDSC can be deployed either in the Cloud, or on premise, and can be monitored by the client or by Schneider Electric.
We see the MDSC as good for the industrial community for two primary reasons:
It adds another competitor to the growing field of providers enabling Smart Connected Assets and will encourage competition, and thus continued product enhancement with competitive pricing.

For both end users and OEMs the IIoT, Cloud, and Big Data Analytics ARE creating new business opportunities that companies ignore at their own peril. This new offering provides an additional opportunity for forward looking companies to capture this value and transform business models.
Seeq Briefing: Big Data Analytics in Manufacturing
Seeq is an up and coming data analysis, visualization, and collaboration tool designed to be layered over the OSIsoft PI historian to aid process engineers in turning data into valuable insight. The leadership team at Seeq has a strong grasp of the IIoT potential, with a solid background in both the IT and OT implications on Big Data Analytics, rare among larger co-opetition.
While we think that Big Data and the associated analytics are ultimately going to transform this area, taking advantage of the wealth of data currently in legacy historians remains an opportunity for many companies. Any tools that make it easier to collaborate and mine your existing data for rich process insight are a step in the right direction, and will pave the way for future developments in Big Data Analytics in manufacturing.
SAP Connected Manufacturing Briefing: MES on HANA
It was no easy task, but LNS Research was excited to confirm that SAP ME (Manufacturing Execution) and MII (Manufacturing Intelligence and Integration) have been ported to the HANA in memory database with release 15.1. The release also included significant UI and mobile enhancements, which will provide opportunities to many of the customers already moving to HANA and want more useable shop floor applications. All of these announcements will also provide plenty of opportunities for partners to integrate shop floor manufacturing applications into HANA through the various integration platforms available from SAP and others.
Our key take-away is that a modularized MOM solution based on HANA will benefit SAP users deploying closed loop business processes and continue to help push the industry at large to offer IIoT enabled and modularized MOM solutions.
WIN-911 Briefing: IIoT Alarm Notification
WIN-911 is a leading alarm notification company and they briefed us on their alarm notification strategy and IIoT ambitions. Today they count almost 200 of the Fortune 500 companies as customers, and provide a low cost and easily configurable solution for alarm notifications across multiple mobile platforms. Integration capabilities with SCADA and HMI solutions is strong and LNS Research believes that as the world becomes IIoT enabled; WIN-911 will be faced with the challenge and opportunity of needing to quickly and effectively enable alarm notification inside and outside of traditional control and communication hierarchies. The company bears watching.
Arimo Briefing: Solving the Data Scientist Crisis
I recently wrote an article on the Data Scientist talent gap in manufacturing and proposed some approaches to closing the gap. Arimo is a Silicon Valley startup Big Data Analytics company that is taking a technological approach to solving the same problem. Arimo sits above the storage and compute layers to create a data model and application that enables collaboration and analysis of operational data between data scientists and business users.
We believe well packaged predictive analytics is what will enable innovative Big Data solutions, like Arimo, to penetrate manufacturing and enable Digital Transformation. For this to happen, companies like Arimo will have to build more industrial specific capabilities, and will also have to help educate the industrial community on the differences between Big Data analytics and traditional analytics.
EQMS Interest and Momentum Remains High
We had briefings with several EQMS Solution Selection Guide candidates, including the Harrington Group and MetricStream, among others. Key takeaways are that the EQMS field has enough momentum that GRC providers such as MetricStream maintain interest in the segment and EQMS providers such as the Harrington Group are interested in adapting to a broad set of industries. Quality executives must perform the tradeoff between specialists with deep industry best practices and generalists that adapt to company/industry needs with customization or configuration.
Quality and the IIoT becoming Reality
LNS has published extensive research discussing the impact of Big Data and the IIoT on the EQMS space. This past week, we had discussions with several vendors expressing first-time interest in joining Big Data, IIoT, and EQMS to deliver new products and value. Those quality executives with a focus on IIoT and Big Data will soon be able to choose from a growing field of EQMS vendors delivering this next plateau of capability and value.
Gensuite Briefing: The Value of Speed and Cost in SaaS EHS Deployment
One point of interest was the Gensuite READY solution, which is a pre-configured instance of the company's SaaS EHS software, designed to be productively deployed in weeks rather than months or years. The base functionality includes incident management and action tracking. Other available applications include training, permit tracking, chemical management, and analytics, among others. While other EHS software vendors offer pre-configured solutions for rapid deployment, Gensuite READY has fairly broad functionality, and relatively low entry costs.
We see this type of pre-configured, best practices solution getting more traction as EHS business leaders look to get value faster, minimal deployment risk, and reduced impact to internal IT resources. However, the real wild card will be with EHS leaders and if they are willing to conform to pre-configured best practices or not. The value may out weight the cost, but change management is never easy.
Sage Clarity: OEE Benchmarking from Epicor User Data
John Oskin, founder of Informance, an EMI vendor acquired by Epicor, shared with us a research project being undertaken by his new company, Sage Clarity. Epicor granted access to actual blinded user data of over 100 companies each for a 3 month stretch. I thought several interesting results emerged from the data:
There is still a deep disparity in OEE performance across companies

All three aspects of OEE are tightly interrelated

The better a company gets at reducing downtime, the more impact of micro-stops
It is important manufacturers remember that OEE is a KPI not a goal. Maximizing OEE does not always maximize business performance, but changes in OEE can help identify actions to be taken for achieving business goals. LNS Research hopes to see further work in the field of analytics tying OEE to actual financial results.
This past week was particularly fast-paced, but so is the pace of innovation in the manufacturing technology community. I look forward to your comments, feedback, and continued engagement.
NEW Research Spotlight on strategies and recommendations for minimizing risk through a migration away from monolithic, single-plant MOM architectures through exploration of Cloud and IIoT technologies that are advancing in manufacturing today.
Categories: Big Data, Industrial Internet of Things (IIoT), #MondayMusings