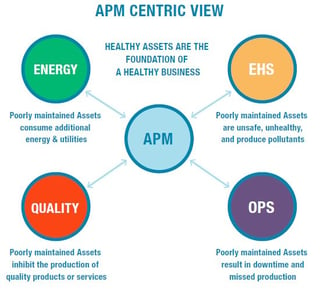 One thing nearly all asset intensive and regulated industries have in common right now is a highly dedicated focus on Operational Excellence. Whether it is Oil & Gas, where sub-$50-per-barrel prices are imposing huge belt tightening, Mining, where demand is sluggish, or Pharmaceuticals, where new ISO standards have forced improved quality management, just about everyone has maximizing the interplay between their people, processes, and technology as a top three objective.
When it comes to Asset Performance Management (APM), these industries have all grasped the importance and progressed in the collection of data from various operational equipment and sensors. But there is also recognition that this barrage of data contains minimal value without the analytics power to distill it into actionable information, and then for that information to be disseminated to the appropriate people in a timely fashion to really drive the Operational Excellence machine forward. The manual systems of the past are no longer cutting it.
That's why many companies have begun to see the value and invest in APM solutions that offer the type of maintenance and analytics benefits that are really driving value today. Perhaps even more crucial than when times are flush, the need to eliminate unplanned downtime in asset intensive industries during lean operating times is crucial.
To aid this need, LNS Research has released its Asset Performance Management Solution Selection Guide, a comprehensive write-up of the top 20 solution providers in the APM space providing side-by-side comparisons by the criteria potential buyers really need to know. A free resource, the APM Solution Selection Guide will help any prospective buyer better establish his or her needs, whether during the initial exploratory phase or in paring down to a shortlist of providers.
We've been providing an overview of each member of the Guide periodically via our blog, and this week the spotlight is on West Coast APM provider Mtell.
Machine Learning and Prescriptive Analytics with Mtell's APM Product Line
Mtelligence Corporation (Mtell) is a privately held company founded in 2006 and based in San Diego, CA. Focused primarily on predictive analytics/condition-based monitoring and intelligent alarming in the APM space, it currently has approximately 20 employees and leadership that has a proven track record in launching successful software companies as well as experience with manufacturing and process automation.
The company's four globally deployed solutions are concentrated in the Oil & Gas, Chemicals, Mining, Utilities, Transportation, and Pharmaceuticals industries. They include:
Basis: Entry level solution that links between EAM, CBM, and process data
Previse: Predictive analytics using machine learning
Reservoir: Enterprise capable data repository for time series, relational, and other indexed information available at plant locations and remote data centers
Summit: Combination of the above bringing all together along with services in a complete solution implementation.
One of the company's differentiators is its machine learning approach to "prescriptive analytics," which includes predictions of outcomes along with automatic initiation of action to avoid or change the outcome. The company is also developing a series of partnerships, which has resulted in examples of deployments that have been scaled to some impressive levels.
The company's implementations typically span multiple sites, offers implementation and training services in addition to the products, and is transitioning to a subscription based model from its previous on-premise offering.
Get the Full LNS Research APM Solution Selection Guide
Along with much more in-depth coverage of Mtell, the LNS Research APM Solution Selection Guide dives deep into 19 other APM solution providers by a breadth of criteria of crucial importance to potential buyers, including solution capabilities, industries served, solution delivery models, functionalities offered, geographical strengths, and more.
To access this free, 100+ page resource click on the image below.
---
All entries in this Industrial Transformation blog represent the opinions of the authors based on their industry experience and their view of the information collected using the methods described in our Research Integrity. All product and company names are trademarks™ or registered® trademarks of their respective holders. Use of them does not imply any affiliation with or endorsement by them.