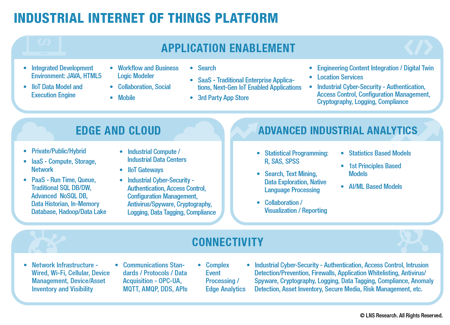 In this weekly Roundup, LNS Research explores recent announcements and events, such as a unified communications solution by the IIC and OPCF collaboration; Schneider Electric's new interoperability architecture; Aegis' move to create Asia VAR program; Medgate's new data gateway; and Honeywell's coup to snag Turkey pipeline deal.
Happy Day for Interoperability: Sensors and Cloud Talking
Leading automation and IT suppliers put their heads together and came up with a brilliant, elegant solution that enables unified communication between industrial controllers and the Cloud regardless of vendor. The OPC UA over Time Sensitive Networking (TSN) is a unified communication solution based on open standards and means that industry will be able to use devices from different vendors that are fully interoperable. ABB, Bosch Rexroth, B&R, CISCO, General Electric, KUKA, National Instruments (NI), Parker Hannifin, Schneider Electric, SEW-EURODRIVE, and TTTech developed the solution in partnership under the under the Industrial Internet Consortium (IIC) and the OPC Foundation umbrella. They all intend to support OPC UA TSN in their future generations of products. Furthermore, the companies, the IIC and the OPC Foundation invite other companies that share a vision of unified communication between industrial controllers and to Cloud to join and contribute to the collaboration. Don't miss the sensor - Cloud interoperability coverage at TTTech and editorial coverage of unified communication and Industry 4.0 by Cisco.
Schneider Electric Wasted No Time (On That Interoperability Offering)
For the past few months, there have been murmurs about enhancements being made to Schneider Electric's EcoStruxure™ architecture to help clients enhance efforts around safety, reliability, efficiency, sustainability, and connectivity. This week, the company officially announced its next-gen EcoStruxure architecture and platform to deliver Internet of Things (IoT) - enabled solutions at scale. The company says that the release leverages advancements in IoT, Mobility, sensing, Cloud, analytics, and cybersecurity technologies; and that it is supported by an ecosystem of partner communities, including technology and consortium partners and developer communities that will co-create customized applications and digital services for the market's unique needs. We're sure it's no coincidence that the release coincides with the Industrial Internet Consortium (IIC) and OPC Foundation interoperability solution announcement this week. Read about Schneider Electric's next gen architecture.
Aegis Scaling Up FactoryLogix in China with VARs
FactoryLogix installations outside the U.S. seem to be skyrocketing – Aegis just announced they launched a new VAR program in Asia, and signed two companies, Beijing Corilead Technology Co., Ltd. and Guangzhou Maxson Automation Ltd. To support Aegis Asia's growing number of large-scale Manufacturing Execution System (MES) deployments in China. The announcement comes on the heels of a corporate reorganization, that the company said would help it continue to scale its global organization, meet growing demand, and enable efficient cross-divisional engineering and customer services coordination. Aegis' move to expand presence in Asia is no surprise, since it seems the whole of China has sounded the battle cry to drive, not join, today's technology and industrial revolution. Don't miss the Aegis China VAR announcement or the company's growth and reorganization story.
Medgate Makes EHS Data Accessible Enterprise-Wide
It's good to see technology vendors breaking down enterprise information silos, and EHS technology vendors are no exception. One company announced this week that they're working to make Environment, Health, and Safety (EHS) data more accessible throughout organizations. According to Medgate, their new Enterprise Data Gateway is a new solution meant to further automate and enrich data, reporting and analytical functions from the company's EHS software with external enterprise data solutions like Excel, data visualization software, Big Data platforms or other business intelligence tools. The company says that Enterprise Data Gateway, "Will allow clients to automatically access and analyze Medgate EHS data in combination with other enterprise data sources, including HR, Finance, or Operations data, and combine EHS data with other data sets for decision making." Read Medgate's news release about their approach to making EHS data more accessible.
Honeywell to Enhance Pipeline Reliability and Safety
The Trans-Anatolian Natural Gas Pipeline (TANAP) in Turkey is a strategically important gas pipeline, and the Southern Gas Corridor is a critical part of the European Union's strategy to enhance its energy security. Honeywell has been selected to provide a control and safety system to support reliable and safe operations along the entire length of the 1,850-km pipeline to help meet European demand for natural gas. According to the technology provider, the solution will enable TANAP to detect and resolve operational issues early to enhance reliability of the gas pipeline and system. Honeywell will provide the project with integrated control and safety solution products, technology, engineering, and support. It includes the distributed control system (DCS), emergency shutdown system (ESD), safety systems, fire alarm panels, and process and non-process area detectors and devices. Read about the Trans-Anatolian Natural Gas Pipeline (TANAP) in Turkey and Honeywell's solution for it.
Categories: Cloud, Big Data, Mobile / Mobility, Industrial Internet of Things (IIoT), Environment, Health and Safety (EHS)