In the spirit of the United States holiday of Thanksgiving, a wonderful holiday to meet with family and friends over a big meal and think about what we are truly thankful for, we thought it would be fun to consider who Operations & Maintenance Leaders (Leaders) could look to give thanks to from an Asset Performance Management (APM) perspective when selecting solutions.
From a family and friend perspective, we often look back over the year and give thanks for the wellbeing and continued hope for health and safety of those we love. Asset Performance Management, when implemented correctly, contributes to the health and safety of People and Assets. When not operating in a safe and reliable way, the impacts can be devastating. So, making the right decisions and working with the right people when deciding on solutions is paramount.
When we look to Leaders and who there "thanks" should go to, it should be looked at holistically at both the bounty of solutions available through Solution Providers and who makes the buying decisions, the Internal Stakeholders. So, now let's give thanks!
The Bountiful APM Solution landscape
One area to give thanks is how Solution Providers work with department Leaders to contribute to success. When Leaders look for solutions in the APM landscape where do they turn? The largest response at 24.77% is Enterprise Software, Automation, and Specialized Solution Providers all contribute equally to a Leaders success.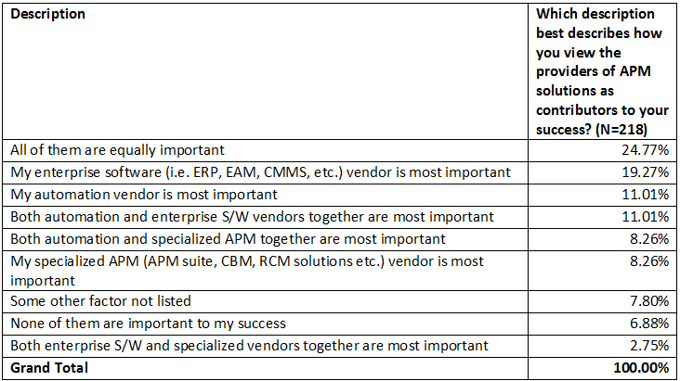 We believe one of the main contributors to this response is the vast depth and breadth of functional components that encompass the APM functional landscape. LNS Research defines the APM market as business process and machine-centric capabilities that go across reporting and predictive functionality (See Figure 1).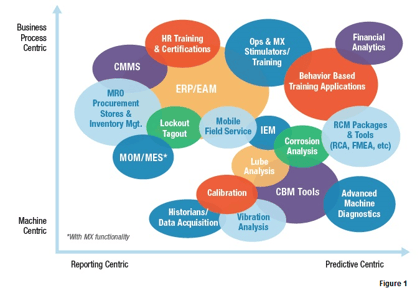 Solution providers can span the space with enterprise level solutions providing multiple facets of functionality, to single offerings with deep capabilities and the expertise to support it. Leaders typically determine the right mix based on business requirements.
This is the key reason Enterprise Software providers scored so high at 19.27%, they are most likely to provide the most functionality under one platform. These providers have a history of working with Leaders on other projects, like Enterprise Asset Management (EAM), and therefore would be a good partner to work with to add more APM functionality in the future.
And finally, rounding out the top 3 is a tie, 11.01% between Automation Solution Providers and Automation/Software Solution Providers combined. This will continue to grow as we see a surge in Industrial Internet of Things (IIOT) projects taking shape. The emphasis will be on repeatable integrations using IIOT platforms, to take valuable data and turn it into insights to help make decisions on risk and criticality of assets.
Thank the Internal Groups, Too…
Another area where Leaders can give thanks is to internal departments making decisions on purchasing APM solutions in the first place. It's a close call as to which office to go to and thank first, but clearly for all intents and purposes Leaders to visit Operations first at 33%. The buying process is outlined well in the results of our survey. The three main groups, Operations, Finance and IT, would be at the center of making the final buying decision.
Other groups should not be discounted in this effort. As mentioned earlier, the APM landscape is broad and deep. Depending on what functionality is being investigated, other key departments would be involved. For example, when looking at Enterprise Asset Management solutions, Maintenance and Plant Engineering would have a strong voice as to the Solution Provider of choice. The same would be the case for Reliability Engineering getting involved with the purchase of Reliability Centered Maintenance Solutions. So, depending on what solutions where chosen this year, there may be a few more offices to visit and give thanks!
What group(s) in your company are responsible for making APM software buying decisions? (N=201)

LNS Research Thanks You!
As the Thanksgiving holiday is upon us, LNS Research would like to thank you. We are thankful to be working with a great community of people, both APM Solution Providers and Leaders who are striving every day to build, implement and innovate within the Asset Performance Management Landscape to ensure assets and people are working safe and reliably.
Thank you to all our survey respondents, as well. We appreciate those who take the time out of their busy day to answer questions that allow us all to share and collaborate, ensuring we continue to learn and share ideas on moving this area of operational excellence forward.
And finally, may all you that celebrate Thanksgiving have safe travels and enjoy your time with family and friends. We'll see you Monday!