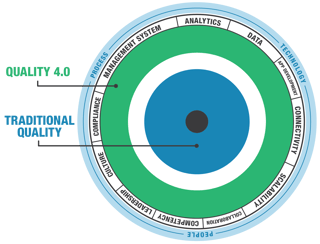 On September 21, LNS Research hosted the fall executive roundtable at the World of Whirlpool in Chicago. LNS roundtables are day-long face-to-face events for senior quality leaders (VP's and directors) responsible for strategy to meet and learn from each other and LNS on core topics. During the most recent session, 15 quality and technology leaders discussed Quality 4.0 building blocks, applications, progress, and outcomes. Special thanks to Whirlpool, Whirlpool's quality leaders, and to our speakers from Coca-Cola and Newell Brands for their part in making this a successful event.
While I've enjoyed all our roundtables to date, this particular meeting sparked a remarkable degree of discussion. The Quality 4.0 topic is an important one because it has the potential to drive new levels of performance. However, it is widely misunderstood and largely under-prioritized by quality leaders. The industry presenters did an excellent job conveying their initiatives and progress; they showed how initiatives connect the Quality 4.0 wheel elements to drive changes across leadership, culture, and day-to-day decision-making.
Not sure what Quality 4.0 is? Access these resources to learn about it:
Did you miss the Quality 4.0 Roundtable meeting? Here's what you should know:
#1 Industrial companies are deploying Quality 4.0 now, and it's adding value. While we heard from several manufacturers, LNS is working with quality teams that are actively deploying Quality 4.0 across many industries. These organizations are deriving new insights that promote change, reduce costs, and improve customer satisfaction and revenue. They are supporting executive management with analytics, improving processes, and driving a culture of quality through transparent data and information. Quality 4.0 is real.
#2 Quality 4.0 builds on traditional quality. How do you manage your traditional quality processes and data in management, development, manufacturing, service? Where are you using paper or individual files and emails? Those organizations with an antiquated environment will need to invest to improve traditional data and processes while implementing Quality 4.0.
#3 Selecting the right initial applications for Quality 4.0 is critical, but is a challenge given how fragmented quality can be across business systems and operations. It's important to select the correct region, site, and application that can drive value quickly, and then build from there. Each application can build upon the last. An incremental approach is an excellent way to upgrade a truly antiquated system.
#4 It's common to make mistakes and lose time. It's okay to fail, but as the saying goes, "fail fast and fail often." That's a systems engineering approach that's a little foreign to manufacturers. In other words, don't attack a single project or a small group of projects over and over for years. Identify and try out many likely options.
#5 "Don't make all the mistakes yourself." This is an important insight quality program members advocate consistently. Learn from research and others who have already done it." LNS' Quality 4.0 research identifies key considerations manufacturers should address to create a strategy and identify applications; manufacturing enterprises are achieving results applying the research.
#6 Avoid common Quality 4.0 misconceptions. For instance, Quality 4.0 is not traditional quality. Some manufacturers mistake technologies such as EQMS and supplier portals for Quality 4.0. By themselves, they are not Quality 4.0. These technologies enable Quality 4.0, and a company can adapt or convert some of them to a Quality 4.0 initiative, but they are not inherently Quality 4.0.
#7 Have hope. Many quality leaders struggle to harmonize quality processes, teams, and tech globally, and some have been tempted to admit defeat. Don't give up; harmonization is not only possible, but repeatable with the right business case, and executive and cultural alignment. We heard from several manufacturers who have secured top management priority and have achieved harmonization across highly complex operations in the past year.
During the roundtable, we heard how quality leaders upgraded traditional quality initiatives such as risk and culture initiatives to Quality 4.0 initiatives. The result has been improving immediate outcomes and positioning the companies for future Quality 4.0 initiatives. Quality 4.0 isn't independent of your traditional strategy, but enhances it. All quality leaders should understand the implications of digitalization and prioritize developing a Quality 4.0 strategy.
---
All entries in this Industrial Transformation blog represent the opinions of the authors based on their industry experience and their view of the information collected using the methods described in our Research Integrity. All product and company names are trademarks™ or registered® trademarks of their respective holders. Use of them does not imply any affiliation with or endorsement by them.