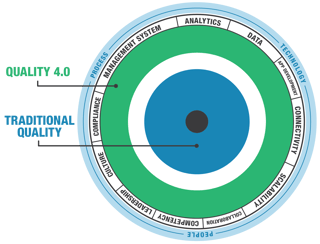 Quality 4.0 blends new technologies with traditional quality methods to arrive at new optimums in Operational Excellence, performance, and innovation. The new technologies include Machine Learning/artificial intelligence, connected devices and operations, new forms of collaboration like social media and blockchain, Big Data, Cloud computing, and new apps like AR/VR and mashups.
Click here to speak with Dan Jacob
These technologies are not unique to quality, and many companies have initiatives around these technologies. What quality teams may not be aware of is that 23% of these initiatives are focused on quality improvement.
Quality teams must take an active leadership role in these initiatives because while Quality 4.0 is fueled by technology, the true transformation occurs in culture of quality, leadership, and quality processes. Success with Quality 4.0 requires a solid traditional quality foundation. Quality 4.0 doesn't replace traditional quality methods, but rather builds and improves upon them.
LNS has identified 11 axes that should be considered in a Quality 4.0 transformation. Manufacturers should use the full framework to interpret their current state and identify what changes are needed to move to the future state.
Why "4.0?"
Quality 4.0 is a reference to Industry 4.0. The First (real) Industrial Revolution embodied three revolutionary changes: machine manufacturing, steam power and the move to city living for people who had previously been agriculturalists. During the Second Industrial Revolution, the production line and mass manufacturing drastically reduced the cost of consumer and industrial products. The Third Industrial Revolution was barely a revolution as electronics and control systems gradually penetrated manufacturing, allowing greater flexibility and more sophisticated products at a significantly lower cost.
The Fourth Industrial Revolution is happening around us right now. It extends the digital impact of the third revolution and merges it with the physical and natural worlds. The critical technology changes listed in the intro, including advances in data, analytics, connectivity, scalability, and collaboration have enabled this. As the fourth revolution takes hold, it will impact everything that we do. It connects people, machines and data in new ways, it democratizes technologies that were previously only accessible to the specialized few, and ushers in transformative capabilities such as those in analytics, material science, and connectivity. For quality, these technologies are important because they enable the transformation of culture, leadership, collaboration, and compliance.
What are the Quality 4.0 Technologies?
LNS Research has shown that innovation leaders have adopted Quality 4.0 and are achieving differentiated performance. These use cases are discussed in the research. However, many quality teams are not familiar with the technology and are not engaged in corporate strategies related to the technologies.
While the research helps construct a Quality 4.0 strategy, it also acts as a technology reference guide, capturing the fundamentals of the technology, as well as how the technologies have been applied to quality. Review the checklist below and assess your state of knowledge:
Machine Learning and Artificial Intelligence (ML/AI)

Mobile technology, Augmented Reality (AR), and Virtual Reality (VR)

Cloud technologies

Connected Devices and Edge Devices

Big Data and Data Lakes

Social Media and Blockchain
Why should you have a Quality 4.0 strategy?
- A Quality 4.0 strategy is an excellent opportunity to realign quality to corporate strategy. Many manufacturers have strategic objectives related to Big Data and Industry 4.0, often featuring quality improvement use cases. Only 16% of the current market sees a clear and compelling connection between quality and corporate strategy, making this an excellent opportunity to both change that perception and to redirect quality.
- An effective Quality 4.0 strategy enables organizations to overcome long-standing hurdles. Much of industry has been plagued by the same persistent quality challenges for decades associated with poor quality culture, lack of data-driven quality decisions, and insufficient cross-functional visibility into quality. Those that have adopted Quality 4.0 have leveraged it to overcome at least some of these hurdles with increased data transparency and new and high veracity data-driven insights.
- A strategy is necessary to ensure success. Quality 4.0 technologies should not be deployed in a vacuum. They must build upon a solid traditional quality foundation. Planning to perform advanced analytics on data gathered from multiple low veracity ("poor data quality") data sources? Looking to generate quality alerts from social listening (trolling social media for brand-related customer comments), only to resolve them through a highly fragmented corrective action process? Automating poor processes with poor data often results in making a lot of poor decisions quickly.
Most importantly, the manufacturers that are currently applying the technologies in Quality 4.0 arrive at real value: improved quality, costs, efficiency, market share, and brand recognition. The technologies enable new approaches and answers to traditional organizational and value chain quality challenges.
So, why do you really need a strategy? Because today Quality 4.0 is a competitive differentiator, but tomorrow it will be table stakes. Learn about Quality 4.0, build a strategy now, and gain the advantage.
Categories: Enterprise Quality Management System (EQMS), Industrial Internet of Things (IIoT), Industrial Transformation / Digital Transformation, Quality 4.0