As manufacturing analysts we are always looking at new ideas in the industrial software and systems space. We love to predict the future and study the latest technologies being used in manufacturing plants. Click here to speak with Andrew
The Internet of Things (IoT), virtual and augmented reality are very cool technologies that are hyped by many sources. However, our primary role in the manufacturing technology market is to help manufacturing companies to understand, use and benefit from appropriate technology.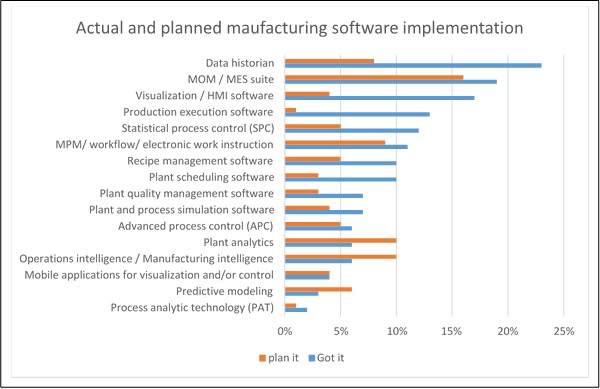 When we look at the chart taken from the ongoing Metrics that Matter survey, supported by MESA and executed by LNS Research, we see that the reality of manufacturing operations software deployment is firmly entrenched in technology that has been around for years. Indeed, four out of five manufacturing companies do not have an integrated Manufacturing Operations Management (MOM) system, something we almost take for granted as a starting point to go down the route of Digital Transformation towards the Industrial Internet of Things (IIoT).
Looking at the Numbers
When we study the chart a bit more deeply we do see some potential trends that will assist in the transformation of manufacturing towards the digitally integrated age. We see that data historians have had their day – or at least the number of new customers for them is in decline. Companies selling data historians are actively marketing new tools for analytics and integration to mainstream Cloud and IoT platforms. Data historians will remain an important part of the software landscape especially in process control for the foreseeable future, but read this for a great take on this topic by Matt Littlefield.
Another clear trend in the software categories is a drop in the take up of HMI/SCADA. I have expected this to happen for a long time, but the traditional HMI screen seems to maintain its popularity in the shop floor environment. Expensive, inflexible, and some would say clunky, HMI systems will gradually be replaced by lower cost solutions like mobile devices that offer more flexibility, easier configuration, and mobility! The uptake and plans for mobile devices are still very low, but we would suggest that going mobile to replace some fixed HMI screens can help manufacturers to get ready for the more drastic changes that will come with Digital Transformation. Mobile devices are already capable of supporting direct access to all the standard web based user interfaces that come with Cloud, IoT, and other modern architectures.
Unsurprisingly, we do not see much enthusiasm for the uptake of some specialist applications that are often included in a MOM system. Production execution, scheduling and plant quality are all applications that many MOM vendors include in their offering and we expect to see manufacturers that need new solutions in these areas to move towards an appropriate MOM solution. However, there is another side to the MOM versus individual applications discussion. As manufacturers move towards true IIoT platforms, one of the big advantages will be that integrating new applications into the platform will become easier and will deliver more value as apps can access information from all the enterprise data sources. This will encourage the deconstruction of MOM systems into the individual applications that we see here.
This dichotomy needs to be addressed case by case. We would recommend that manufacturers without any integrated plant floor solutions consider first traditional MOM solutions. In making a solution selection they need to take into account their potential vendors' IoT strategy for long term peace of mind. Manufacturers looking to start down the road to Digital Transformation probably already have a MOM system and are looking to integrate their plants into a new IoT platform. They should look at plant applications that can interface directly with the IoT platform, rather than using only the MOM system as a conduit of information from plant to enterprise. Of course, there are loads of In between cases.
Analytics on the Up
We see in our chart a small, but positive increase of interest in analytics; from generic plant analytics through manufacturing intelligence systems, to more advanced analytics like predictive modelling (and even a tiny bit of PAT; I like that a lot). Analytics is the technology that most drives IIoT because they will bring real applications with measurable benefit early. Manufacturing executives are looking for quick wins from their investments in new digital technologies, and analytics is the field in which the easiest gains can be made.
Companies that are interested in Digital Transformation should be looking at plant level analytics and bring those together with the Big Data Analytics capabilities across the enterprise to demonstrate that the IoT will drive revolutionary change in manufacturing companies.
Make a Step – Any Step
There is still a long journey to go for most manufacturers to get real benefit from industrial digital technologies. Manufacturers that do not have high levels of shop floor automation and supervisory control should not be discouraged by all the IoT hype; neither should they be burying their head in the sand. Work with your advisors, potential software vendors and LNS Research to understand and plan a route from the current state to a future more competitive and profitable business. This may go via a MOM solution, or skip that technology and move to an IoT platform as the center of your Digital Transformation. The choices are many and the opportunities are huge. Do something now.
Access the Metrics That Really Matter webinar On-Demand where Andrew Hughes presents the results from the fourth iteration of the Metrics that Matter research study conducted between LNS Research and MESA International, and places particular focus on how the deployment of IIoT, Cloud, and Analytics are transforming manufacturing today.
---
All entries in this Industrial Transformation blog represent the opinions of the authors based on their industry experience and their view of the information collected using the methods described in our Research Integrity. All product and company names are trademarks™ or registered® trademarks of their respective holders. Use of them does not imply any affiliation with or endorsement by them.