LNS had the chance, like everyone else, to dig into the wealth of content that Rockwell Automation has put together for ROKLive. ROKLive was intended to be co-located with PTC's LiveWorx event this year. Like so many other large gatherings, the event itself was cancelled and replaced with a virtual event. Software companies have executed different strategies for their virtual events: some scaling way back, others going virtual with everything that can go virtual, and lots of alternatives in between. Rockwell Automation went "…with everything." As Chairman and CEO Blake Moret said: "the content is extensive with over 100 keynotes, technical labs, and a partner showcase."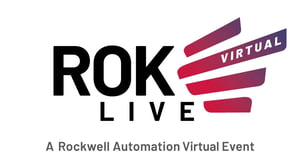 LNS was particularly interested in the DX Strategist Conference/Track and its focus on what it takes to succeed in Transformation. Core to that track, ROKLive hosted more than a dozen presentations of manufacturers telling their Digital Transformation success stories. In fact, Rockwell used this event to highlight Smart Industry Magazine's Transformation Leadership Awards. We would encourage all those focused on Industrial Transformation (IX) within industrial enterprises to dig into these success stories as the content will be available online through the end of November.
Instead of our usual write-up talking about Rockwell strategy, it seems appropriate to highlight some of the nuggets/reminders we walked away with from digging into a number of the presentations (full disclosure, I did not watch all 100+ presentations). Let us look at those nuggets across the three dimensions of IX: Process, People, and Technology.
PROCESS
Lean meets Agile
Fundamental to most companies IX Program is IT-OT Convergence. LNS has written extensively about IT-OT Convergence and has most recently reported that that IX success is dependent on also including Operations in the room and on the IX team as well. We increasingly see IX has an interaction across four groups: IT, OT, Operations, and IX. The challenge is that these four groups have different goals, vocabularies, time scales, and methodologies. Operations and OT are focused on Lean, World Class Manufacturing, or some other program for operational performance improvement. IT is typically focused on waterfall methodologies to roll out big, corporate-wide solutions. And IX is increasingly trying to introduce Agile development methodologies into this already cluttered environment.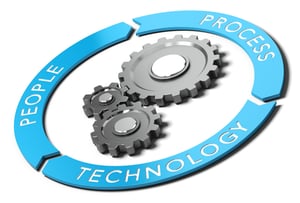 Mike Tomasco Vice President Digital Manufacturing at Pfizer spoke directly to the issues of implementing Agile in the highly regulated Life Sciences industry. He reported that simply setting up scrum teams and processes did not deliver the results they were seeking. Therefore, Pfizer's Digital Manufacturing stepped back, reassessed, and instead implemented the more formal methodology of Scaled Agile Framework (SAFe). SAFe is intended to help departments across an industrial enterprise to embrace Lean and Agile. LNS will be watching SAFe adoption closely as it could be a piece of the puzzle for some companies.
Business Focus
Multiple speakers noted the requirement that the IX team be set up as an independent team. Author (and retired VP at Procter & Gamble) Tony Saldanha went so far as to call it an, "Edge Organization," that is looking at the 10X improvements within the organization (in contrast to those continuous improvement organizations like Lean). He noted how Google allocates resources across activities: 70% of resources execute the current business model, 20% focus on improving that business model, and 10% focus on a, "re-do of processes based on exponential technologies." He noted that P&G did not have the same ratios but had the same concept as Google.
Tomasco agreed on the need to focus on redoing processes. He asserted that one of the key steps in transformation is to imagine the perfect state if all constraints were removed. Pfizer took a "blank slate approach" to define a "to be" state of "connectedness" and systems. This was fundamental to helping them align the Integrated Manufacturing Excellence (Lean) and the Digital Manufacturing (Transformation) teams.
Andrew Ellis, Director of Global Technical Consultants at Rockwell Automation echoed this by saying that one of the three "Critical Factors" is an "end-to-end problem definition." He saw too many programs run into trouble by jumping into a piece of the problem without understanding the full context of the problem (and associated data flows).
In another process vector, Mick Mancuso, Director of Connected Enterprise Consulting at Rockwell (and previous head of Digital Transformation for Rockwell) argued that the goals of IX should be defined within the context of existing business metrics. He asserted that DX is not fundamentally about technology but finding technologies to achieve the business performance improvements sought in Transformation. This aligns closely with LNS writings about the LNS Transformation Framework.
PEOPLE
Again, multiple people discussed the importance of people and change management in the success of Transformation. Mancuso noted that metrics did not need to change but culture did; data-driven decision-making had to become a cornerstone of the company's culture. Statements like, "I think…" had to be replaced with, "the data clearly shows…" as the company becomes data-driven.
Ellis noted that "commitment from senior management" was another of those three critical success factors. Tomasco brought that to life by talking about payback. Much of the early work at Pfizer was around the foundation of getting and contextualizing data. There was no direct payback in those early foundational steps, but senior management's commitment enabled his Digital Manufacturing team to stay the course and get to the applications and systems that did have significant payback. Pfizer's manufacturing response to COVID (for example, in finding excess capacity for vaccine production) were highly dependent on that foundational work.
TECHNOLOGY
It would not be a Rockwell Automation event without a discussion of technology. LNS has defined a reference architecture for Industrial Transformation. Core to that architecture is an infrastructure layer that has limited direct payback: connectivity, transport, data conditioning, and contextualization. Multiple manufacturers have told LNS that 80% of the work of transformation is in this area. The payback of getting, cleaning, and contextualizing data alone is uncertain, at best, as Pfizer found. Ellis outlined Rockwell's approach to this data layer:
Moving from a tag-oriented automation system to smart objects

Adding context to data at its inception (or as low in the tech stack as possible)

Auto discovery of and data mapping of Rockwell and 3rd party assets

Automatically replicating the information model from devices or historians to next level and higher systems
These steps together allow higher-level systems like MES and ERP to consume the models easily without recreating them by hand. This accelerates the development of that foundational layer and allows companies to get to value-added applications quicker.
Tomasco highlighted an interesting use of Vuforia, the AR/VR component of the FactoryTalk Innovation Suite Powered by PTC: they were using Vuforia to provide virtual "tours" and deep dives into manufacturing systems' changes as they were being rolled out. He noted it increased the buy-in and pull for their innovations.
PTC Partnership
One of the common threads across several the manufacturers' presentations was the fact that they were joint customers of PTC and Rockwell. LNS has been writing about the partnership since it was announced. We highlighted recent updates on the partnership in our write-up on PTC's LiveWorx 2020 event.
Final Thoughts
Going into this event season, I would not have expected to say this: you can learn a lot about the culture of the company based on their virtual events. Marketing teams get to pick which technology they want to deploy, how much of the "laser and smoke machines" of live events they want to try to recreate online, and whether the educational side of the event is as important as the sales side of the event (trust me, a few of the virtual events I have watched were simply sales calls in a pretty wrapper).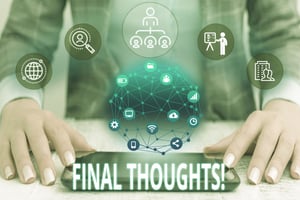 Rockwell Automation's culture came through: an extensive Partner Showcase highlighting their focus, real effort to encourage chats and questions (during the "live" broadcasts), heavy customer and "best practices" content, on-line technology labs with hands-on training for free, and, aligning to the brand launched last year; lots of focus on the people side of transformation.
Categories: Industrial Transformation / Digital Transformation, IT/OT, LifeSciences, Agile