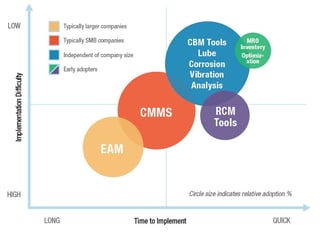 The rapid evolution of new IT capabilities such as Mobility, Cloud, the Industrial Internet of Things (IIoT), and Big Data & Analytics has led to new vendors entering the market, existing vendors expanding their Asset Performance Management (APM) portfolio, and traditional APM vendors rapidly shifting their technology platforms. Today, we take a closer look at SAP and how it is growing from an Enterprise Asset Management (EAM) provider to an APM provider as it continuously accommodates Digital Transformation.
One of the challenges end users face is trying to craft a portfolio of solutions that can help them achieve Operational Excellence when it comes to getting the most from their production assets. APM, as LNS Research views it, encompasses all aspects of ensuring the physical assets used to produce a product or deliver a service and achieve the performance that is expected of them. The market has solution providers that provide a single element in our APM Landscape and others that offer a broader spectrum of solutions. Since APM encompasses everything from basic data acquisition about machine performance, to using analytical tools to facilitate Predictive Maintenance (PdM) and Reliability-Centered Maintenance (RCM) and more, it is a complex environment that has proven to do well.
SAP Growing from EAM Provider to APM Solution Provider
SAP was founded in 1972 and has its worldwide headquarters in Walldorf, Germany. Although known for its large Enterprise Resource Planning (ERP) presence and versatile business configurability, the company has built up one of the largest ecosystems of manufacturing technology and solution partners, along with developing, acquiring, and integrating APM software solutions for a broad range of manufacturing and asset-intensive industries. One of SAP's key strengths is its ability to create customer value by supporting end-to-end business process improvement, and APM is an area that SAP has delivered capabilities in for more than 30 years, beginning with its Plant Maintenance (PM) module. Over time it has expanded its coverage in the APM space by growing PM into a full EAM solution and was one of the very first vendors to do so. It has expanded its functionality in the core EAM space to encompass almost every industry and has support for some of the most complex asset trains, such as linear assets as found in public infrastructure, rail, and utilities.
SAP has moved beyond core EAM functionality in several ways. With the advent of the SAP HANA solution and Big Data and Predictive Analytics, SAP has moved into providing capabilities for PdM. Another close partner of SAP is process data historian provider, OSIsoft. The combination of the OSIsoft PI historian technology with SAP Predictive Analytics capabilities will enable some organizations without the rich needs satisfied by other specialized APM/RCM solutions to accomplish basic CBM and PdM activities with an all-SAP solution. Customers have also leveraged the functionality in other SAP Applications modules like the Quality module to provide calibration management, process safety management, and other process centric functions. Likewise, leveraging the Environmental, Health, and Safety (EHS) module exposures management and other health and safety functionality can be deployed, although not in the core EAM module. SAP also has a Predictive Maintenance solution set called SAP Predictive Maintenance and Service.
SAP widely spreads across virtually every industry, and LNS Research sees SAP as an extremely viable APM provider that will continue to evolve over time. SAP is aggressive about adopting the technology that will enable it to take advantage of the wealth of information that the IIoT will expose. SAP is very well positioned to become an active player in the Smart Connected Asset model that LNS Research believes will dominate the APM space over the next ten years.
LNS Research Asset Performance Management Solution Selection Guide: Top 20 Providers
The LNS Research APM Solution Selection Guide covers the top 20 APM solution providers comprehensively, diving into key evaluation criteria such as established and growing application strengths, geographies served, solution delivery models, industries served, and others, so that APM professionals can whittle down their APM prospective choices to a shortlist.
Categories: Cloud, Enterprise Resource Planning (ERP), Mobile / Mobility, Industrial Internet of Things (IIoT), Enterprise Asset Management (EAM), Asset Performance Management (APM)