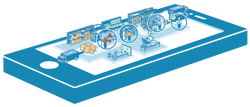 The #MondayMusings Industrial Transformation blog series provides insight and analysis for executives from the previous week's briefings, events, and publications @LNSResearch.
Click here to speak to Matt Littlefield
At the beginning of September, Schneider Electric announced (again) that the company will spin off its internal industrial software group and merge it with Aveva through a reverse takeover. Schneider Electric will own 60% of the new company, hire a new external CEO, and will have Peter Herweck, Schneider Electric's Executive Vice President of the Industry Business and Member of the Executive Committee on the board.
Despite best efforts of some parties to scuttle the deal by leaking sensitive information in previous attempts at the merger, it looks like third time's a charm and the deal will go through. Several weeks ago, LNS Research sat down with Peter Herweck (one of two executives authorized to discuss the transaction externally) for a breakfast meeting. Although much of the discussion was not for public consumption, we did come away from the conversation with some distinct opinions regarding the future of the new combined company and what the impact on the market will be.
Hardware versus Software Culture?
Although Digital Transformation is the hottest buzzword of the day, many in the marketplace underestimate the challenges associated with any transformational initiative. When it comes to the industrial space, Digital Transformation is especially difficult, and there are certainly more failures than success stories to consider.
Industrial companies typically have an engineering mindset focused on delivering hardware-based products and services to customers; this structure has the support of long-established product development, marketing, sales, and financial processes. Any successful Digital Transformation requires more than just adopting digital technology. More importantly, it requires changing all these existing processes, which in turn means often changing the people that have been running these processes for decades. This switch is undoubtedly disruptive to the business.
By creating a separate but partially owned company, Schneider Electric will avoid much of this internal disruption in the short term, and if the entities execute the integration well, the new company should be able to innovate more quickly and better respond to customer needs. In the long term, it may put Schneider Electric at a disadvantage to competitors that have gone through a successful Digital Transformation. However, Schneider Electric has the ability to mitigate this risk by keeping a tight relationship with the new company and continuing to invest in the company's remaining Industrial Internet of Things (IIoT) leaders and EcoStruxure architecture.
IIoT Platform Play?
Last year Schneider Electric announced the launch of EcoStruxure. As the EcoStruxure vision has matured in the marketplace, it has become clear that it is much more of an architecture than IIoT platform-as-a-service (PaaS). Although Schneider Electric has nearly all of the pieces needed to put together an IIoT solution and EcoStruxure provides a good map to get there, a customer can't buy EcoStruxure.
When we look broadly at the IIoT platform market, many of the PaaS offerings today have evolved from engineering-centric companies, that are using the platform to extend the value of virtual engineering models to the real world – essentially pursuing assorted flavors of delivering a Digital Twin mash-up application environment.
Now that the new company will have a portfolio that spans both process engineering and operations, the company is in a much better position to deliver a true IIoT PaaS that could potentially deliver unique value across the process industries asset lifecycle. It is still very early days, but an interesting opportunity for the new company to pursue.
Industrial Software Industry Emerging?
The enterprise application space has evolved over the past two decades to be much more than just ERP. Although many of us still think of the traditional ERP vendors like SAP, Oracle, Infor, and others as just ERP companies – they truly have become much more. These companies now offer platforms (Cloud), networks (marketplaces), and application portfolios that include not just ERP but also supply chain management (SCM), client relationship management (CRM), human capital management (HCM), marketing automation, procurement, and much, much more.
Not many realize it, but (taking German rivals as an illustrative example) SAP now has a market cap of approximately 30% more than Siemens ($130 billion vs. $100 billion), and this didn't happen just because of ERP.
Unfortunately, the industrial software market has not grown in an analogous way to the enterprise application space.
One could envision a future where there are independent industrial software vendors that span the value chain, including engineering, production, asset optimization, service, and more. Subsequently, end-user companies wouldn't be forced to make hundreds of different best-of-breed decisions for the hundreds of different software applications needed. Instead, they could make major platform and portfolio decisions based on the breadth of offerings, and then just make specialized best-of-breed decisions around the edge.
One of the main reasons the industrial software space has not evolved this way is because the large portfolios of industrial software are mainly owned by companies with larger portfolios of industrial automation. Schneider Electric is now going to be the first major player to challenge this model. If successful, which they very well may be, it could be the start of a large-scale industry shift.
Categories: Solution Vendor / Software Vendor, Industrial Internet of Things (IIoT), Industrial Transformation / Digital Transformation, #MondayMusings