One of the most common mistakes LNS Research sees manufacturers make in their Industrial Transformation (IX) programs is starting with technology selection. To help companies better structure their IX programs, we have designed the LNS Research Industrial Transformation Framework (shown below). Our framework recommends companies manage their IX programs across five key swim lanes:
identifying business objectives

at the C-suite level

establishing

strategic initiatives

aligning to the C-suite objectives

building a

robust operational architecture

focusing

on

technology selection

embracing change management
Based on the IX Framework, LNS' research on IX Readiness shows that there is a remarkable difference in the way IX Leaders and Followers answer the following questions:
Why are we pursuing an IX program?

What are the strategic initiatives we should include within the scope of the program?

How do we implement, avoid challenges, and successfully scale the program?

The Why:
Our IX Readiness research shows that one of the major differentiators of successful companies is their leadership's primary drivers for transformation. The below chart shows that IX Leaders are more likely to begin a transformation program based on proactive external-facing drivers such as business model transformation, building resilient supply chains, etc. On the other hand, Followers are mostly driven by traditional Industry 3.0 initiatives, or worse, cost-cutting.
Moreover, the chart also shows that pursuing IX programs for the sake of reducing headcount or cutting costs is unlikely to deliver substantial results. True transformation requires deeper and wider engagement with people, process, and technology resources.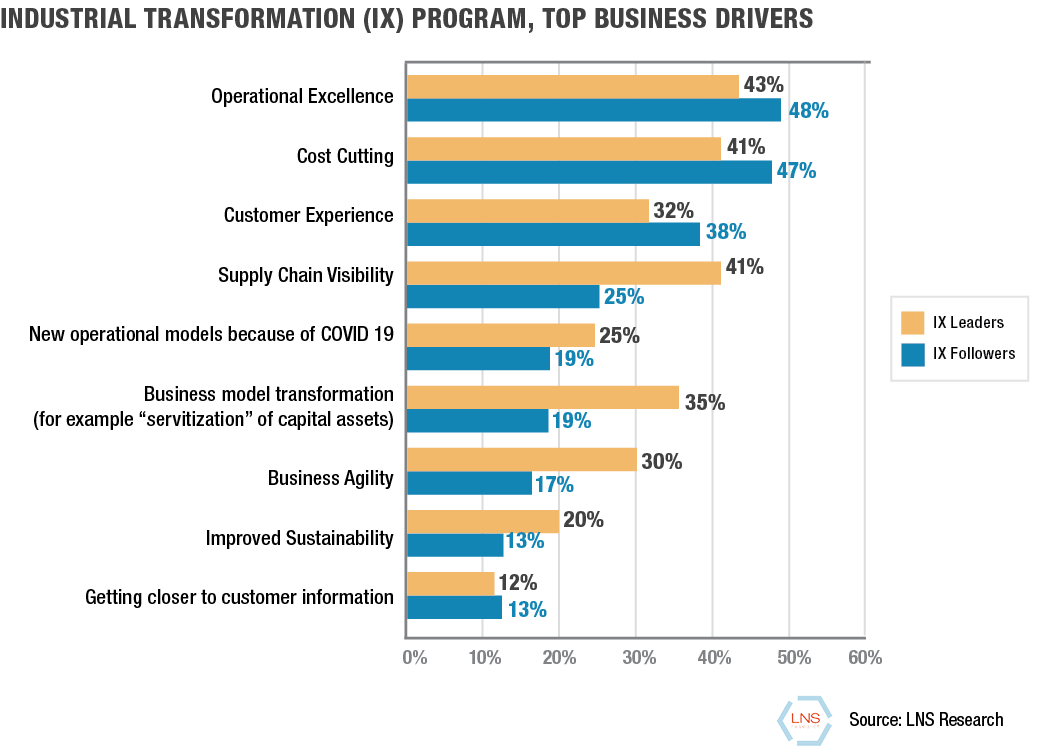 For instance, digital technologies should not be implemented to replace shop-floor operators; an automation strategy should include a robust Future of Work program that upskills and empowers the front-line workforce.
The What:
Apart from the reasons and drivers for pursuing IX programs, IX Leaders also differentiate themselves from Followers in terms of the scope of these programs.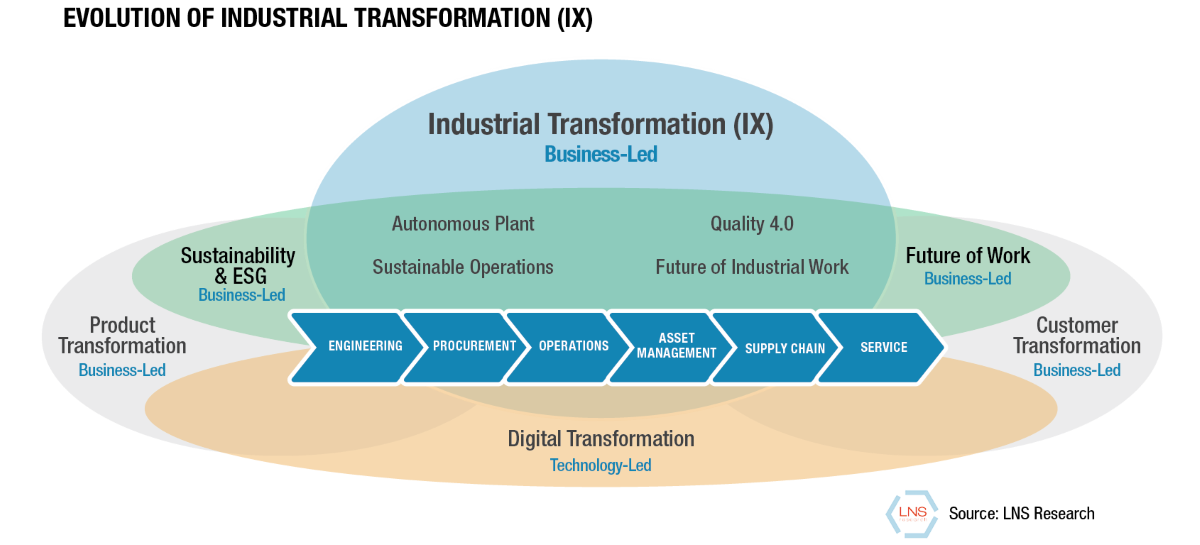 LNS Research's IX Readiness data shows that some of the leading companies are implementing as many as 10-12 sub-initiatives as part of their IX programs. Some of the common sub-initiatives under Industrial Transformation programs include Factory of the Future, Autonomous Plant, Quality 4.0, Sustainable Operations, Future of Industrial Work, etc.
The How:
To answer the final question - how do IX Leaders implement, avoid challenges, and successfully scale the program - we will be listing and explaining a selected few of the many proven best practices from the IX Readiness study. As a result of these best practices, the majority of IX Leaders have improved financial metrics like revenue, operating margin, and cost of goods sold by at least three percent.
The Power of More: IX Leaders are doing more in every direction. Their IX programs have a larger functional scope, broader focus, and more breadth in teams. To be more specific, IX Leaders are:

Executing a more expansive functional scope and strategy

Encompassing a greater breadth on their IX Program teams

Deploying almost twice as many technologies

Reaching out to both customers and suppliers

Getting data from more sources and making it available to more roles across the corporation

Jointly funding more initiatives/solutions
IT-OT Convergence is Not Just a Technology Problem: The majority of industrial leaders, IX Leaders and Followers alike, understand the importance of IT-OT convergence in Industrial Transformation and are beginning to implement and integrate IT and OT systems across plants. But the Leaders have taken it a step further by investing in necessary People capabilities like developing career tracks, cross-training, and role sharing across IT and OT to support the technology capabilities.

Accelerating change management through Agile methodologies: Change management is one of the biggest challenges in any transformation program. IX Readiness research shows that Leaders are three times more likely to be using Agile approaches to drive change management and efficient technology deployments throughout the organization.
Summary & Recommendations:
LNS Research's studies on Industrial Transformation show that there is a significant difference between the successful companies and the others in the way they address their Why, What, and How of transformation. To successfully implement and scale Industrial Transformation programs and leapfrog your competition, LNS Research recommends companies:
Not begin Industrial Transformation programs for the sake of cutting costs or reducing headcounts. Successful transformation programs require more proactive and external-facing drivers such as customer value, business model transformation, supply chain disruption, etc.

Leverage the Power of More. LNS' research on IX Readiness shows that the leaders in this space have a broader scope for their IX programs. This includes more data, budget, technologies, cross-functional involvement, etc.

Consider IT-OT convergence as not just a technology problem, but also a people and process problem. IX Leaders have not just integrated IT and OT systems, but are also developing career tracks, cross-training, and role-sharing across the IT and OT worlds.

Implement Agile methodologies to accelerate technology implementation and change management and quickly scale value across the enterprise.
---
All entries in this Industrial Transformation blog represent the opinions of the authors based on their industry experience and their view of the information collected using the methods described in our Research Integrity. All product and company names are trademarks™ or registered® trademarks of their respective holders. Use of them does not imply any affiliation with or endorsement by them.
Categories: Information Technology, Industrial Transformation / Digital Transformation, Industry 4.0 / Smart Manufacturing, IT/OT, Agile, IX Platform