We all know the reality of discrete and batch manufacturers. If you walk into virtually any manufacturing plant, you will find literally hundreds of manufacturing computing applications being utilized. A few of those applications, ERP most prominently, are generally supported by the corporate IT staff. A wider number of those applications, automation and MES, are typically supported by operations itself via the OT team or the "shadow IT" team (the manufacturing engineers, etc., that are providing day-to-day support to these systems). The vast majority of applications are custom – often built in Excel, Access, or Java – and are not well-supported and virtually impossible to deploy across sites. And, the picture gets worse: despite all these applications, operational personnel are still looking for more technology to help reduce manufacturing costs and improve quality.
Two different sets of vendors are trying to bring order to this chaos: MES and IX Platform vendors. As we look at these two distinct markets, LNS Research believes that both sets of vendors are after the same thing. Both are pursuing the "Holy Grail" of Manufacturing Applications: an ability to install small apps quickly that seamlessly plug and play together and, when enough are installed, effectively act as a comprehensive manufacturing execution system (MES). Ideally, these apps would be highly flexible to deal with the real-world variation across plants, even within the same company, and would be more readily supportable.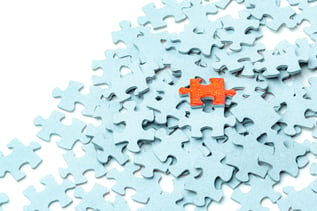 MES vendors are approaching the problem from the big picture to the small: they are looking to disaggregate their applications into more readily deployable apps. Industrial Internet of Thing (IIoT) vendors are going from the small to the big: building point solutions with the goal of being able to link them readily together over time. The "Puzzle" is how to get all these small pieces to work easily together without burdening the implementation of the piece parts too much.
To understand the Grail, the Puzzle, and what to do about it, let's drill into a definition of MES and review the LNS Research forecast for MES systems. We will then go to the IX Platform market strategy and look at the challenges confronting those vendors as they pursue the Grail. In each case, we will highlight a couple of vendors to illustrate our point. We will then conclude with advice for manufacturers.
Defining MES, a Core Challenge in Front of the Industry, and the Future of MES
MES or manufacturing operations management (MOM) systems inspirationally should be designed to provide visibility into, control over, and traceability across the six elements of manufacturing: materials, equipment, labor, tooling/containers, suppliers, and the data across all these dimensions. The business value of an effective MES deployment is significant in the form of reduced manufacturing costs, improved quality, and even increased revenues (via greater capacity utilization and SKU flexibility).
There are two fundamental challenges to these systems generally. First, they are difficult to deploy quickly because of their scope and impact. They are especially hard to quickly deploy across a fleet of manufacturing plants because of all the variability across plants noted above. Second, not all manufacturers want to go to the full level of automation implied by the inspirational goal of MES; many manufacturers are looking only for a simple OEE or traceability solution (and MES vendors would love to be able to sell something to these potential customers). I have been in the MES business for 40 years. The single most requested product option for all those 40 years – across companies and target industries – has been "MES lite." In fact, many manufacturers use only a percentage of the MES' capabilities (though any two may not be using the same subset).
LNS Research is on record forecasting the future of MES. The 7th stage we defined as "No MOM," where the functionality previously implemented in MOM systems would be distributed as apps. In our view, the future is a disaggregated set of applications that can be plugged together to form an MES equivalent solution when reaggregated at a customer site over time. In that way, each company could get their specific flavor of MES lite or a full MES system over time. (In addition, the technology underpinnings of the applications will align closely to those of IX Platforms: Cloud, microservices, data lake integration enablement, AI/ML-powered analytical models, etc.)
Let's look at three MES vendors to illustrate the strategic challenge in front of them:
Plex Systems® is probably the poster child for disaggregation. Plex was founded as a Cloud ERP vendor aimed at small and mid-sized manufacturers, but their ERP offering has always included MES. Plex has more than 600 MES installations, though the vast majority have been deployed as part of their ERP product. Plex has worked over a number of years to decompose their Cloud offering and now can promote ERP or MES in the Cloud. The company has argued this significantly increases their Total Available Market (TAM) and go-to-market strategies as an "ERP change-out" is no longer required for MES selections and implementations. While it's taken some effort for Plex to segment MES from ERP, they appear to be gaining market traction from the modularization. The company has announced a strategy to continue the modularization of MES into Manufacturing Applications with the goal of further meeting customers at their specific point of need and gaining new customers who are looking for only a subset of MES or ERP. Plex has continued to segment smaller manufacturing applications from their larger MES offering, introducing their Quality Management System (Plex QMS) in 2020, and signaling the forthcoming release this year of additional manufacturing applications including Plex Production Monitoring an MES lite type of offering focused on real-time OEE and visualization dashboards for manufactures. One of the core value propositions is that all of their manufacturing applications are architected to work together, and customers that start smaller can grow into the larger platform of connected applications over time.

(Note: on June 25, 2021, Rockwell Automation® announced an agreement to enter into the acquisition of Plex Systems.)

Dassault Systèmes MES product DELMIA Apriso is positioned as providing global management of operational processes, manufacturing performance, and manufacturing network visibility. The product includes MES, Logistics Execution (material flow), Performance, Quality, Warehouse management, Maintenance, Time, and Labor applications. Some of the most successful customers have implemented the complete "platform" across a wide range of these applications with a global center of excellence (CoE) for deployment of multi-site enterprises. But Dassault Systèmes has consistently looked for easier ways to enter accounts. They now offer Digital Lean solutions in the cloud and specific MES applications to meet less demanding prospects with packaged roles for complex assembly and warehouse management. The challenge for customers is that they may need to implement larger sections of their platform if they go beyond the packaged application roles and do not use a CoE in configuration and deployment for simple applications.

iBASEt® is a company that specializes in "out-of-the-box" MES, Supplier Quality, and MRO applications for the Aerospace and Defense (and other complex discrete) markets. The company has been quite active in rearchitecting its product, Solumina®, for the Cloud. In October 2020, the company launched Solumina iSeries as a next-generation, cloud-native solution leveraging a microservices architecture. The iSeries not only aligns to the next-generation technology architecture advocated for the Seventh life of MOM, that architecture positions iBASEt to target the manufacturing applications market with subsets of their MES functionality over time.
Aegis Software and Critical Manufacturing are among a number of MES companies also rearchitecting their offering and enriching it with new advanced digital technologies to pursue the Holy Grail.
Defining IX Platforms: Their Challenge and the Future of Manufacturing Applications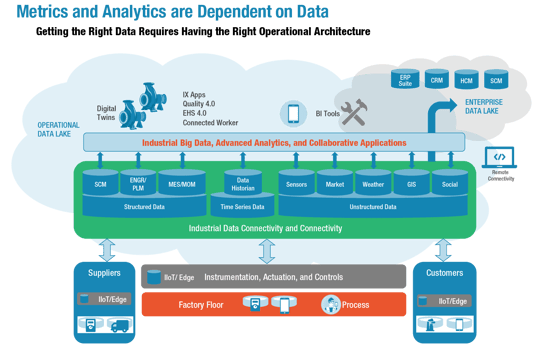 LNS Research was the first company to define an IIoT Platform. We have noted that over time the market has changed, technology proliferated, and vendor strategies differentiated. Therefore, we recently expanded that definition and published our definition of an IX Platform. IX Platform vendors are developing technology to enable manufacturers to quickly build the applications they need and are increasingly offering a suite of pre-built manufacturing applications leveraging that platform. LNS Research has identified 15 leaders in the IX Platform space. Some of those companies are focused on only providing a platform, and some are delivering both a platform and manufacturing applications built on that platform. The payback for the deployment of an IX Platform can be significant in terms of reduced manufacturing costs and improved revenue. Implementation of individual applications can address specific manufacturing challenges effectively.
IX Platform suppliers face a universal challenge: getting the features/functions of the applications right is always difficult. Multiple IX Platform suppliers have already deprecated their first generation of manufacturing applications.
In addition, they face the "puzzle" challenge. How do they make their applications build on each other to enable increasingly complex solutions as they are deployed over time? It is not hard to build a work instruction application. It can have meaningful payback on its own. What is hard is to enable that work instruction application to work across multiple manufacturing models (typically required for enterprise deployments in large corporations) and to seamlessly plug into other applications already installed and to be installed in the future.
To successfully solve the puzzle and reach the Grail, IX Platform suppliers will have to develop (and potentially incrementally deploy):
A plant-wide data model for all six elements of manufacturing noted above
An execution engine across those six elements
A dashboarding and advanced analytics capability across those six elements
Gee whiz, those requirements sound a lot like an MES system…
Let's look at three IX Platform suppliers to see the challenge from their perspective:
Tulip Interfaces is the poster child for IX Platforms pursuing manufacturing applications. The Tulip Manufacturing App Platform is specifically intended to empower operations people to build "frontline operations" applications (including manufacturing but also warehousing, quality, laboratory, etc.) quickly and easily without significant IT support. The customer enthusiasm around Tulip indicates that they have clearly achieved the platform goal: users across a wide range of industries are successfully deploying Tulip to build and extend manufacturing (and other) applications.

Tulip is also actively developing and marketing applications. Tulip's app library originally included 45 apps in seven manufacturing areas (work instructions, production visibility, quality, training, machine monitoring, audit, and lean manufacturing). In January 2020, the company launched a new app library which reworked and extended their original app capabilities. The library now includes more than 95 applications and connectors they position as ready-to-use largely as-is. The label "apps" is appropriate as these are often small point solutions for things like "kitting," "electronic logbook," and "Gemba walks." The apps are delivered in larger suites of capabilities as well. This application evolution indicates the challenges in pursuing the Holy Grail because Tulip intends these applications as pluggable with each other to quickly add up to "MES lite." LNS Research will be watching carefully to see if they have solved the puzzle of pluggable applications.

PTC's ThingWorx™ is positioned a number of ways in the market but the one with the most deployment traction is as a platform to "wrap and extend" existing OT and IT systems. This strategy has helped PTC become a "Front Runner" in our IX Platform Solution Selection Matrix. Need a better interface than ERP for operators on the plant floor, need to develop a data orchestration workflow, need to extend your MES application, ThingWorx has been deployed successfully as the answer. PTC has already begun bringing applications to market built with ThingWorx and has signaled more comprehensive, smart-connected, operations applications are on the way. PTC will be challenged to make these different applications plug-and-play with each other in order to fill a big portion of the MES puzzle.

Rockwell Automation® and PTC are strategic partners. They have collaborated to integrate ThingWorx into their FactoryTalk® InnovationSuite, powered by PTC as a means to more package the ThingWorx IX Platform. Interestingly, Rockwell Automation is active in the MES market, offering FactoryTalk® ProductionCentre® with specifically dedicated solutions for Pharmaceuticals, CPG, and Automotive. Rockwell Automation often sells their MES and IX Platform products together as a means to fit all the pieces of the manufacturing IT puzzle. This strategy is working for Rockwell Automation as they can offer the FactoryTalk InnovationSuite, powered by PTC, to achieve quick wins while deploying MES as the core infrastructure behind transformation success. LNS Research will be watching to see if ThingWorx-based applications eventually supplant the FactoryTalk ProductionCentre functionality over time.
Advice for Manufacturers
The LNS Research perspective on these two markets today would include these thoughts:
Today, no vendor – MES or IX Platform – has grasped the Grail. Many are working hard but a proven Grail solution is more than five years away.

Discrete and batch manufacturers are often struggling in their transformation programs because they do not have a plant-wide or network-wide data model (process manufacturers typically do). The comprehensive nature of MES provides that data model and can enhance the offering of IX Platform vendors by providing a system of record across the six elements of manufacturing.

IX Platform suppliers can deliver significant business value by "wrapping and extending" MES (and other) systems through the deployment of manufacturing applications.

IX Platforms offer a powerful tool for displacing those hundreds of poorly supported custom apps proliferating manufacturing. LNS Research views it as likely that IX Platform suppliers will increasingly win in selling manufacturing applications.

The power of IX Platforms will "box in" MES companies. We are a long way from IX Platforms displacing MES systems in the core MES market – representing no more than 20% of manufacturing plants – with significant redundancy, availability, and traceability requirements. But manufacturers should no longer be looking at monolithic MES systems as the most likely solution to specific point solution challenges such as OEE.
Therefore, discrete and batch manufacturers should:
Figure out a "To Be Operational Architecture"

LNS Research has written extensively about the need for an Operational Architecture. Each company needs to figure out for themselves the role that OT, IT, and IX technologies will play in the future.

Think of IX as a two-track process - consider both MES and IX Platforms in their IX Programs.

Most IX Programs are facing the challenge of finding quick wins while also making progress on long-term challenges around things like operational data infrastructure and ops. IX Platforms and associated applications can deliver quick wins while MES is being rolled out in parallel, at a slower pace.

Stay tuned to LNS Research as both the MES and the IX Platform market are changing quickly.
---
The views and statements expressed in this blog represent the opinions of the author(s) based on his/her/their industry experience and interpretation of any information collected using the methods described in our Research Integrity. All product and company names are trademarks™ or registered® trademarks of their respective holders; use of them does not imply any affiliation with or endorsement by them.
Categories: Manufacturing Operations Management (MOM), Manufacturing Execution System (MES), Industrial Internet of Things (IIoT), Industrial Transformation / Digital Transformation, IX Platform, qualitymanagement