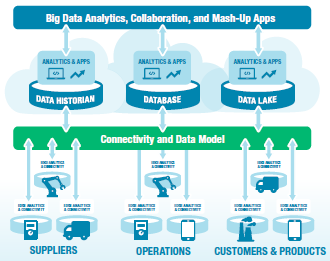 Between discussions on the Industrial/Internet of Things (IIoT/IoT), Big Data & Predictive Analytics, Mobility, Cloud, and other aspects of technology that are driving Digital Transformation, it would seem that CIO's and Chief Digital Officers have their hands full. What more could be on the horizon to further add to the crush of technology already overwhelming businesses?
Click here to speak to Dan Miklovic
Given that most LNS Research subscribers are still coming to grips with the topics just mentioned, what else is going to start complicating their planning efforts related to the convergence of IT and operational technology (OT)?
From our perspective, one of the potentially more impactful industry activities is the "Open Process Automation Forum" activity conducted under the auspices of the Open Group, a standards organization. While this is not the first industry attempt at driving standardization in the automation space with some efforts being successful, like the "Fieldbus Protocol" for industrial device communication, it became standardized as IEC61158; albeit with multiple variations. Others, like the GM Manufacturing Automation Protocol or MAP effort were not as successful.
The initial effort in the mid-1980's to standardize communication among industrial control devices, by using an ISO network model, and to leverage existing and emerging network standards were led by General Motors. Ultimately, it was joined by several dozen other companies. Unfortunately, the effort had mixed results. It did aid in the drive to standardize communication on the shop floor evidenced by the wide adoption of TCP/IP in factories today, but the underlying physical and access control protocols were replaced by commercial technology that eclipsed the hardened solutions favored by GM. So, MAP itself never was fully realized. This history of end-user driven standardization of automation having mixed results is the ExxonMobil-led initiative for an Open Process Automation architecture; something manufacturers need to either follow or engage with it?
Open Process Automation Architecture Need Driven by Technology
LNS Research has written extensively on how we see the IIoT flattening the decades-old CIM pyramid that emerged from Purdue University. As peer-to-peer device communication, edge computing, and Cloud technologies are proliferating on the plant floor; industry is seeing a shift as important as when computers first entered the factory some 40+ years ago. Exxon Mobil has had a tradition of driving standardization in process automation being one of the original forces behind both the process industry support of Fieldbus initiatives and even the MAP efforts. As the lead force behind the Open Process Automation Forum, Exxon once again has taken a position that industry can benefit by openness in automation technology. There is plenty of historical background about the effort available both at the Forum website as well as in the trade press. The fundamental position is that technology advances have opened a window to drive to the standardization of process control to drive the following benefits:
Promoting innovation and value creation

Simplify integration of best in class components

Enable access to leading-edge capability and performance

Preserving asset owners' application software investments

Significantly lowering the cost of future replacement

Allowing the use of an adaptive intrinsic security mode that improves industrial cyber-security


It is LNS' belief that the benefits of standardization can be leveraged across all industries, not just the petrochemical and other process manufacturers that have already signed on to this effort. Due to this, and the intent to make the Open Process Automation Architecture essentially a "standard of standards," the goal is not to write new standards but to specify which existing standards should be adopted for the architectural elements of a control system. We see the initiative as likely to be successful to a large degree.
Already Vendor Participation is Firming Up
All of the major DCS providers have signed up to participate in the effort and those that have PLC, as well as DCS or PAC products, are also becoming engaged. At a press event in mid-November, the only major automation providers not already participating at that time, according to Open Group briefers, were GE and Rockwell Automation. Also, some core technology providers like Cisco were also participating.
Monitor or Participate? The Question Manufacturers Need to Ask Themselves
Manufacturers then need to ask themselves what should their participation in this initiative be, or should they just wait for results and reap the benefits. Of course, if everyone waits for the work to finish and then just tries to reap the benefits, there are several issues.
First, if only a handful of large companies provide functional requirements the resulting standard, certainly risks becoming too focused on vast systems and potentially not scalable to smaller implementations. Secondly, if industries outside the core petrochemical sector do not participate requirements unique to other forms of manufacturing may also go unmet.
The real reason to get involved though is far more selfish, at least for any manufacturer of mid-size or above. Assuming the project is successful, the resulting process control solutions will radically shift the way companies buy and deploy plant floor technology accelerating the convergence of what are thought of as IT & OT. Companies that are in the process of designing their next generation of IIoT enabled systems in manufacturing must, at a minimum, be cognizant of where technology is headed to design architectures for their operations that will sustain them well into the 2020's.
So, at the least, organizations should participate in the Forums just to stay abreast of where the vendor community is headed with their products. For small manufacturers, the cost to attend starts at $2,500 annually while the largest companies the fees are $12,500. Although, for companies already involved in the Open Group at the Gold or higher level there is no additional cost.
Why Manufacturers Need to Care
IIoT is changing the factory or plant. Smart connected assets and operations are in every companies' future. Whether you are an enlightened adopter leveraging Digital Transformation to grow and expand your business, or you become a victim of competition you did not see coming depends on how well you prepare for the future. For many manufacturers, particularly those with extensive automation in their plants, being involved with the Open Process Automation Forum is one way to stay out in front.
Categories: Cloud, Enterprise Resource Planning (ERP), Big Data, Mobile / Mobility, Industrial Internet of Things (IIoT), Industrial Transformation / Digital Transformation