LNS Research regularly hosts quarterly executive roundtables to present some of our latest research, facilitate conversations among industrial leaders, and provide benchmarking opportunities for our member community. In our most recent executive roundtable, we discussed some of our latest research on the evolution of Industrial Transformation (IX) and the Vision-to-Value pivot.
Led by LNS Research President and Principal Analyst Matt Littlefield, this virtual event was attended by business and technology executives from companies such as Owens Corning, Cargill, Pfizer, Swagelok, JTEKT, etc. We presented LNS' research frameworks and data points, and the attending executives shared valuable experiences from their own IX journeys. This blog post provides a glimpse into the event by sharing three highlights from these thought-leadership discussions.
Swagelok's focus on business value proposition
The main theme of this roundtable was the Transformation Chasm and how the majority of companies struggle to scale early wins into widespread success. The research, led by LNS Research Principal Analyst Tom Comstock, explains how some of the early-stage best practices could end up directly inhibiting transformation success in later stages. For instance, technology-led projects could be valuable to gain some initial momentum and maybe even get some quick wins, but they need to be pivoted to business-led initiatives to successfully scale across the enterprise.

On this topic, team members from Swagelok shared their transformation approach focusing on seeking a business value proposition. To avoid getting influenced by technology, the Swagelok team continuously aligned their transformation use cases to business challenges across customer value, labor availability, supply chain disruption, etc. Mike Livermore, from Swagelok's IT organization, mentioned that they were able to make progress in their transformation by never taking business value out of the picture, and not implementing technology for technology's sake.
Owens Corning, "IX business cases don't always need to solve million dollar problems right away"
The majority of Industrial Transformation programs aim to achieve ambitious goals through step-change improvements, in contrast to 1-2% continuous improvement from previous generational Lean, Six Sigma programs. However, this inherent mindset to achieve ambitious goals has led a lot of transformation leaders to be fixated on finding and solving million-dollar problems in their organization.
Ben Blanchette, Director of Digital Manufacturing, shared how his team at Owens Corning initially attempted to solve such million dollar problems but were met with several roadblocks early on. The Owens Corning team then turned their attention to some of the other smaller scope business cases to solve twenty-fifty thousand dollar problems. This not only gave Ben's team some quick wins but also enabled them to overcome some of the earlier challenges in solving the million dollar problem as well.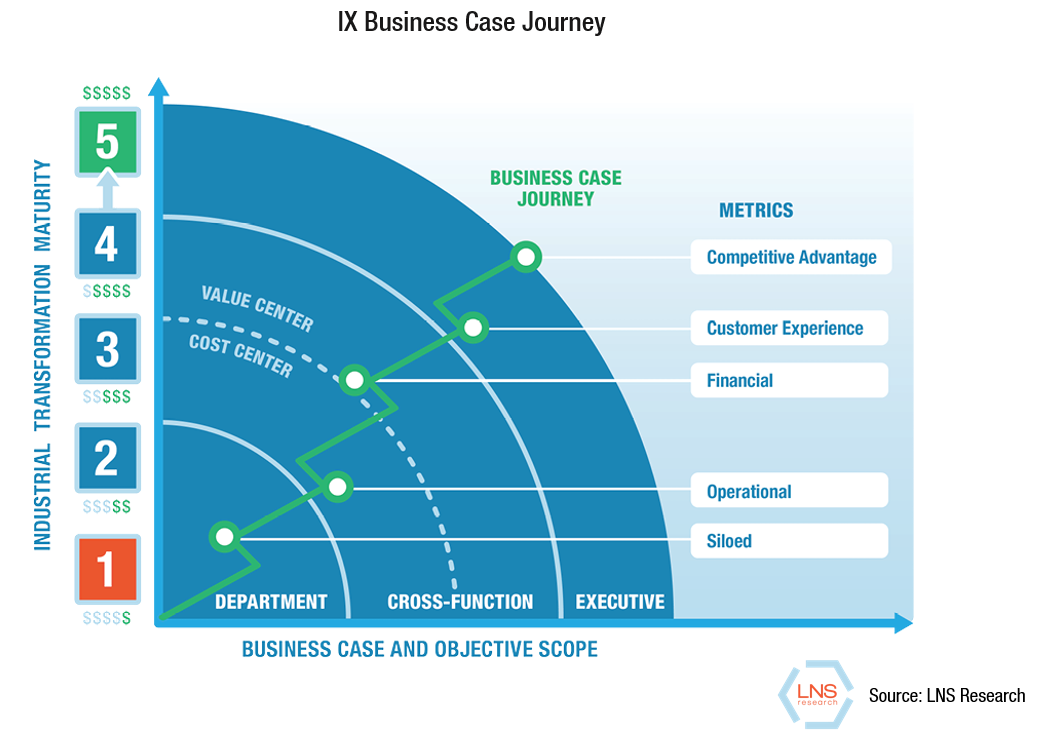 Similar to the above example, LNS Research recommends companies begin transformation with use cases focused within a single function as they are relatively easier to implement and quantify. Ambitious, cross-functional business cases aimed at big wins should ideally be a second or third step.
The Power of Prepositions
One of the biggest learnings from LNS' IX Readiness research is that successful transformation programs require a top-down push from the leadership team, and a bottom-up pull from the plant level. Research data shows that some of the leading companies are more likely to get buy-in from plant management and the front-line workforce in their IX programs and nurture a transformative culture among their employees.
The roundtable touched on this topic when there was a question raised on how to drive this transformative culture. To answer this, LNS Research recommends industrial leaders to think about whether transformation is being done to operations, for operations, or with operations, as explained below.
To operations: Operations doesn't get a say in identifying problems and solutions

For operations: Operations helps in identifying problems, but doesn't have a say in implementing solutions

With operations: Operations is included in both identifying problems and implementing solutions
LNS' research shows that successful transformation programs follow the third approach, where technology and operations leaders work together to achieve transformation.
In addition to the above topics, the roundtable also featured LNS' research on the Vision-to-Value pivot, and further conversations around management systems, robotic automation, and change management. LNS Research members can access the full recording of the roundtable here.
---
All entries in this Industrial Transformation blog represent the opinions of the authors based on their industry experience and their view of the information collected using the methods described in our Research Integrity. All product and company names are trademarks™ or registered® trademarks of their respective holders. Use of them does not imply any affiliation with or endorsement by them.
Categories: Continuous Improvement, Lean Manufacturing, Business Process Management (BPM), Industrial Transformation / Digital Transformation, Industry 4.0 / Smart Manufacturing