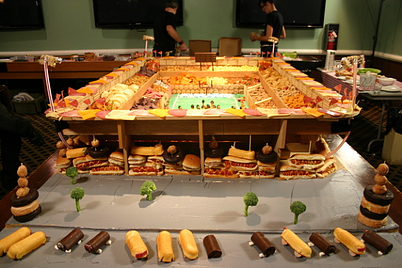 Happy Super Bowl Sunday! I thought I'd get in game-day spirit and include a few articles with characteristics correlated to this annual event: Food, Beer, & Energy. More importantly, from an industry perspective, these articles all prove to be industrial news that will undoubtedly affect manufacturing in one way or another.
The underlying theme for this week is quality: quality management, quality improvement, product quality (good and poor), and overall quality of life. Enjoy, and may the best team win.
Share this round up on LinkedIn
A study by Barry Fischer of Opower has connected decreased energy reports directly to the Super Bowl. One might think the opposite until it's taken into account that most individuals are over to a family member or friend's household, not their own, and only one device actively working - the tube. In fact, overall energy usage dipped 5% below typical averages during last year's game. It makes a point to imply that not only is watching family television on one device a tradition that is gradually slipping away, but it's proving to be energy efficient in today's "green" world mindset. Read Barry's analysis.
Tweet this article | Share on LinkedIn
This week, 3M announced that Embedded Capacitance Material (ECM) is now available for high volume manufacturing. This is an ultra-thin laminate material that offers the highest density available in the marketplace for halogen free products. This material is used for telecom, computers, test and measurement, military/aerospace, medical, and consumer electronics. What does this mean for design engineer? Smaller, high performing products.
Tweet this article | Share on LinkedIn
An article from Sustainable Plant that was published a few week back strongly focused on quality management. Full Sail is a top-25 beer producer in the U.S. by volume, but the Oregon-based company is focused more on creating a beer that ranks high in terms of taste and quality. Recent challenges formed a new goal set for the brewery: upgrade the process to improve product quality, increase filtration efficiency, capacity and throughput. A partner of Rockwell Automation has implemented systems that have improved the brewing process significantly. Water efficiency, less waste and a unique employee culture.
Tweet this article | Share on LinkedIn
In our most popular article of the week, Mike Roberts discusses how and why there remains a steady flow of recalls and other concerning quality issues throughout the world even when market leading executives are placing quality management front and center. Quality Management isn't strictly about technology and automation; it's most importantly about people and leadership. Quality management as an executive priority.
Tweet this article | Share on LinkedIn
I'll admit it. I was a sucker for Hostess Zebra Cakes in the early 90's. Fast-forward to today, and I would have solely contributed Hostess's downfall to changing consumer tastes. The global nutritional outlook has been shifting toward healthier lifestyle choices as each year passes. Therefore, I was astonished to read in Food Manufacturing that those spongy mystery filled cakes alone raked in $76.2 million last year. People still love them. Don't worry, the future of Twinkie manufacturing looks bright as two investment firms drop a $410M bid. New management of this snack-cake business.
Tweet this article | Share on LinkedIn
Toyota has been under pressure in recent years due to recalling millions of vehicles that were once manufactured with serious defects. Even while playing damage control and paying settlements, the company still was able to snag the 2012 World's Largest Automaker from General Motors. Industry Week discusses the vehicle lines that were most recently being recalled due to windshield wiper and air bag imperfections. Recalling Lexus IS, Corolla, and Volt.
Tweet this article | Share on LinkedIn
You may also be interested in:
The LNS Weekly Industrial Round Up 1/21/13 - 1/27/13
Slides: Sustainable Manufacturing Strategies for Energy Management
Tags: Enterprise Quality Management System (EQMS), #Roundup, Manufacturing Operations Management (MOM), Industrial Energy Management (IEM)