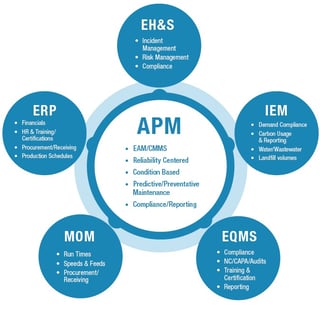 LNS Research has released the Asset Performance Management (APM) Solutions Selection Guide that provides in-depth reviews and comparisons of 20 key APM solution vendors. During the course of preparing that report we discovered a number of APM solution providers that did not fit with the initial format of the SSG. Some of these were companies that only provide APM related services, some were very narrowly focused on a particular vertical industry, some were focused only on a narrow industry segment and in a limited geography, and some were more enabling technology providers such as in the area of data acquisition or mobility. This degree of specialization may have excluded these vendors from the Solutions Selection Guide, but it doesn't mean executives and other APM professionals should exclude them from the portfolio of solutions they might consider when designing their APM technology architecture.
APM Service Providers
Within the Solution Selection Guide we did not include any services-only providers since that could be guide by itself. However, we did discover a couple of providers that we thought offered enough differentiation from the broader generalist provider community. We decided to call them out in this specialized report. Advoco is a services provider that has focused on the Infor Enterprise EAM community while GP Strategies provides services and training for maintenance organizations.
Specialized Solutions
We decided another category of solutions were not appropriate for inclusion in the full guide, and classified them as specialized vendors that offer either very specialized APM functionality, narrow industry and/or geographic focus, or supporting technologies, though not exclusive to APM.
In the first category of specialized functionality we included eight vendors. The first is Azima/DLI, which is a provider of vibration and condition monitoring technology. Another provider in this category is GP Strategies, which offers condition monitoring technology but also has predictive analytics capabilities. This is based on a combination of an analytics engine and a first-principles based thermodynamics model-based application. GP Strategies has been primarily focused on the power generation sector, but much of what it provides has applicability in other segments. Predikto is the final provider covered in this category. Predikto is another predictive analytics tool that is specialized and provides CBM capabilities that help reduce operational risk.
Two of the providers we included in this report that we did not include in the larger solutions selection guide are narrowly focused from an industry and/or geographic perspective. Fleetminder is an Irish provider of a CMMS solution designed for commercial fleet maintenance and operations, and it is predominantly deployed in the UK and Western Europe. Blue Mountain Quality Systems is another specialized CMMS provider that has targeted the life sciences industry with CMMS capabilities coupled with integrated calibration management functionality, a valuable feature in life sciences.
The final category of providers in this report that we did not include in the guide were two that provide enabling technology that support APM. One is National Instruments and it's one of the largest suppliers of data acquisition technology. The technology is essential to getting performance information regarding process equipment. Where existing equipment doesn't have Industrial Internet of Things (IIoT) capabilities and is not likely to be replaced, adding specialized sensing information for temperature, vibration, or other operating information can be a plus. This allows an enterprise to gain the benefits of the IIoT without wholesale upgrades or replacements. Another supporting technology vendor we covered was Unvired, a provider of mobile applications. Unvired provides a mobile platform for SAP EAM/PM users, so they can access APM data easier on mobile devices.
Click below to access this free report highlighting eight interesting vendors in the APM space by indutries, geographies, and business sizes served, key functionalities delivered, as well as other key criteria.
Tags: Industrial Internet of Things (IIoT), Asset Performance Management (APM)