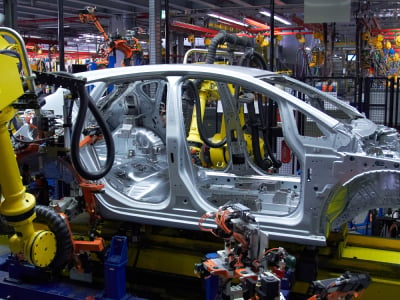 Are you striving to improve key metrics in your manufacturing operations? Of course you are. As a leader in your organization, you need to find new ways to continuously improve, while much of the low hanging fruit from years past has long since been picked. In today's hyper-competitive market it's important for professionals to look toward innovative best practices of processes and technology in order to find new methodologies for sustainable success.
That's why many leading manufacturers today are turning to Manufacturing Operations Management (MOM) software to help them improve their operations. MOM applications are crucial in providing full end-to-end visibility into business and manufacturing processes as well as real-time access to data and the interrelationships of shop-floor and enterprise/business activities. These capabilities are maximizing operational efficiency and driving significant business value for manufacturers investing in them.
Though the concept of MOM is not new, the market has evolved considerably over the past decade, and is a space that benefits from continued clarification and education. From briefings with 20 of the top MOM software vendors, LNS has published its MOM Solution Selection Guide. In addition to a detailed write up of each vendor, the guide educates manufacturing decision-makers considering an implementation, using a set of key criteria to refine a short list based on specific company needs.
This week we're looking at iTAC Software, a German solutions provider with offices in the U.S., France, and China.
An Overview of iTAC's Cloud-Based, Manufacturing Software and Technology Platform Strategy
iTAC Software develops, integrates, and maintains its cloud-based Manufacturing Execution System (MES), known as iTAC.MES.Suite. Targeted at discrete manufacturing enterprises, the company has a notable strength with mid-sized German companies, as iTAC originated its offerings to meet the stringent requirements of the German automotive and OEM industry. However, the current software suite has been designed for use across multiple manufacturing disciplines, and is focused on optimizing product quality while increasing production from existing assets.
The suite includes functional modules that across Traceability, Production Management, Quality Management, Production Planning, and Material Logistics. As a standard product, iTAC's solution is able to synchronize across ERP systems and plant floor machines from a number of manufacturers and vintages. With regard to architecture, iTAC.MES.Suite is built upon ARTES (Advanced Reliable Technology for Enterprise Systems), an extensible middleware software platform that enables additional add-on services and modules.
The company satisfies company-specific IT requirements through a cloud-based, Java Enterprise Edition development platform called iTAC.Enterprise.Framework—on which development tools, data repository, and revision control functions are operated on a private iTAC cloud. LNS Research sees the company's platform technology approach to be flexible in its ability to layer onto customers' existing IT architectures. As a testimony to their commitment to high availability and quality software, the company has been awarded the new ISO certification DIN ISO 9001:2008 by DQS GmbH, the German Association for Certification of Management Systems.
iTAC has been working closely with customers and industry experts to expand beyond automotive and automotive OEMs into the high technology/electronics, industrial equipment, and medical device industries, with future aspirations in the aerospace and defense industry. The company is also expanding geographically in the U.S., and has projects planned in the Middle East, Australia, Africa, and New Zealand.
A Closer Look at the Full Range of iTAC.MES.Suite's MOM Software Capabilities
For more information on iTAC and their coverage in the MOM software space, be sure to check out our MOM Solution Selection Guide (below). The guide provides an overview of the MOM vendor landscape based on criteria such as specific functionalities and modules, company sizes served, geographic footprint, industry strengths, time to solution value, and others. The Guide also breaks down iTAC's core attributes by current and emerging strengths and full coverage areas.
The guide and a full comparative analysis of top MOM software vendors are available below.