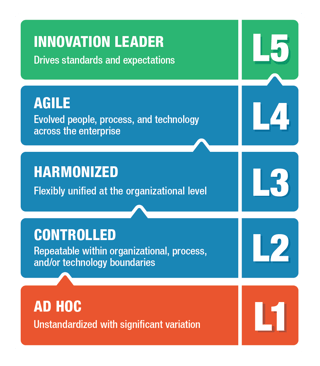 Ever since the Software Engineering Institute at Carnegie-Mellon University introduced its Capability Maturity Model (CMM) in the late 80's/early 90's to describe and assess the software development process, it has been applied to almost every type of process model there is; including Lean, sustainability, and more. There is no denying that an organization's maturity in managing critical business processes is highly correlated to its overall business success. Click here to speak to Dan
LNS Research has talked about our Maturity Model for Quality, starting with blog posts in early 2014. This is why process maturity is such a critical factor when any enterprise pursuing Digital Transformation looks at the pillars of Operational Excellence that are fundamental to the success of its efforts. At LNS Research we have identified six areas that Operational Excellence pillars should be judged in:
Strategy & Execution

Leadership & Culture

Organizational Capabilities

Business Process

Technology Capabilities

Performance Management & KPIs
Where many companies struggle when trying to assess maturity is the confusion around the characteristics of process maturity with sophistication. In doing so, they risk focusing on the wrong activities at the wrong time.
The Difference Between Sophistication & Maturity
In one of my 2014 posts where I wrote about apply CMM's to Asset Performance Management (APM) I explained the reasons you should not confuse your approach to maintenance with your maturity vis-à-vis APM. I posited that just because you were using reliability-centered maintenance (RCM) tools it did mean you were highly mature and conversely, that a highly mature approach to APM meant you had to use RCM. This same argument holds true for all the pillars of Operational Excellence. That is, just using a more sophisticated business process doesn't guarantee maturity. In fact, too much sophistication without appropriate maturity yields the business equivalent of "Toddlers & Tiaras"; cute to look at, but often highly dysfunctional. The two elements where sophistication and maturity are frequently confused are "Technology Capabilities" and "Business Process."
The Risk of a Technology Mismatch
When an organization deploys technology that is too far ahead of the skill level of those expected to use it or it uses technology inappropriately, there is the risk that actual damage may occur; more than just a wasted investment. Tools too powerful applied to the wrong problem can be like trying to use a chain saw to sharpen a pencil – you may destroy the very process you are trying to improve. Even if the tool is the right one for the job, risks are still there since the results may not be as expected if unskilled people are using it. The technology mismatch problem can also manifest itself in the opposite way. If you ask someone to cut a tree down with only a pocket knife, they may become so frustrated they abandon the task and pursue other activities.
Business Processes Must Be Appropriate
As I explained in my APM example, condition-based maintenance (CBM) might be the right tool to monitor a critical piece of equipment, such as a motor on a feedwater pump of a boiler (by looking at heat, vibration, current draw, etc.). But instrumenting and monitoring the vibration and temperature on the casters on a dumpster clearly doesn't make sense. In the case of the dumpster reactive maintenance, i.e. oiling the wheels if they are sticking and the dumpster is hard to push, it is adequate. In the quality realm statistical process control (SPC) is an appropriate tool to monitor some production processes, but it is probably overkill when monitoring a process such as emptying the wastebaskets in an office every evening. Applying the right technique for the job is critical. Just because you know a specific technique doesn't mean you should use that technique for every problem you encounter.
Balancing People, Process and Technology for Operational Excellence
At LNS Research we have consistently emphasized the interaction of people, process and technology when pursuing Operational Excellence. As enterprises pursue Digital Transformation it is important to remember that these three elements are interconnected, it is not just about the digital technology.

Tags: Industrial Transformation / Digital Transformation, Operational Excellence, Asset Performance Management (APM)