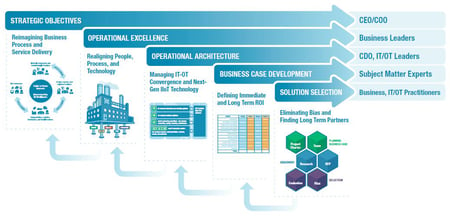 Now, and for the near future, the mantra among management gurus like Michael Porter, management consultancies like McKinsey, and research firms like LNS is how critical it is to use the power of the Industrial Internet of Things (IIoT), Cloud, Mobility and Big Data & Analytics to embark on Digital Transformation. Digital startups like Uber and Airbnb and rapid technology shifts such as the rapid growth of augmented reality (AR), which is behind the success of Pokémon GO, are all proof points as to why firms need to pursue a "Digital Transformation," according to the collected experts.
Examples of the power of Digital Transformation, from Uber to Joy Global in mining or GE in jet engines that are relevant, have been used for a number of years. Nearly every week LNS gets briefed by a solution provider from automation companies (like Schneider or GE) to enterprise application providers (like SAP and Infor), with case studies of pilot projects their leading edge customers are doing in efforts to transform their businesses. Yet, as a whole manufacturing has been incredibly slow to enact change. I contend the problem is not the lack of technology, employee skill in using technology, or any other shop floor reason. I argue the lack of progress lies solely with senior leadership. It either doesn't understand technology and can't grasp the implications of what Digital Transformation really is, or is satisfied doing just enough to remain slightly ahead of the competition and is not willing to accept a challenge that has any risk.
Why Uber & littleBits Succeeded – The Digital Entrepreneurs Advantage
Ayah Bdeir is the founder of littleBits, a company that is providing electronic building blocks to the maker movement. At the Oracle Value Chain Summit earlier this year she delivered a keynote on the "maker" movement and increasing STEM awareness among our youth. One of the key points she made was that a lot of conventional manufacturers did not believe they could economically manufacture the product that she, as an engineer, designed. Instead of giving up on her idea, she thought outside-of-the-box and pursued her objectives in non-conventional ways. It is that approach of not being bound by conventional thinking that has made littleBits the huge success that it is today. The same argument can be made about Uber.
If all Uber had done was create another taxi hailing app it would not have been successful. In fact, numerous apps already existed to request cabs, but were not widely popular due to regionalism and vendor specificity. By looking outside the traditional workforce, Uber was able to draft a new labor pool, which combined with the IoT and Mobile aspects of their app was able to transform the point-to-point ride service business. It was the ability to risk everything and not accept no, with a view to be totally different, that made these companies successful. We have blogged about this before – it is called "blue ocean thinking." The good news is that this type of transformational thinking can be done by traditional firms, if they are willing to properly assess and manage risks.
How Manufacturers Can Apply Blue Ocean Thinking When Setting Strategy
The key to thinking like an entrepreneur as a manufacturer embarks on a Digital Transformation journey is to have leaders that are willing to lead instead of manage. These leaders have to have the technical competency to comprehend what is possible today with Cloud, Mobility, IIoT, Big Data & Analytics, and the communication skills to convince the board. Employees and other stakeholders adopt the strategy and the risk management acumen to react quickly as the learnings accrue during their pursuit of Digital Transformation. Companies whose management are content with incremental improvements driven by cost reductions, efficiency gains, or by squeezing suppliers are not going to be the long term winners.
The process of setting your strategy is how you can initiate the transformation. If you are a manufacturer of milling machines your strategy is to "reduce costs by 10%" it is pretty much assured that with good management you can achieve that and probably increase the profit on the mills you sell to other manufacturers. But, if your strategy is to "provide our customers with economical, reliable, high-precision metal removal" you open yourself up to a host of new possibilities. You could sell material removal capacity instead of the mills themselves or you could still sell the machines, but sell operation and support services that ensure optimal performance by leveraging data about their performance. After all, who better to determine if a CNC mill is operating at peak performance than the company that designs it in the first place.
A leader recognizes that if they believe in this model and can convince themselves it is not only good for their customers, but good for themselves as well have made the first step in the Digital Transformation journey. Board of Director members need to recognize the qualities of leadership, technical competence, and creative thinking, and insist that the CEO's put in place are up to the task. Otherwise, the likes Ayah Bdeir or Travis Kalanick are going to challenge them in the not-too-distant future.
Access the NEW IIoT ebook to provide manufacturers with a roadmap for establishing a Digital Transformation framework for their manufacturing system architecture to capture and effectively manage the onslaught of Big Data captured from non-traditional sources that delivers unprecedented insights, and will quickly deliver the value to expand a pilot project across the plant and beyond.
---
All entries in this Industrial Transformation blog represent the opinions of the authors based on their industry experience and their view of the information collected using the methods described in our Research Integrity. All product and company names are trademarks™ or registered® trademarks of their respective holders. Use of them does not imply any affiliation with or endorsement by them.