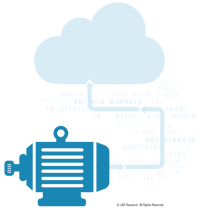 This month in Roundup, LNS Research explores recent announcements and events, such as GE opens Fort Worth site for asset monitoring; PTC releases ThingWorx 8; EtQ announced a new partner and UI refresh; Plex's plan for machine learning; and Apple invests big for smart manufacturing tech skills.
Industrial Revolution Full Steam for Railroad and GE
GE Manufacturing Solutions isn't exempt from digital transformation. In fact, the division that makes locomotives for freight is an excellent use case for IIoT solutions. GE just opened its third Global Performance Optimization Center in Fort Worth to digitally track the performance of 17,000 railroad vehicles worldwide. The "mission control" center will monitor about 2.5 million pieces of data daily, much of which comes from the 250 or so sensors on each locomotive. GE workers diagnose and troubleshoot mechanical problems while trains are crossing the country, and arrange for repairs or maintenance at the next scheduled stop, to avoid delays in freight shipments. Often, crews operating the trains aren't even aware that mission control has identified a problem and arranged for a resolution. Read the Fort Worth Star Telegram's coverage of the GE IIoT use case.
PTC All-In on IIoT with v8 Release
PTC's ThingWorx 8 hit the streets recently, with expanded remote inspection capabilities, augmented reality (AR), and deeper cloud support through integration with Amazon Web Services (AWS) and Microsoft Azure. PTC also released three free manufacturing-related applications that anyone can download and install for free. According to PTC, "New features have been specifically designed to further the platform's ability to make the development, deployment, and extension of industrial internet of things (IIoT) applications quick and easy." Read the full announcement by PTC now.
EtQ: UI Tweaks for Traqpath and New Partner RegScan
EtQ recently announced a product update in which it enhanced the Traqpath cloud quality management system UI with enhanced sign in and sign up, configuration enhancements, and an updated interface that includes a walk-through guide. Around the same time, the quality software company announced a partnership with RegScan, to allow software users to directly access regulatory updates, audit protocols and RegScan's library of regulations. Read about the quality management system partnership, and learn what the company wrote about its UI enhancements product release.
Plex Plan for Machine Learning
This past month, cloud ERP company Plex announced that it's adding machine learning (ML) for production planning processes and that it expects the ML capabilities to be available in the first quarter of 2018. In the same announcement, the company said that it's adding predictive demand forecasting that will include IoT data plus external data like industry forecasts, and social and economic data. Plex indicated that it plans the predictive demand forecasting capabilities for quarter four 2017. Read about Plex's plans for machine learning.
Apple's Sweet News for Smart Manufacturing
Apple has announced that it's going to create a fund to develop skills in the U.S. for advanced manufacturing and contribute $1 billion. The company hopes to create a ripple effect – building on existing initiatives like the Automation Federation and others – and create manufacturing jobs, which will help to fuel the service industry and others around it. Apple wants to use the fund to build worker skill sets in technology, and specifically automation and smart manufacturing. Design News provided full coverage of the Apple investment in smart manufacturing technology skills.
Categories: Enterprise Quality Management System (EQMS), Industrial Internet of Things (IIoT), Industry 4.0 / Smart Manufacturing, Artificial Intelligence / Machine Learning (AI/ML)