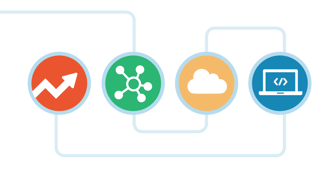 In this monthly Roundup, LNS Research explores recent announcements and events, such as Wind River releases control systems virtualization software; Honeywell announces a new cyber security solution; a new smart steel mill in Arkansas; PTC's Industry 4.0 initiatives; IQMS mainstage speakers lineup; and Ideagen's acquisition of PleaseTech.
Intel Subsidiary Wind River Joins the Platform Bandwagon
Wind River, an Intel company, just announced the release of a software platform to virtualize aging legacy control systems to take advantage of the connected nature of the Internet of Things (IoT). The software platform, called Titanium Control, will allow critical infrastructure businesses to support IoT through virtualization of traditional physical subsystems. This may be good news for industrial companies that want to leverage cloud computing technology and next-gen analytics to optimize industrial processes, despite single-purpose control systems that weren't designed for that purpose. Wind River says that, "Unlike enterprise IT virtualization platforms, it [Titanium Control] provides high reliability for applications and services deployed at the network edge." Read Electronic Design's coverage of the product and announcement.
Honeywell Solution Cracks Down on Industrial Cyber Security
Honeywell just announced the release of Secure Media Exchange (SMX), to support industrial cyber security and combat critical infrastructure attacks by USB media. SMX is scalable front-line protection that allows a company to check and secure USB devices used by onsite vendors and contractors prior to connecting and exposing critical assets and infrastructure to risk. Using a combination of hardware and software, the solution prevents USB's from propagating malware and executing unverified files. The company also announced it will open an industrial cyber security center of excellence in Singapore to develop additional technologies and solutions to defend against cyber attacks. Read AutomationWorld's coverage on the topic or watch a Honeywell video.
Steel Mill Epitome of Smart Manufacturing
Big River Steel recently opened a new steel mill in Osceola, Arkansas – adding about 325 jobs to Mississippi County Arkansas. The real news is that the shiny new $1.3B plant will roll out an estimated 1.6 million tons of steel annually in what it calls "phase one," with just over three hundred staff members. When BRS flipped the switch and completed its first full month in January, it lived up to bold claims and produced a record 63,000 tons of hot rolled steel. The company says that being a smart factory that leverages artificial intelligence (AI) and the Internet of Things plays an integral role in the vast majority of the company's operations. Read about BRS's smart connected factory on Recycling Today, about their new plant on Arkansas Matters, or about their record-breaking month of production on the Big River Steel website.
PTC All-In on Industry 4.0
PTC, a prominent player in the product lifecycle management (PLM) cloud software space has just announced new initiatives to further its Industry 4.0 strategy. The most notable is the upcoming release of connected operations applications built on the company's ThingWorx IoT platform. PTC designed the new apps to unify and contextualize digital data from enterprise IT systems with operational and physical data from machines and sensors. Other initiatives include a collaboration with McKinsey & Company, and acatech consortium in Germany. The software company hopes to further its position with the collection of initiatives, accelerate Industry 4.0 adoption, and ultimately enable manufacturers and industrial companies to realize their Industry 4.0 objectives. Read about PTC's Industry 4.0 initiatives on Yahoo! News.
IQMS Boasts Lineup of Guest Speakers at Pinnacle User Conference
ERP and Manufacturing Execution System (MES) company IQMS has expanded the roster of keynote speakers for its user conference, happening April 3-6 in Orlando. Attendees will hear from leading IIoT and Digital Transformation analyst Dan Miklovic, William Strauss from the Federal Reserve Bank of Chicago, and Mt. Everest summiteer Alan Hobson, along with IQMS CEO Gary Nemmers. With several new executives filling key leadership roles throughout the manufacturing ERP company, and recent announcements about expansion across customer service groups and North America divisions, IQMS hopes to provide attendees with insights and information on how to excel in today's competitive global market. Yahoo! News provided recent coverage about the IQMS event and speakers.
Ideagen Buys PleaseTech, Rakes in Solid Portfolio of Customers
Ideagen, an information management software provider, has announced the acquisition of PleaseTech, which specializes in software for collaborative authoring and review of documentation. The transaction adds a number of pharmaceutical, defense, manufacturing, and transportation companies to the Ideagen portfolio, along with a customer base in government agencies. According to the company's announcement, the PleaseTech's PleaseReview software is complimentary to Ideagen's existing offerings, and the reporting and metrics offered in the solution can ensure transparency and accountability and facilitate process improvements. Read the announcement by Ideagen today.
Categories: Enterprise Quality Management System (EQMS), Industrial Internet of Things (IIoT), Industrial Transformation / Digital Transformation, Industry 4.0 / Smart Manufacturing, Asset Performance Management (APM)