In April 2019 LNS attended the first annual IBM IoT Exchange event held in Orlando, FL. The company focused its three-day conference on how to achieve operational efficiency and effectiveness, and reduce costs through the application of IoT data and artificial intelligence (AI). The conference marked the first time that users of IBM's engineering lifecycle management (DOORS family), enterprise asset management (Maximo portfolio), facilities lifecycle management (TRIRIGA), and the Watson IoT Platform solutions all met together under the Watson IoT umbrella.
My compliments to IBM for putting on a first-class event at a fine venue. The conference included more than 300 elective sessions and labs and was well-attended by nearly 400 customers and more than 400 business partners. I spent the majority of the time exploring the enterprise asset management (EAM) and IoT offerings within the Maximo Academy, and highlights included several pivotal changes going on in this Watson IoT business unit.
INVESTMENT | The company has made significant investments in its four flagship software products including evolutionary re-architecture for improved functionality, IoT and cloud software-as-a-service (SaaS) delivery.


ORGANIZATION | A new dedicated organization with renewed vigor and strong leadership in Kareem Yusuf and his team.


GO-TO-MARKET | Primary focus on three markets:
Industrial equipment (in manufacturing, process, power generation, and distribution)
Buildings
Vehicles
First, The Good News…
The four main software offerings were acquired, beginning with Rational in 2003, Maximo in 2006, TRIRIGA in 2011, and Watson IoT Platform in 2012. IBM has now organized these into a single group under the Watson IoT umbrella, with its dedicated sales and marketing team. IBM's channel partners are a major part of the go-to-market strategy and it expects them to help IBM cast a wider net.
IBM acknowledged that it was slow to update core functionality and, in particular, the user experience (UX). These are now getting significant attention along with the transition to Cloud.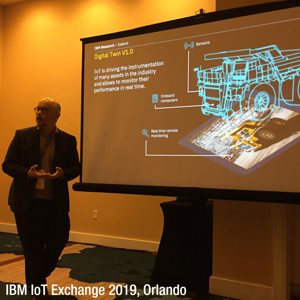 IBM, like SAP, has been slow to expand its EAM offerings toward what LNS Research regards as APM 4.0. That has now changed; IBM added IoT and Watson analytics to Maximo and TRIRIGA, so that both have extended APM functionality — that is, the ability to bring in sensor data through IoT, and to implement advanced analytics and machine learning on industrial equipment. This may be in industrial plants, buildings, or vehicles. This will help clients better identify critical assets, understand current asset condition, anticipate failures before they happen, and optimize maintenance and repair.
To speed the uptake of Digital Twins (acknowledging that IBM can't build every twin it would like to have), IBM announced plans to develop a marketplace for equipment manufacturers to place equipment IP, e.g. specification data, 3D model, operating manuals, spare parts list, physical and operating parameters, and other elements, and sell it to others so the buyers can build Digital Twins. Obviously, the machine makers could build the twin themselves, or with third-party help sell the twin outright. The manufacturer sets the sales price. It's early going, so it remains to be seen how much traction the marketplace will gain.
More Interesting News: IBM-Siemens Partnership
I am particularly pleased to see how IBM and partner Siemens are closing the loop between engineering, asset management, and production with the feedback loop back to design. Yes, the vendors announced the partnership in 2012 with Team Center running on IBM's PureFlex plumbing. What's new is the connectivity of IBM engineering lifecycle services and Siemens Team Center feed data to IBM's Maximo and to Siemens SIMATIC automation systems, where operating data is captured and analyzed, then fed back to Team Center. Siemens partner, Bentley Systems, will also have a role in adding 3D design and engineering models to Siemens PLM. This approach is indicative of the trend LNS Research identified about large players coming together to address the full asset lifecycle.
Are there challenges? Yes, But…
IBM's speed of innovation in bringing products and solutions to market hasn't been a strong suit. The company admittedly has lagged in investing in these three products, so it has some work to do to catch up and modernize functionality, UX, and cloud SaaS delivery.


From an APM and Digital Twins perspective, IBM has a strong analytics platform to build twins in Watson Studio. However, the company could use some more ready-to-apply asset templates in its library. The marketplace may be one answer, but others have tried this approach with limited success.


IBM's IoT, while highly functional, could also be easier to set up, like the drag-and-drop configuration found in its own Watson Studio. Although it incorporates Node-RED for visual programming, it still seems like IBM cobbled together several components which requires a certain amount of coding glue to deliver a solution.
For industrial organizations, this means that IBM can handle almost any IoT and analytics use cases, though it may require a certain amount of global business services (GBS). However, in some industry sectors like process and power, there are analytics and IoT competitors with pre-configured asset libraries with a much faster time to value. It would be disappointing for IBM if it found the majority of Maximo users linked to competitive IoT and analytics solutions.
Having said all this, there are no barriers or challenges that IBM can't overcome. The best news is that this IoT business unit is well-led, knows who they are, where they're going, want they want to be, and are focused on getting there. I am optimistic that it will succeed … however, the clock is ticking, so IBM must press down on the accelerator.
Categories: Cloud, Solution Vendor / Software Vendor, Artificial Intelligence / Machine Learning (AI/ML), Asset Performance Management (APM), Digital Twin