In a previous article, Three Reasons Why Digital Transformations is So Hard, I did a deep dive into what transformation means compared to just evolutionary change. Two of the three reasons explored in that post deal with the idea that businesses have rarely approached a level of change that qualifies as transformative. The focus needs to be on the business processes and not the digital technology underlying its processes. Industrial Transformation (IX) is the path businesses need to pursue, emphasizing the results, not the technology used to drive those results. But looking back historically this raises the question "is business transformation the same as IX?"
Exactly What is Industrial?
The Industrial Internet of Things (IIoT), IX, industrial-strength, industrial nations, etc. ― these are all terms related to the idea that if something is industrial, it is rugged, strong, and suited for use in industries such as manufacturing, energy, mining, construction, and others. These industries require more robustness than consumers do in their endeavors or than businesses do in front office operations. So, while most industries are associated with business, not every business is industrial.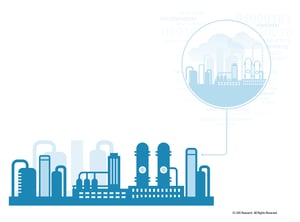 Our focus has been on manufacturing and asset-intensive industries. When we refer to the IIoT or IX, we're talking about being suited for or relevant to those industries that demand a degree of robustness beyond consumer or standard front office commercial technology. The implication being that IX is harder than "business transformation."
IX Examples from the Past
Technological advances have always had an impact on industry. From the steam engine replacing animal and water power, to electricity replacing steam and earlier power forms, to the advent of automation and control, industry is continuously evolving. Hence the idea of Industry 4.0, today's much talked about and anticipated next transformation. But it seems that Industry 4.0 is taking forever to arrive. Few businesses can claim to have delivered the promised benefits of Industry 4.0 to their stakeholders.
Perhaps the reason is that for IX to deliver on its promise, no individual company can really make 4.0 successful. I argue that for genuine IX to happen, businesses need to reach across the value chain to drive adoption to achieve any real gain. Let's look at two examples.
GE and Six Sigma
Statistical process control (SPC) entered businesses in the post-WWII era with Deming and the rebuilding of Japan's industrial infrastructure. Initially, SPC focused on three sigma-based limits as the target for process stability. However, in 1980, Bill Smith of Motorola introduced the idea of managing to Six Sigma[1] limits of process stability. But it wasn't until the mid-1990s when Jack Welch at GE made it central to GE's business strategy that Six Sigma really became a turning point in manufacturing and industrial business process improvement. The difference was that GE did much more than adopt Six Sigma internally. They demanded it from their suppliers and espoused it to their customers as something that benefited them as well. To drive Six Sigma across the value chain, GE provided training and coaching to suppliers and even encouraged GE management to migrate to other businesses to spread the message. Today, Six Sigma is considered a conventional SPC approach and is prevalent in all forms of industry.
Toyota and Lean
Similarly, Toyota was not the first company to adopt the fundamental principles of lean methodology. However, like GE, it was the first to make it central to their business and to drive it across the value chain – a somewhat easier process since the Japanese auto industry operated in a keiretsu mode (a set of companies with interlocking business relationships and shareholdings) in the final decades of the 20th century (and to a lesser extent, even today). For Toyota to truly benefit from Lean, it had to eliminate waste upstream of its manufacturing and demonstrate to customers that the Toyota Production Method (TPM) delivered a superior product.
For Industry 4.0 or IX to be Meaningful, It Must Work Across the Value Chain
This same dynamic explains why IX has proven so challenging and why companies that pursue IX often struggle to achieve all the benefits they expected. For example, for a company to get the value from Digital Twin in APM 4.0, it must have robust models of the equipment it's using. However, many suppliers are reluctant to share the engineering models of their products. So, companies resort to generic or self-developed approximations of performance and fail to achieve the greatest value from Digital Twin efforts. This is just one small example of the problem. Unfortunately, there are many more compounding the challenge of APM 4.0.
Ultimately, any company engaging in IX in an isolated fashion isn't truly engaging in Industrial Transformation ― and that's precisely why IX is really, really hard.
[1] Six Sigma is a trademark of Motorola Trademark Holdings, LLC.
Categories: Industrial Transformation / Digital Transformation, Industry 4.0 / Smart Manufacturing, Asset Performance Management (APM), Digital Twin