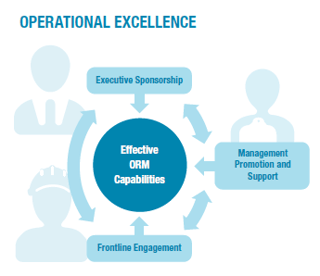 We have long emphasized the fact that people are central to Operational Excellence and are as much a part of Digital Transformation as the processes undergoing transformation and the technology being used to enact the transformation.
Click here to speak with Matthew Littlefield
The importance and impact of people was driven home this week in a number of interactions with clients, both end user and vendor. The benefits of leadership, organizational maturity, and how to best manage change all were highlighted as key insights. On the technology side, the emphasis remains focused on leveraging the Industrial Internet of Things (IIoT) to improve asset performance.
Technology Selection requires Cross-Functional Leadership Buy-In: Metals Industry Client Project
LNS Research Survey data consistently shows that one of the barriers to success in any Operational Excellence oriented technology project is a lack of cross-functional leadership support. Client interaction shows this lesson is becoming better understood.
Dan Jacob and I have been working with one of our metals industry GEC members for the past 6 months regarding best practices for a long term Enterprise Quality Management Software (EQMS) deployment strategy. Last week we led the EQMS solution selection kickoff meeting for the company. This was a refreshing meeting in that we had a true cross-functional group of leaders and spent significant time bringing the entire group to a common understanding of the challenges, opportunities, and best practices surrounding EQMS for this company.
6 months ago it looked as if this project may have been a typical quality only project – trying to drive process change without the buy-in of process owners. The company should be applauded for choosing long term success over short term gains.
Importance of CoE in Manufacturing Operations: Hitachi and Dassault Systèmes Webcast
When it comes to deploying major technology projects, the people aspect can't be overlooked. Having the right team, organized for success and with the proper support tools in place, goes a long way to ensuring success.
Over the past several years we have received many inquiries regarding the value delivered by internal Centers of Excellence (CoE) when it comes to successful Manufacturing Operations Management (MOM) deployments. The data has been clear that the benefits are dramatic. This result was confirmed in Andrew Hughes' webcast last week with Dassault Systèmes customer Michelle Mertens from Hitachi, who described her experience deploying Apriso globally.
Michelle's key take away was that being organized is best! Sounds simplistic, but Hitachi put a huge effort into the inclusion of global (Asia, Europe, and Americas) stakeholders and set up a CoE to support the implementations across the globe.
As Hitachi works around the world and around the clock, problems can often be solved while those with issues sleep, waking to solutions delivered from another time zone. The CoE is also responsible for ensuring that the different sites maintain as much commonality as possible, with a stated objective of 80% commonality between sites.
Hitachi represents a successful, well executed project that is still rolling out sites and is well ahead of where they would be without global coordination provided by an internal CoE.
Change Management Critical for MOM Success: Eaton at GEC Meeting
When trying to roll out a major system, getting organizational buy-in requires good change management processes. Having a good plan with well-defined steps can go a long way to contributing to the project success and heading off unforeseen challenges.
At our most recent MOM GEC meeting, Mark Tudor of Eaton shared his experience in choosing and implementing a MOM solution across Eaton's diverse businesses. The focus of the project was on operator instructions and data gathering for quality management. Interestingly, Mark suggested that operator instructions, while an obvious starting point, were the cause of much anxiety over detail and acceptance. Mark believes Eaton should have spent more time collecting and cleaning legacy data up front and implemented operator instructions a little bit later. Not obvious, but definitely worth consideration for anyone planning MOM in complex discrete manufacturing; especially if it involves transitioning from many homegrown point systems to a single global implementation.
IIoT Really Shines in Large Distributed Asset Bases: Verisae Briefing
Companies that have a large number of widely distributed assets can benefit extensively from the IIoT. Making intelligent decisions about when and where to dispatch service technicians to serve a distributed set of assets is more complex than managing maintenance at a single facility.
This week Verisae briefed Dan Miklovic and Jason Kasper on its EAM and IIoT offering in the Asset Performance Management (APM) space. Verisae is a solutions provider that has captured a significant share of the APM market in retail and has gained a good presence in utilities, particularly those that have local distribution capabilities and a large number of distributed assets. It is now moving into other aspects of asset intensive industries and manufacturing. Verisae support deployment of highly mobile workforce to provide maintenance on this distributed asset base. It has a Software as a Service (SaaS) deployment model which also supports the highly distributed workforce. More importantly, it has enabled Predictive Analytics using IIoT-generated data that it uses to make highly intelligent service decisions based not only on just maintenance indicators, but it can take into account sustainability and energy usage issues to prioritize maintenance activities.
Any company with widely distributed assets, large numbers of 3rd party maintenance contractors and are looking to start using IIoT data should take a look at Verisae. We will be going into more depth on its offering in our upcoming APM Interesting Vendors Report, Part 2, coming out in the next few weeks.
When It Comes to the IIoT - Platforms Are Becoming a Critical Component: Siemens Discussion
An "assets design to manufacture process" is the critical foundation to prepare an asset for its life operating in the field, but what happens after it leaves the manufacturing facility? This is the question driving Siemens' Plant Data Services business.
This week Dan Miklovic and Jason Kasper had a discussion with Siemens about the plant data services portfolio (already more than 2 years of development at Siemens) vis-a-vis its overall data driven services strategy. This offering focuses on connecting assets with plant monitoring and coupling it, with context, to understand and take action with reliability and predictive analytics. Key to the vision is the "openness" in the architecture. Siemens has rolled out its approach to this, which is named MindSphere. Essentially, this IIoT platform will be able to connect to different assets, regardless of age, culminating in a SaaS layer to enable Siemens and third party applications to deliver value to Siemens customer base.
Siemens has issued early last week a press release on MindSphere, which is available in Beta version form today. Users will have to wait for the Hannover Fair that is coming up in April (25-29), where Siemens is expected to fully highlight their complete vision around Cloud and Smart Connected Assets to get full view of Siemens future direction in this area. We for one, are looking forward to hearing more at Hannover
NEW Research Spotlight on strategies and recommendations for minimizing risk through a migration away from monolithic, single-plant MOM architectures through exploration of Cloud and IIoT technologies that are advancing in manufacturing today.