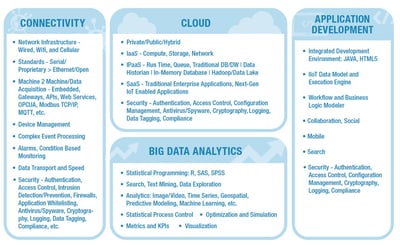 The LNS Research Roundup blog series explores recent industry events, such as Oracle acquiring Opower, Takata recalls increasing, Microsoft acquiring Solair, & GE searching for new opportunities.
O

racle Increases Cloud Power
Earlier this week, Oracle announced its acquisition of Opower, a leading provider of customer engagement to utilities Big Data Analytic, Cloud services. The acquisition is said to be valued at $532 million. Opower's shares are valued at $10.30 each in cash.
Oracle believes that with Opower's widespread solution, servicing over 100 global utilities, the company's Big Data platform will be a fine addition to Oracle's Cloud applications. Rodger Smith, Oracle's Senior Vice President and General Manager, Oracle Utilities Global Business Unit, said "Utilities want modern technology solutions that work together to meet their evolving customer, operational, and compliance needs. Together, Oracle Utilities and Opower will be the largest provider of mission-critical Cloud services." To read more details pertaining the acquisition click here.
Takata Recalls Continue
"This is the largest recall in American history," said Mark Rosekind, Administrator of the National Highway Traffic Safety Administration, commenting on the increase in recalls from automotive supplier Takata. The recall is ordering another 35-40 million airbags due to the circumstances of the faulty airbags. Previous to this, 28.8 million airbags were recalled, and April reported 8.2 million had already been repaired.
While this has been an issue LNS has blogged about before, Takata held a panel commission where it was reported that the workers processed the airbags in a way that suggests quality and risk management were not adequately prioritized. As the report revealed workers load the majority of the propellant into the airbags by hand. The panel suggested an automated process for this step, as this would ensure quality across the plant floor and products. To read more of the everlasting Takata airbag recall, expected to continue through December 2019, click here.
Microsoft Acquires Solair [IoT]
Following last week's announcement from Microsoft's CEO, Satya Nadella, at Hannover Messe, Microsoft recently announced the acquisition of an Internet of Things (IoT) service, Solair. The company, an Italy-based organization, is no stranger to Microsoft as it has used its Azure Cloud-computing platform to offer its services in the past.
Microsoft plans to integrate Solair into its Azure IoT Suite, and claims it is excited about the technology and collaboration Solair will be bringing to the table. Further commenting on the transaction is Microsoft's Partner Director for Azure IoT, Sam George, "Solair shares our ambition for helping customers harness their untapped data and create new intelligence with IoT, and this acquisition supports of strategy to deliver the most complete IoT offering for enterprises." To read more on the acquisition click here.
GE Expands View for New Opportunities
As General Electric prepares to make its move to Boston, MA, it has been keeping an eye on large Oil & Gas acquisition. GE recognizes such acquisitions poise an opportunity for it to purchase assets, much like the recent falling out of a merger between Halliburton Co. and Baker Hughes Inc. Nonetheless, GE is staying optimistic about undiscovered opportunities.
Once it has made the move to Boston, GE has stated that it is interested in working with or acquiring startups in the area. Specifically, it is looking for organizations that will suite well with its growing software business. GE's CFO, Jeff Bornstein commented, "There have been a number of technology and startup companies that have reached out to us since we've made the announcement publically…" GE seems it will be well positioned in Boston to build the $15 billion digital business it plans for in the coming years. To read more on GE's outlook for new opportunities click here.
Access this NEW eBook, "Manufacturing Metrics in an IoT World: Measuring the Progress of the Industrial Internet of Things," presents results from the fourth iteration of the biennial Metrics that Matter research study conducted between LNS Research and MESA International. It places particular focus on what IIoT means to manufacturers in the MOM space.

Tags: Risk Management, Cloud, Big Data, Enterprise Quality Management System (EQMS), Industrial Internet of Things (IIoT)