In my long career in manufacturing operations, I have had many discussions with product design teams for discrete manufacturing. These discussions have ranged from pure delight to taxing because while the product designers were smart and creative they were also somewhat self-centred. Sharing of data has been a natural extension of sharing ideas, goals, and success for those of us who have worked together in design and operations, and data sharing usually resulted in new products.
Click here to speak with Andrew Hughes
Manufacturing Process Management
Manufacturing process management (MPM) addresses the design of manufacturing processes from product design to engineering to manufacturing bills of materials (BOM), and it defines how the product will be built. It is the process that brings product lifecycle management (PLM) and Manufacturing Operations Management (MOM) together to ensure manufacturability and efficiency of the production process. MPM is not a one-off activity and should always be a part of any continuous improvement program in a product or process.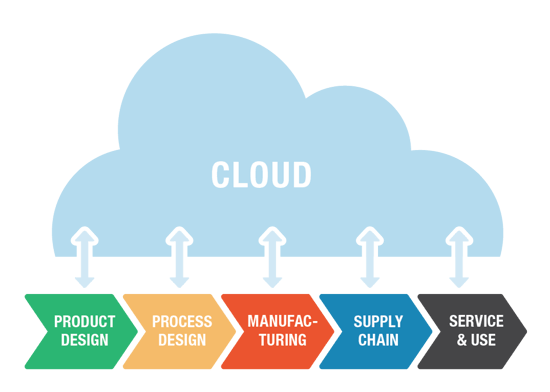 Defining and converting BOMs is a vital part of MPM and is often a people-centric process. Tools are available to help convert BOMs, and PLM systems ensure different versions of BOMs are consistent. But much of the value-add comes from the design and manufacturing engineers who handle the data. These versions will be used beyond PLM and MOM, and so data management is critical; therein lies an age-old issue: master data management (MDM).
The primary task of corporate business systems such as ERP is to handle data across the enterprise. ERPs have systems to ensure data is consistent between applications, and support manufacturing data for business processes under their charge. For example, purchasing systems know what parts to buy, and sales applications know how to configure products for customers. Both these systems require their own BOMs that are consistent with the primary engineering BOM (EBOM) and manufacturing BOM (MBOM). Most ERPs manage these within their MDM systems. PLM systems that maintain the engineers' view of the truth compete with ERP systems that contains IT's view, and nobody wins.
Data in the IIoT Age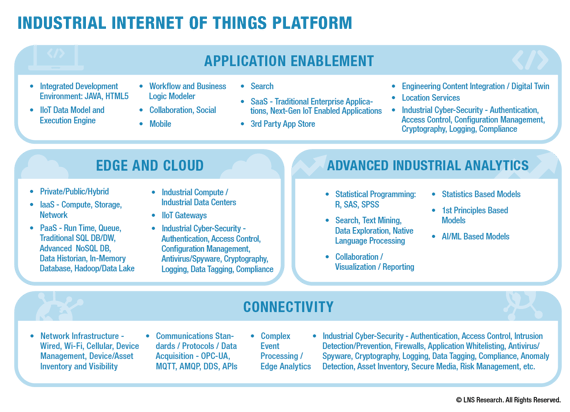 The LNS Research definition of the Industrial Internet of Things (IIoT) platform includes data management from Cloud to Edge. We have discussed how MOM data will migrate to the IIoT platform. With PLM, things are a bit different as leading design software vendors are basing most of their design and operations data management on PLM backbones that have existed for some time. There are some real short-term benefits for manufacturing as the integration of MPM data from design and manufacturing becomes straightforward (and there is no argument about where master data resides).
There are critical long-term decisions to be made about master data across the enterprise. Most of these decisions are not technical but could be imposed by vendors if manufacturers do not define their enterprise and operations architectures, consistently and cohesively. This is a classic area of information technology / operations technology (IT/OT) convergence – where to put and control master design data, especially MBOM and EBOM (most other BOMs have different views on these). Some manufacturers would want PLM data closely related to the design tools used to create it, and will build out their PLM backbones to support manufacturing. This is particularly the case for complex discrete manufacturers where engineering design is the lead activity for product creation and production. These manufacturers need to work with their PLM vendors on a roadmap towards an IIoT platform that will support PLM and business systems.
Many manufacturers that do not yet have closely integrated IT/OT may use two independent master sets of data - EBOM and MBOM in the PLM system, and sales BOM and others in the ERP. It is important to note that many large ERP vendors have PLM systems entirely built into their offerings. These can be used with a variety of engineering and CAD tools. This allows full ERP-centric MDM but may not have the power to support MPM. As we move towards data-based on IIoT platforms, here are some things to do:
Make sure that enterprise and operations architectures can coexist, especially while integrating product design and manufacturing
Define the requirements for BOM and other design data management across the enterprise and ensure that your IIoT platform can support it
Talk! Most difficulties of BOM management relate to a lack of communication between IT and OT, and a hefty dose of "not invented here syndrome." With good data design and a robust platform, everyone will benefit from tighter integration between design and manufacturing.
Categories: Manufacturing Operations Management (MOM), Product Lifecycle Management (PLM), Cloud, Enterprise Resource Planning (ERP), Information Technology, Manufacturing Execution System (MES), Industrial Internet of Things (IIoT), IT/OT