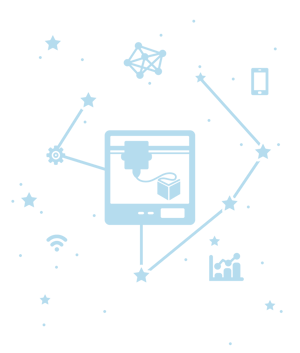 The #MondayMusings Industrial Transformation blog series provides insight and analysis for executives from the previous week's briefings, events, and publications @LNSResearch.
Click here to speak with Matthew Littlefield
Last week LNS Research had the opportunity to attend the 16th annual PowerPlex User Conference. This year's event was held in Atlanta for the first time and did not disappoint the 1,000+ "makers" in attendance. The highlights of the analyst agenda included a plant tour (Trojan Battery), day one keynotes, and an executive Q&A. Plex continues to be one of the leading manufacturing ERP providers in the space today and displayed an impressive continuation of momentum over the past year.
LNS Research's important takeaways from the event included:
• Continued Financial and Customer Momentum. Plex reported >100 new customers over the past year, a <5% churn rate among existing customers, and passed $100M in run rate of recurring subscription revenue. By any measure these are strong numbers and I'm sure make both management and investors happy. If anything is to be criticized, it would be the limited growth in new vertical industries and among large enterprises. But this news isn't even that bad. With Plex's win rate and the number of deals in core markets, there are enough new ERP projects to continue a healthy growth rate for years to come.
• Increasing Capabilities of Channel. Although not a trade show, Plex is doing an admirable job of growing the number and types of partners sponsoring PowerPlex. Many of these partners go beyond just sponsoring the event, and they can become strategic partners in implementing Plex and generating extended value for clients. It is especially important for customers to find the "right" partner when implementing "true" Cloud software. The partner's value in these scenarios is not in delivering implementation or service hours, as it is with traditional software that is much more likely to be customized to a customer's need. Rather, it is on how to use the software in accordance to best practices and capture as much value as possible with the existing system.
• New UX is Coming (still). In 2016 Plex talked about the importance of improving the User Experience, both on a desktop and mobile devices; and that discussion continued into 2017. There are advantages and drawbacks to having the first to market manufacturing ERP and one of the drawbacks is a comparatively dated User Experience. What Plex demo'd on the main stage this year showed the company to be moving in the right direction, but upgrading the User Experience for an application as expansive as Plex is no easy task. It looks like customers will be waiting until 2018 for the full upgrade, but when it is done, LNS expects Plex to have a modern UX that delivers both curb appeal and more importantly an environment that delivers usability dividends for the plant floor and beyond.
• New Offerings for Large Enterprises. As more and more large industrial companies are looking to modernize systems and take advantage of more flexible technology architectures, the opportunity for Plex to deliver value to these companies is increasing. Traditionally, the challenge for Plex has always been that many of these companies have already made corporate ERP commitments or the timing for a new ERP just wasn't right. In these cases, Plex has found some success with quality or MES offerings; but there are now two new offerings being added to the mix:
o Supply Chain Planning: With the acquisition of DemandCaster, Plex adds a fully functional and natively Cloud-based supply chain planning suite to its portfolio. Now known as Plex Supply Chain Planning to existing Plex customers, the company can offer Sales and Operations Planning (S&OP) and Distribution Requirements Planning (DRQ) to customers. Plex is also continuing to offer the DemandCaster Supply Chain solutions standalone.
o IIoT and Digital Transformation: Although Plex did not make any specific IIoT announcements at the show, Karl Ederle clearly alluded to the fact that the company is making investments in the data architectures and systems needed to enable the IIoT. In my conversations with Karl, it is clear he understands that the IIoT requires more than just Cloud-based ERP to deliver value for customers. I am very encouraged about the potential of likely announcements to be coming out of Plex this year in the area of IIoT. Given the companies heritage in Silicon Valley (Cloud) and Detroit (manufacturing), they could really shake up the market.
Plex continues to show strong financial performance and an engaged customer base. LNS Research sees Plex as one of the leading manufacturing ERP vendors for its core discrete and batch markets, with strong capabilities in manufacturing operations and quality. Moving forward, we are bullish on the potential of growth for the company among large enterprises, especially in supply chain planning and the IIoT. As hype from the IIoT fades and value delivery becomes paramount, Plex could be one of the new players in the space for 2017 and beyond.
Intelex Launches EHSQ Alliance at Ignite Performance Conference
LNS Research analysts Peter Bussey and Dan Jacob recently participated in the 7th annual Intelex Ignite Performance Conference in Toronto, hosted by Environment, Health, Safety and Quality (EHSQ) software solution provider, Intelex. Dan and Pete also attended the EHSQ Summit, a co-located event for business leaders and executives. In addition to attending, the two LNS analysts led a panel discussion on the integration of EHS and Quality in the context of Operational Excellence.
With over 500 attendees, Intelex bills the conference as the largest gathering of its kind focused on EHSQ. In the opening keynote, CEO Mark Jain highlighted the company's growth trajectory. He did this by citing increases and improvements since the prior edition of the conference such as 252 new customers, 12,000 EHSQ professional users, 360,000 staff level users, 113% revenue growth, and the acquisition of environmental management software vendor Ecocion.
The main theme of the conference was how to better leverage data to transform EHSQ and deliver more value to the business. In keeping with this theme, the major announcement was the launch of the EHSQ Alliance. Based on the notion of collective intelligence, the EHSQ Alliance is envisioned as a global network that connects companies, industries, and EHSQ professionals to share data and insights. These data insights can be used to improve EHSQ and business performance. Intelex reported signing up over 100 customers for the Alliance at the conference. Although this is impressive, we did pick up on customer concerns about data privacy and security, as well as limitations on the ability to use the benchmarking services due to lack of required data.
As evidenced by this conference, Intelex continues to make clear that it intends to be a leader in the EHS and Quality management software spaces. It is one of a handful of vendors that visibly promotes solutions to support the concept of integrated EHSQ management, and the EHSQ Summit was positive move to elevate the discussion from software and IT to business value. The EHSQ Alliance is an ambitious undertaking in which Intelex is striving to lead in the application of data science and advanced analytics, not only within its individual customer organizations but for performance improvement across a broader ecosystem. We see these initiatives as consistent with the LNS Research Operational Excellence and Digital Transformation frameworks, and ones that help differentiate Intelex from the pack.
---
All entries in this Industrial Transformation blog represent the opinions of the authors based on their industry experience and their view of the information collected using the methods described in our Research Integrity. All product and company names are trademarks™ or registered® trademarks of their respective holders. Use of them does not imply any affiliation with or endorsement by them.