Several of my observations have been fairly consistent over the past few decades of working in quality, technology, and as a quality research analyst and thought leader. Four stand out as primary reasons why quality, and often the industrial organization at large isn't able to transform as quickly or successfully as they'd like.
OBSERVATION #1 | Quality teams struggle to develop a culture of quality. This difficulty is largely due to obstacles that hinder collaboration. Quality teams still struggle with harmonization, core metrics, real-time insights, and highly fragmented tech. Also, those leading quality want to be proactive but typically put most of their team members in inspection and other reactive roles. Overcoming the obstacles that obstruct collaboration is transformational.

OBSERVATION #2 | An executive sponsor is a must-have. Quality transformation is greatly accelerated with a champion in top management.
OBSERVATION #3 | The business case for quality is often deficient. Quality leaders usually struggle to get an actively engaged champion in top management because the executive business case is ineffective. Quality leaders nearly universally use significant quality escapes as compelling events to drive transformation and justify investment using proposed efficiency gains or "truisms" like the 1-10-100 rule. I've worked out a different formula for the executive business case for quality that's been more successful among those that lead quality teams; use a proven formula to build a business case.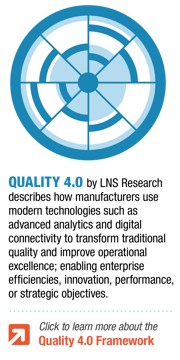 OBSERVATION #4 | Quality 4.0 is not just a trend – it's instrumental to the future of quality. Quality teams are late to embrace this, which goes hand-in-hand with the fact that quality is often late to technology. In some ways, this delay is surprising because we've known about the correlation between data and quality for decades (Deming, Six Sigma, etc.), and technology is fundamentally about collecting, analyzing, and collaborating around data and insights in a scalable and repeatable way.
A New Philosophy
These long-time perspectives have led me to an idea which I haven't written about until now. Quality is missing a critical element that enables all the above: a quality technology leader. Engineering has its engineering IT leaders, manufacturing has manufacturing tech leaders, but quality does not have a comparable role.
Of course, a qualitative observation isn't all that valuable. Therefore, I explicitly surveyed the market about it in LNS Research's latest quality survey. What does the study tell us about the quality IT role?
We designed the survey to assess the degree of support from IT for quality initiatives and technology needs. We evaluated responses with at least one of the following attributes:
A dedicated quality IT person
An IT team that proactively assesses and engages quality
An IT team that provides adequate funding and support for quality technology
We categorized firms with at least one of these capabilities as "adequate IT support for quality" and compared them with companies that have only "adequate IT support to all others." There were 230 responses from manufacturers, which we correlated to other capabilities adopted by the manufacturers.
Fact: Quality Tech Role Signals Much Greater Quality Maturity
It's always interesting to test a hypothesis against survey data. In this case, the findings were extraordinary. Across the board, companies with adequate IT support for quality are further along and more capable:
>2x more likely to have an Industrial Transformation initiative
7x more likely to have Quality 4.0 technology implemented
3x more likely to have automated any given quality process with technology
2x supplier quality management capabilities
3x risk management capabilities
50% more compliance capabilities
3x more likely to have single centralized EQMS
2x more likely to have quality data in a data lake
The list goes on, but these are some of the more stunning and interesting comparisons. Ultimately, having a quality IT team member ― the "digital quality leader" ― or having direct IT support of quality correlates to significantly greater maturity across traditional quality technology, Quality 4.0, supplier quality, risk management, and compliance.
What is a Digital Quality Leader?
Why is this "digital quality leader," the quality tech role so important? Quality teams know quality ― quality processes, subject matter, best practices, analyses. However, quality teams rarely have competencies in enterprise technology ― mobile applications, configuration control, integrations, revision control, object models, implementing software at scale, analytics, machine learning, artificial intelligence, and many others. Moreover, IT generalists rarely understand quality needs and processes. It takes time and significant effort for IT teams to learn quality. Learning quality is no easy task since it spans the entire value chain.
Companies need a hybrid IT-quality role; this individual knows quality and IT. They will build and own the quality technology roadmap, proactively assess and engage quality teams across the enterprise, engage with technology teams in other disciplines, stay current on technology developments, and align funding and support for quality tech.
Just One Recommendation: Create a Quality Tech Role
Every manufacturer should consider adding a quality technology role. It's an increasingly critical strategy as companies continue to transform quality through digital technologies. Which brings us back to the original four observations. A digital quality leader should focus on overcoming the obstacles that prevent a culture of quality, help build the case for quality and quality technology, strive to win and nurture a champion in top management, and lead the Quality 4.0 transformation the organization.
A digital quality leader isn't a panacea but is a highly valuable asset for a manufacturing firm and its quality organization.
Categories: Culture, Quality 4.0