As 2022 kicks off, most significant industrial organizations are well into their Industrial Transformation (IX) journeys and have been for at least several years. Those that aren't are scrambling to catch up if they intend to remain viable. Even as IX advances as the strategic framework for competitive differentiation, industrials must deal with two rapidly emerging secular trends: the rise of Sustainability and the challenges posed by the Future of Industrial Work.
These themes, and how they impact business strategy, dominate much of the discussion in corporate board rooms and executive suites. The challenges and opportunities associated with Sustainability and the Future of Industrial Work have resulted in a new paradigm within which industrial organizations now operate. Long-term organizational success will hinge on how companies and industries respond with Sustainability and workforce initiatives in concert with their IX programs.
Below are seven predictions for 2022 that recognize not only the strategic importance of these initiatives but also their interconnectedness and interdependencies.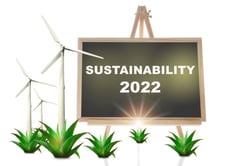 Sustainability will catalyze Industrial Transformation and vice versa.

In the recent past, sustainability efforts were often geared towards achieving incremental improvements such as X% reduction in energy intensity, or Y% reduction in Greenhouse Gas Emissions (GHG), etc. Today, more companies are signing up for bold ambitions such as Net Zero decarbonization targets or other zero or positive impact initiatives. Achieving such step-change improvement requires much more than tinkering around the edges: transformational results require a transformational approach that leverages the full capabilities of the organization.

Our research shows that IX Leaders – those companies that have already gotten more tangible value from their IX investments – are three times as likely to deeply integrate their Sustainability and IX initiatives. Both are transformational in nature and require a comprehensive approach across people, process, and technology. Given its strategic importance, Sustainability initiatives are a rich source of high-value use cases that can be enabled through IX. Indeed, Sustainability is the ultimate organizational learning and integration opportunity and must harness IX for step-change results. We expect to see more companies capitalize on this opportunity in the coming year.

The synergies between Sustainability and the workforce will be recognized.

Sustainability and the Industrial Workforce are among the top strategic priorities of industrial organizations, each representing new sources of financial and operational risk. Perhaps more importantly, they are opportunities for competitive advantage and long-term growth. Connected Frontline Workforce initiatives to enable the workforce needed for the future are already a major focus of IX investments, and as noted above IX Leaders are significantly more likely to build Sustainability into their transformation programs.

In 2022, there will be an increased realization that there is significant overlap in these two areas, and more companies will seek to capture the synergies of an integrated approach that will help companies achieve their Sustainability goals especially in the realm of social responsibility, including workforce health and safety, diversity and inclusion, and employee engagement, among others.

Industrial companies will increase investments to operationalize Sustainability and ESG programs.

Sustainability has reached new levels of importance as a strategic business issue. Organizations generally have come to recognize that effective management of relevant Environmental, Social and Governance (ESG) risks and opportunities can be a source of competitive advantage. However, many are still focused mainly on the tactical challenge of producing Sustainability and ESG reports and disclosures. And in some cases, the jury is still out on to what extent Sustainability initiatives are more superficial "greenwashing" than substantive.

In 2022, industrials will make significant investments needed to further operationalize and capture value from Sustainability by embedding it into the enterprise and value chains. As a business function, Sustainability will continue to shift from being PR and communications to being an operations centered function. Leaders will do this in concert with their IX programs and leverage Sustainability as a catalyst for transformation.

Companies will heed that the Future of Industrial Work centers on people, not machines.

As companies more fully embrace IX, a common mistake is to view digital technology as the solution. In this isolated view, whatever workers aren't automated out of their jobs will need to adapt to the new systems and technology that run the plant. Rather, the role of people in the Factory of the Future will be more important than ever. New skills, both hard and soft, will be needed to perform in more a dynamic, digitalized operating environment.

Yet across the board industrials have been experiencing a chronic shortage of frontline workers. This trend has only been worsened by the COVID-19 pandemic. IX Leaders recognize the need to be more innovative in their efforts to attract, hire, train, and retain the right workforce. This will require a human-centric approach based on simplified learning and development and an understanding that technology serves to augment human capabilities, not replace them.

Sustainability will be viewed as an opportunity to build a competitive advantage.

Much of the focus on Sustainability initiatives during the past 15 years has been on achieving basic operational efficiency gains (e.g., energy use, resource conservation, reduced waste, etc.) and building an image of corporate social responsibility (CSR). While admirable, these areas barely scratch the surface of the potential benefits of enterprise Sustainability initiatives, both internally and for the world at large. The playing field has changed dramatically with the emergence of climate change as a major threat to the planet, societies and communities, individuals, and business enterprises. This coupled with the rising influence of a wide range of stakeholder groups has propelled Sustainability to the strategic forefront, creating new risks and opportunities for industrial organizations to grapple with.

Many leading industrials have responded by incorporating Sustainability into enterprise business strategy. Other companies have continued to treat Sustainability as merely a tactical initiative, or worse yet a superficial exercise in public relations spin. In 2022, we expect more companies will act on Sustainability as means to build competitive advantage while contributing to a sustainable world.

Being Data-Driven Becomes Easier, and Harder

The main promise of IX is step-change performance improvement enabled by data-driven insights. This applies at least as much to Sustainability and the industrial workforce as it does to any other business themes. The proliferation of sensor-generated Big Data and the application of advanced analytics tools including AI and ML provide all parts of the organization with novel insights and data-driven decision support needed to go far beyond incremental improvement.

However, no good deed goes unpunished. To exploit these advanced data analytics capabilities, companies must come to grips with fundamental data management challenges. This entails building a comprehensive set of data-related capabilities including data modeling, collection (time series Big Data, structured transactional and unstructured data, etc.). Many IX Leaders have already made great strides in this regard, and we expect this to accelerate in the coming year. Those organizations intending to maximize the results of their Sustainability and workforce investments will need to use advanced data analytics capabilities to become more data-driven and predictive.

The technology vendor ecosystem will deliver more cohesive solutions.

Our research shows that inadequate cross-functional collaboration and disparate systems and data are among the top challenges to operational performance, as they have been for decades. Industrial operations are still characterized by silos of organization, processes, and data. This is reflected in the solutions typically offered by information and operational technology vendors, which often support a single functional domain such as manufacturing execution, quality, EHS, asset management, maintenance, risk management, etc. The wide array of systems tends to hinder end-to-end process integration, collaboration, and visibility.

We expect that in the coming year the vendor landscape will continue to shift to offer the market more comprehensive and holistic solutions. This will mainly occur at two levels:

Vendors will expand their solution footprint into adjacent business domains through mergers and acquisitions. We expect to see various combinations of domain-specific solutions such as EHS, Sustainability, Asset Management/Maintenance, Connected Frontline Workforce, Manufacturing, and Automation systems and applications.

Individual vendors will build out their solution footprints to create expanded offerings through native development efforts, pre-configured solutions, and embedding third-party solutions. Examples of what we expect to see are vendors extending Connected Frontline Workforce solutions with new functionality such as Digital Work Instructions, Augmented Reality, Remote Assistance, and Advanced Analytics; and pre-configured use cases and industry-specific solutions.
The Year Ahead
In the coming year, the intertwined forces of Sustainability and strategic workforce issues will play an even greater role in shaping corporate business strategy. How industrial organizations deal with these issues will in large part determine their future success. We anticipate that in 2022, it will become even clearer that the degree to which Sustainability and workforce initiatives are embedded in IX will further separate Leaders from Followers.
---
All entries in this Industrial Transformation blog represent the opinions of the authors based on their industry experience and their view of the information collected using the methods described in our Research Integrity. All product and company names are trademarks™ or registered® trademarks of their respective holders. Use of them does not imply any affiliation with or endorsement by them.
---
All entries in this Industrial Transformation blog represent the opinions of the authors based on their industry experience and their view of the information collected using the methods described in our Research Integrity. All product and company names are trademarks™ or registered® trademarks of their respective holders. Use of them does not imply any affiliation with or endorsement by them.