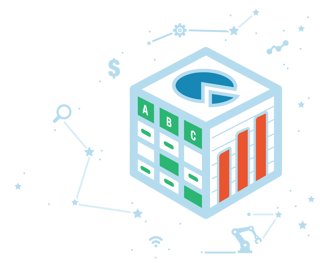 In this weekly Roundup, LNS Research explores recent announcements and events, such as Siemens and Bentley collaborating on Industry 4.0 solutions; Oracle's acquisition of NetSuite; Yokogawa Electric Corp's acquisition of Soteica Visual Mesa; and two interesting infographics on beer and food products companies of the world.

Siemens and Bentley Teaming Up on Industry 4.0 Solutions
Siemens and Bentley will initially invest Euro 50 million to develop joint solutions for engineering and industry customers. The firms intend to leverage Cloud services for a connected data environment to converge respective digital engineering models from both sides. The collaboration will likely add digitalization options for the process the process industry plus new offerings for the digital factory. Before this new agreement, the companies had a history of aligning their portfolios through licensing of each other's technology. Manufacturing and industrial companies will be watching to see what the relationship produces in terms of the ability to accumulate intelligence from Siemens solutions throughout Bentley's applications for design modeling, analytical modeling, construction modeling and asset performance modeling. Read the news announcement at Siemens or Bentley.
NetSuite Acquisition: Oracle Back on Track
Last July NetSuite said, "No way, your offer's too low." Now, four months later and sitting at a cool $9.3 billion, more than more than half of eligible NetSuite shareholders say "yes" and they're backing the acquisition. The entire deal has been a roller coaster, even contentious at times, and NetSuite stocks have reflected the ride. Since NetSuite's CEO Zach Nelson is talking to journalists about the deal and the future, it's a good sign that Oracle's message of "back on track" is right on. Read the New York Times story, or head over to Diginomica to find out what Netsuite's CEO thinks about it.
Yokogawa Electric Corp. Buys Soteica Visual Mesa
Yokogawa, a US$3.7 billion multi-national conglomerate that's active in industrial automation and control, has acquired Soteica Visual Mesa, an energy management technology provider. This purchase is the latest in a series of mergers and acquisitions including Industrial Knowledge, KBC Advanced Technologies, and Industrial Evolution. Collectively, the businesses offer Cloud-based energy management, production accounting, and scheduling software for process industries, including energy and chemical companies, in addition to an array of other technology and consultancy solutions. Yokogawa says that it wants to expand its solution service business, focus on customers, and conduct joint development with customers, and to help them in the areas of plant, business, and supply chain operations for continuous improvement. Read the full story on Yahoo! Finance.
How Many Companies Does It Take to Fill a Grocery Story?
Probably a lot fewer than you might imagine. Always researching and insanely curious, our analysts dug up two (interesting? amusing? concerning?) infographics that when taken together, seem to imply that it only takes 15 companies – 10 CPG and five beer – to fill a grocery store. When we consider disciplines like Manufacturing Operations Management, Quality Management, Maintenance, and Environment, Health, and Safety, it would be interesting to learn which best practices those companies manage globally and which ones they delegate locally, and why. Check out the world's foods brands infographic on GoodFood and the Visual Capitalist infographic on beer brands.

Categories: Industrial Transformation / Digital Transformation, Cloud, Enterprise Quality Management System (EQMS), Environment, Health and Safety (EHS), Industry 4.0 / Smart Manufacturing