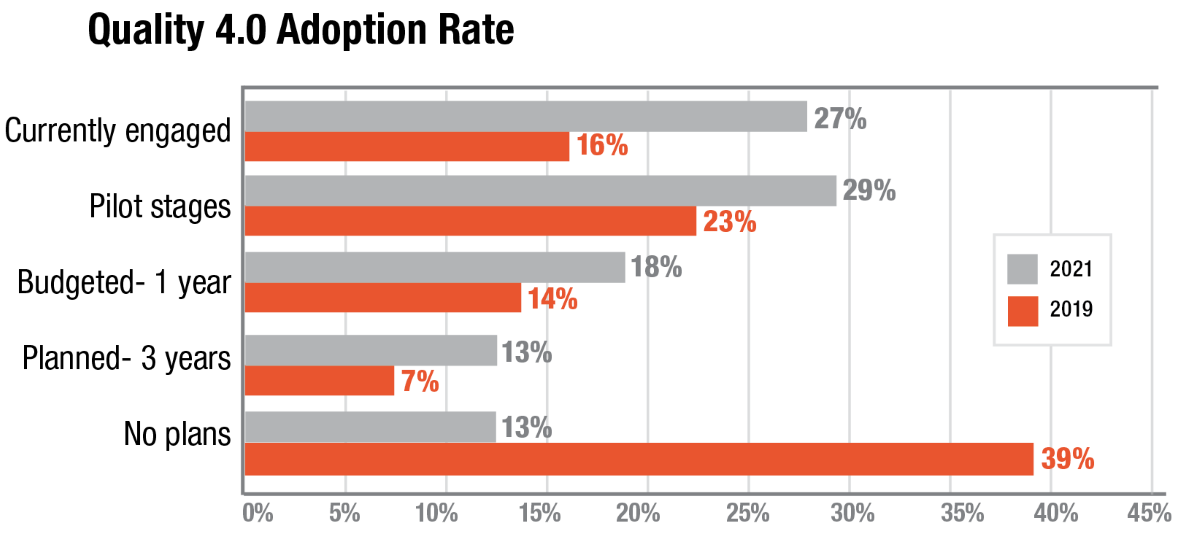 Quality management has been one of the earliest areas of research for us here at LNS Research, and we have been closely monitoring the space for several years now. Our recent research on Quality 4.0 Readiness shows that Quality 4.0 programs have been gaining steady momentum and have become an important piece of the Industrial Transformation puzzle today's manufacturing companies are trying to solve; so much so that the Quality 4.0 adoption rate has jumped from 16% to 27% in just two years.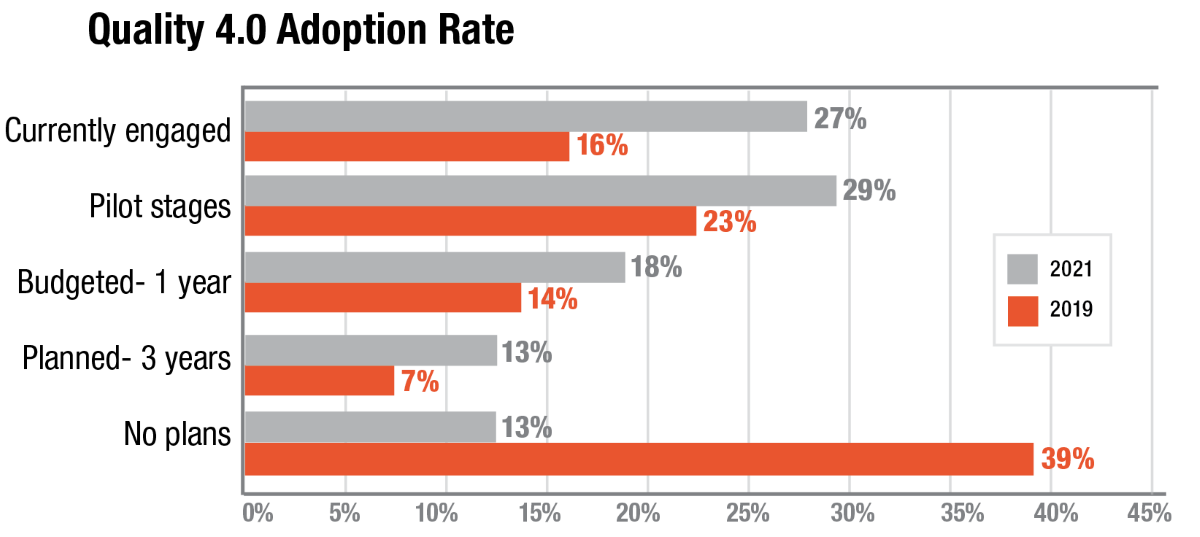 However, LNS Research has found that in most of these programs, the objectives of the Quality 4.0 program don't always align with the overall strategic business goals set by the leadership team. For instance, our research data shows that quality leaders tend to place a more than necessary focus on compliance but not enough focus on some of the other aspects of quality such as risk, customer satisfaction, new product introduction, supplier quality, etc. This has led to a lack of trust being placed on the quality organization in its ability to support the operations and value chain goals, and has made them out to be perceived as a policing authority set out only to enforce compliance standards and reduce yield and throughput. As a result, many of today's Quality 4.0 programs have been taken out of the quality leader's hands and are being managed by IT or digital teams.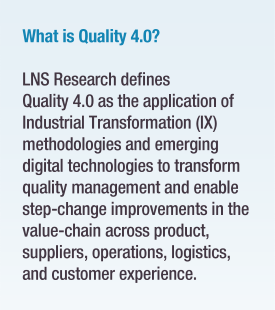 While each company has its own reasoning and justification behind this decision, it has caused several challenges to the organization. Quality personnel often don't have access to the required data at the required time and often must resort to less optimal and efficient methods to get access. Additionally, quality data may be included as part of any operational data model or data hub created, but with minimal context and subject matter expertise from the quality teams. Consequently, the quality organization ends up with limited or no influence in the overall Industrial Transformation program leading to sub-optimized results - not just for Quality 4.0 but for the rest of the enterprise as well.
As the title of this blog post hints, this cannot be solved just by plugging in technology, but by reassessing strategic and cultural decisions and practices across the enterprise. The first research spotlight in this study, "Taking Control of Quality Transformation" talks in detail about some of the gaps in the Quality 4.0 strategy and culture that quality leaders need to address. This blog post includes some excerpts from the report and some additional recommendations for quality leaders to take control of and lead their transformation.
1. Establish, Equip, and Authorize a Quality Executive Reporting to the CEO:
The "Taking Control…" research report highlights some key misalignments that acted as root causes in the challenges faced by quality organizations. One of the biggest misalignments lies between the span of the quality discipline and where it reports to. Often quality reports into an R&D or Supply Chain leader, but in reality, quality goes across both, and even further in some cases, including procurement and the customer. Ideally, there should be a senior-level/executive-level quality leader reporting to the CEO that can help span these organizational silos. This executive leader should ideally talk the language of the business and technology and yield considerable influence at the adults' table.
For instance, Whirlpool Corporation has included several Quality IT roles within the scope of their Quality Transformation program, Premium Quality. Their organizational structure of this program is set up so that these Quality IT roles are included as part of a cross-functional business-led team, ensuring that the Premium Quality initiatives and priorities will be supported, but not influenced, by IT.
On the other hand, in companies where there is no executive team member with the responsibility of quality – a council model can help to identify and work through misalignments.
2. Support and Build Trust with the Value Chain:
Most of quality's challenges can be attributed to its position in the organizational structure. In most companies, quality is often considered a part of the value chain responsible for getting products out the door, when in reality, it is in fact a supportive role working to help the value chain teams get products out the door as efficiently as possible.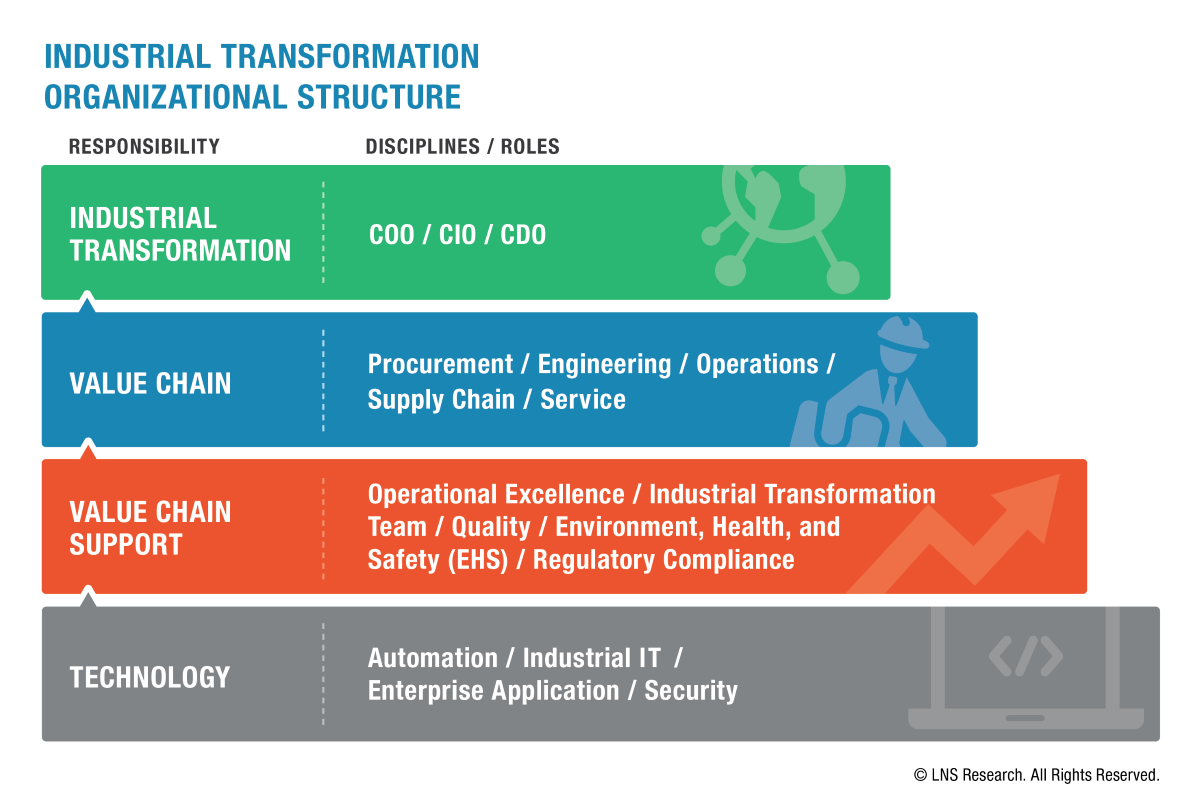 Positioning quality as a value-chain support function provides a great way for quality to build relationships and the trust of the value chain - that quality's ultimate focus is serving the customer and not just enforcing compliance and reducing yield as mentioned earlier.
3. Take a Step Back (if necessary) to Take Two Steps Forward:
Finally, many companies, especially the ones actively pursuing a transformation initiative are aware of the importance of culture. In the case of quality, many quality leaders have prioritized creating a culture of quality, but we see only very few being successful. Why? We think it's because most companies don't align their cultural goals to their organizational reality.
A positive culture of quality derives from several factors such as top executive credibility, the company's mission and vision statement, principles & values, and historical norms and behaviors; and leaders should consider these factors while setting goals for their culture of quality. For instance, if your organization has a history of operational excellence, a stated goal of serving the customer, and executives that walk the talk, you have everything you need to build a culture of quality. On the other hand, if some of these elements are missing, quality leaders are better off building some of these foundational elements that build culture rather than trying to change the culture straight away.
---
All entries in this Industrial Transformation blog represent the opinions of the authors based on their industry experience and their view of the information collected using the methods described in our Research Integrity. All product and company names are trademarks™ or registered® trademarks of their respective holders. Use of them does not imply any affiliation with or endorsement by them.