A recent LNS Research article highlighted the need for Industrial Transformation (IX) exemplars, identified three major reasons why IX programs stall, and four major areas that companies need to focus on for ensuring a robust and scalable IX program.
Why Companies Fail at IX

Focus Areas to Drive Scalable IX

Failed Leapfrogging
Pilot Purgatory
Zombie Programs

Metrics and Analytics
Data Governance
Leadership and Culture
IT-OT Convergence
One of the root causes for all three failure modes identified above is organizational misalignment that can occur when IT-OT Convergence does not occur effectively.
IT-OT Convergence: Addressing Unique Aspects of Process vs. Other Industries
The term IT-OT convergence was born out of the process industries. Over the past 40 years, process industry companies have invested billions of dollars in OT systems at the plant level, the large majority of which has been hardware, with software to support. Typically including technologies like DCS, APC, SiS, Instrumentation, and Data Historians among many others.
Separately, these same companies have spent billions on enterprise IT systems like ERP, SCM, HCM, CRM, and many more. When viewed from the ISA-95 perspective, the process industries are also underinvested in level three technologies. Outside of APM, there is not much IT (or OT) investment in the process industries. MES/MOM, HMI/SCADA, and other types of similar technology are much more broadly adopted in the batch industries.
In the discrete and batch industries, IT-OT convergence has involved different technologies and has evolved along its own path, often referred to as Factory of the Future. On the IT side, most of the technologies are very similar; ERP, SCM, HCM, etc. (One notable addition is PLM, which often may be managed separately by an Engineering function)
But, on the OT side, the picture is very different. As mentioned above, there are technologies like MES/MOM, HMI/SCADA, and more; typically sitting at the second and third level of the ISA hierarchy. Often with MES/MOM being the dividing line between IT and OT and what is managed at the enterprise vs. plant level.
And, from HMI/SCADA and below – there are drastic differences from the process industries. No large integrated automation system, like a DCS with data historian, collecting data and controlling process across potentially 10,000s of i/o at a single digit milli-second rate of response. Instead it is machine, skid, and work-cell centric.
OT in the discrete and batch industries has typically included technologies like:
Batch

Raw Material Tank Management Systems
Batch Management Systems / Skids
Packaging Machines
Material Management Systems
Palletizing Systems


Discrete

CNC Machines / Machine Tools
Stamping Machines
SMT Machines
Robotics
Material Management Systems
Inspection/Metrology
Assembly lines

In the discrete and batch world, these technologies typically are not integrated at scale and not supported by a data historian. At most, they pass data to enterprise IT systems and are integrated at the line or work-cell level, and maybe some up to the MES/MOM or HMI/SCADA level, which has some important implications for OT in the batch and discrete industries as compared to the process industries.
IT-OT Convergence: 3 Critical Gaps for Factory of the Future Initiatives
As discrete and batch industry companies have adopted Factory of the Future initiatives at scale, the initiatives are often described as a collection of digital technologies to be deployed within plants.
Here is a summary of adoption rates from our recent report on Digital Transformation readiness: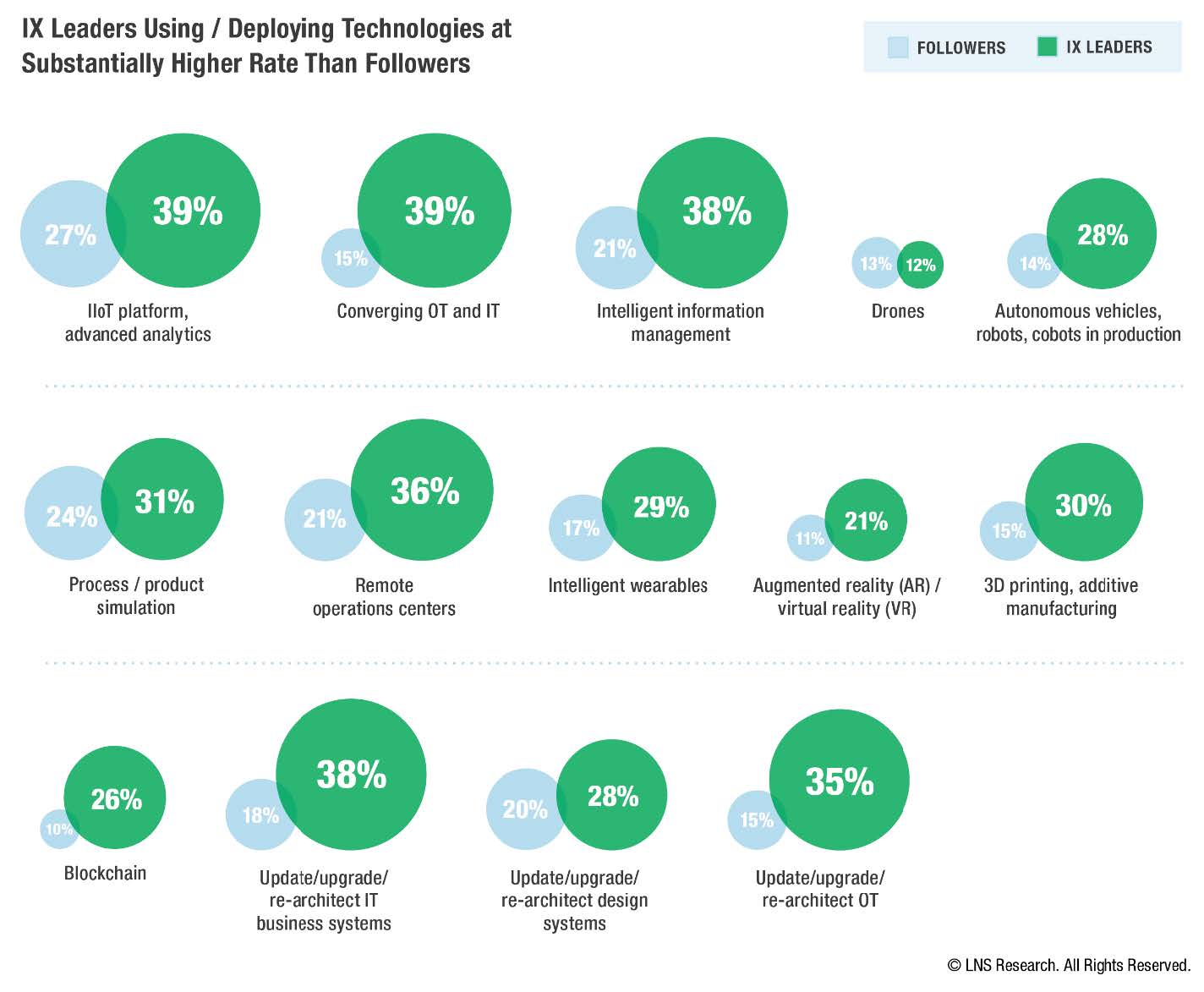 Some of these technologies better fit as an extension of IT, others OT:
FoF - IT

IIoT Platform
Advanced Industrial Analytics (AI/ML)
Data Conditioning and Contextualization
Big Data Platforms
Augmented / Virtual Reality
Cloud and Edge Infrastructure

FoF - OT

Simulation/Modeling
Additive Manufacturing
Single-Use Bioreactors
Cobots
AGVs/VGVs
Vision Systems
Wearables
Such an approach can lead to many problems.
First, it can lead to the launch of pilots and lighthouse plants that test technology capabilities rather than solve broadly applicable business problems, a very common cause of pilot purgatory.
Second, as companies scale these initiatives up, creating new roles and groups – a new IT-OT divide is occurring.
IT organizations are launching or collaborating with new data science teams and selecting IaaS or PaaS Cloud, AI/ML, Big Data and IIoT Platforms.


Operations are creating new CTO or Advanced Manufacturing roles to examine the broad applicability of emerging technology like additive, vision systems, or cobots; if these technologies are ready for scale, and if they can deliver sustainable and step-change performance benefits (i.e. 10%-40% improvement)
Third, the systems that IT leaders may manage and are closest to control – like MES/MOM - are far from the enterprise level flexible and scalable systems that can quickly integrate and scale next-gen OT technology. The typical Manufacturing IT leader driving an MES implementation has been doing it for the better part of a decade, perhaps has deployed across a third of plants, and is stalling on her own MES initiative, never mind a next-gen FoF initiative.
Hardly an ideal scenario to provide a foundation for scaling technology to provide step-change performance improvement.
How to Close These Gaps and Succeed in 2020
In our newest client only report, How to Scale IX fast with IT-OT Convergence, you will learn:
How the differences in IT-OT Convergence between industries manifests into industry specific challenges.
How to turn the differences between IT and OT into strengths not weaknesses.
How to build a vision for transformation that brings IT and OT together, not apart.
How to structure IT and OT organizations to set your company up for success.
How to partner with IIoT, AI/ML, and hardware vendors in a way that will bring these organizations together – not pull them apart.
Categories: Industrial Automation, Industrial Internet of Things (IIoT), Industrial Transformation / Digital Transformation, Industry 4.0 / Smart Manufacturing, IT/OT